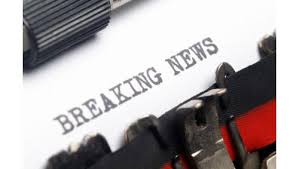 Every time you turn around, ADT Pulse is making technological advancements for the industry. It keeps you thinking, "What's next?" Will they find a way to tell your coffee maker that you just woke up and need coffee? What if your ADT Pulse system adjusted the thermostat based on your GPS coordinates to take the chill off before you walk in? Well those are just two "recipes" for automations being tested out with IFTTT.
In an announcement earlier today, ADT Chief Innovation Officer Arthur Orduña said, "ADT has more than 850,000 (one million as of December 2014) Pulse customers who enjoy the benefits of secure, smart home technology, and we continue to pioneer efforts that advance the market and provide the best home automation experience to our customers. Together, ADT and IFTTT can provide homeowners an integrated smart home experience with a single app: ADT Pulse. Through this relationship, we're able to unlock all of the exciting possibilities of home automation by creating a bridge between a customer's home and some of the world's most popular content, services, and devices." Read more in the Wall Street Journal
What Will IFTTT do for ADT Pulse Users?
IFTTT, pronounced like gift, without the g, is a service that lets you create powerful connections with one simple statement: "If this, then that." Created in 2010, IFTTT allows users to create and then share "recipes" that integrate popular web applications, devices and services to respond to each other. Each of these apps, service or devices has a channel. IFTTT takes the ever familiar concept of cause and effect and allows a cause on one channel to have an effect on another channel. For example, the Weather Channel predicting a heat wave, will be able to trigger our ADT thermostat to adjust accordingly. They call these scenarios, recipes. With 160 channels currently subscribing to IFTTT, ADT Pulse users will be able to create interactions with other IFTT devices, services and subscribers like Android, SmartThings, and UP by Jawbone. Here's how a recipe works:

To create a recipe, you simply click on "this" and select from the list of channels. Each channel will have related options to choose from. You are then returned to the above statement, click on "that" and select what you would like to happen. Perhaps you would like an email each time a Ducati Motorcycle is listed on Ebay. Click "this" and select Ebay channel, select "new item from search," and type in your search criteria: "Black Ducati Motorcycle," click "create trigger." Now click "that" and select "email" channel, select send me an email, click "create action" and then click "create recipe." Once released, ADT Pulse users will be able to create recipes like the weather channel triggering a response in your home thermostat.
ADT's Beta Test with IFTTT
ADT has developed a number of working proof of concepts, and "Recipes" offered could include: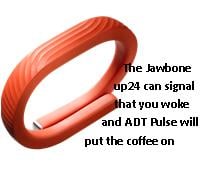 If phone alarm goes off at 6:45 a.m., then turn on the ADT Pulse-connected coffee machine. (They had me at this on!)
If Life360® family members are away from home, then lock ADT Pulse-connected doors and arm ADT Pulse security system "away."
If the temperature outside is above 85 degrees, then change an ADT Pulse-connected thermostat to 70 degrees.
If a user texts "DogDoor", then unlock the ADT Pulse-connected back door.
If the doorbell rings, then send me an ADT Pulse real-time video clip of the front door.
If the sun sets, then turn on ADT Pulse-connected outdoor lights.
This partnership is an effort to continually improve the smart home experience using the ADT Pulse app. Ultimately ADT will open an ADT Pulse Channel to the public, offering consumers the ability to submit their own unique ADT Pulse Recipes on IFTTT, or leverage pre-configured Recipes built by ADT and the IFTTT Community. The Recipes will react to user preferences and activate controllable devices in the home such as door locks, thermostats, lights, cameras, appliances, and the security system.
Personal Experience with IFTTT
If you are like me, IFTTT is a new term, so I checked it out to get an idea of future capabilities with my ADT Pulse system. Nice design, big pictures, simple concepts, it definitely takes the intimidation factor out of doing something new. The sign up process is just 4 steps... love it. Name, email, password, confirm password and you are in. The concept is like Legos, you have all these cool pieces and you put them together, in this case, to make your life easier. If any part of you speaks nerd, this is a new relationship that will warm that nerd spot in your soul. Putting together a couple of recipes was a cinch and takes about a minute each. I am currently looking to replace my son's desk. I set up for Craig's List to send me an email everytime a new desk is posted to Craig's List. Seeing your ADT Pulse integrated into IFTTT is something to be eagerly anticipated! Tell us what you think below.
ADT Leaves the So-called Competition in the Dust
With most of the government and fortune 500 companies protected by ADT, there is absolutely no question that ADT offers the best home and business security available. Over 6 million Americans agree. With the direction that ADT Pulse is going, there is no competition when it comes to bringing you cutting edge technology first. Here's a few home security firsts from ADT:
When deciding what security system is best, the choice is clear. Only ADT keeps the customer experience in mind and continually pioneers new ways to provide the security and convenience you deserve. If you have not experience ADT Pulse for yourself, call today for a free home security review at 1-800-310-9490. If you are a current ADT Pulse subscriber, here's just another exciting reason to help your loved ones be protected and on the cutting edge of home security. Click here to refer a friend.