The benefits of an ADT Wireless Security System are many and like most things, alarm systems have done their fair share of evolving. You might be surprised at some of the latest features. Most of you know that a GSM alarm does not require land line phone service and that wireless systems do not require any demolition to install, but check out these 5 benefits that you might not be aware of.
#1 ADT Wireless Security Systems Can Secure More than Just Your House.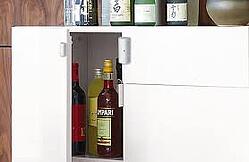 You're probably familiar with ADT home security Door and Window Sensors, ADT Glass Break Sensors and ADT Motion Sensors. However a wireless contact that is made for doors and windows can actually secure anything that opens and closes. For Example:
Alcohol cabinets.
Gun cabinets or safes.
File cabinets with sensitive materials.
Tool sheds or barns (with-in a distance of about 400 ft of the panel).
Medicine cabinets.
Antique display cases.
These are situations where knowing if something other than your standard doors and windows being opened can matter, in some situations even save a life.
#2 Many ADT Wireless Security Panels are All in One Units
Not all panels are all in one but you might want to look for a unit that is. With an all in one panel, like the DSC Impassa SCW9057, communication to the monitoring center cannot be eliminated by cutting a wire or pulling the panel off the wall. When you utilize a land line for your security system to talk to the monitoring station, one concern is that a thief can cut your phone line from the exterior of the home and disable alarm communication. To solve that issue, about 80% of new installations use cellular communication to the central monitoring station.
Even with cellular communication to the monitoring center, that connection can be cut if your cellular communicator is outside the main panel. With an all in one unit, the back up battery and cellular unit are inside the panel. While a panel can be ripped off the wall, there are two tamper switches that notify the central station the second a panel is opened or pulled from the wall. There is nothing to disable that communication because the back-up battery and cellular communicator are together in your panel.
#3 ADT Wireless Security Systems can Integrate Smart Home Features
An ADT Pulse Interactive System is just that... it's interactive. ADT Pulse is home automation and security in one system that interacts with you. You can control your ADT Pulse system with multiple devices so you have access anytime and from anywhere with your web-enabled device. Add ADT Pulse surveillance cameras and view your house whenever you want. ADT Pulse light switches, dimmers, and modules along with ADT Pulse thermostats control your lighting, small appliances and temperature which allows you to manage energy consumption and costs.
Setting up modes, automations and schedules allows you to define how you want your system to work and it will work automatically according to those parameters. Setting up text and email alerts tells your system to alert you when certain things happen, you can even be alerted that something did not happen, like if the kids forgot to arm the security system. You can have a photo emailed to you whenever there is motion near your back door or a text if someone opens the the door to your home office. A smart home, by definition, is a home that uses Home automation features to be more efficient. Having constant access to your home and it's systems provides that efficiency.
#4 ADT Wireless Security Systems can Monitor for Fire, Carbon Monoxide and Flooding.

ADT monitored fire and carbon monoxide detectors monitor for dangerous conditions and alert authorities. Having smoke and carbon monoxide detectors is wise. That's why it's the law in most of California. But a standard detector will sound an alarm and that's it. If you are home, saving your family and loved ones is your first priority. By the time you call the fire department, your home and belongings are lost. If you are not home when a fire breaks out, your smoke detector will sound and most neighbors will not be able to hear it or possibly assume it's another car alarm going off. Not until flames are visible from the outside will someone alert the fire department.
Monitored smoke and carbon monoxide detectors alert authorities for you so you can tend to what really matters. Having home automation features tied in can turn lights on automatically and unlock the doors. That can let first responders in, help wake people up and make a door easier to open when carrying a child to safety.
If you live in an area that floods, have rooms that are below ground or have indoor laundry, you know that being alerted of excess water should happen sooner than later. Having a sensor that let's you know about any excess water can save a lot of money in prevented water damage.
#5 ADT Wireless Security Accessories can be Integrated Into a Hardwired System
It's one of those old rivalries like Chevy vs Ford? or USC vs UCLA? When it comes to a home that is already pre-wired for home security, the question is: Wireless Home Security vs Hardwired Systems, what's best? Not long ago, that was quite the debate. One benefit of a pre-wired home is cost. Whatever pre-wired devices you utilize are devices that you won't have to re-purchase in a wireless version. If your home is pre-wired for a security system and you want to reactivate your existing system, then you should definitely use your existing wiring.
Panels like the DSC Power Series 1832 security panel, offer you the best of both worlds. Utilize the existing hardwired devices already in your home and add any wireless security devices to you system. Integrate wireless technology, cellular comunication and add home automation, wireless key chain remotes and whatever your heart desires.
To learn more about ADT Wireless Security Systems or ADT Hybrid / Wireless Security Systems, give us a call at 1-800-310-9490.