It's 3am, you awake to the sound of breaking glass followed by silence.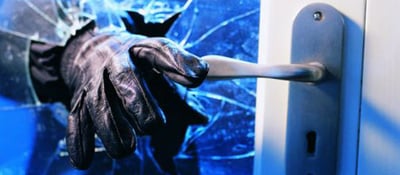 Even laying still, your heart is doing the Indy 500. Adrenaline stores up, you're ready for flight, you're ready for fight. The adrenaline actually sharpens your hearing.
Then there's nothing. For 10 minutes, there's nothing but a distant dog barking. You still can't get back to sleep, someone's waking up to a broken something, you hope it's not you.
You go secure the house, check the kids, peek outside and make sure everything is okay on your property. There's no rolling back over and drifting into sound sleep tonight.
Neighborhood gossip alerts you that was John & Marie Poblanski's house. Some creep broke the glass and grabbed some electronics and a marble elephant. Luckily no one was hurt... this time. It's time to get alarm system.
You think,

"Who do I call?"
Then you realize it's your day to drop off Little Rebeccah and Jacob, then off to work, an appointment your secretary forgot to write down is waiting in your office. The school calls, Rebeccah has pink eye. Home Security is completely forgotten until the phone rings that night...
John: "Did you hear? Some punk broke in to our house last night."
You: "I did heard, did you hire someone to come get Marie's great aunt's ugly elephant?"
John: "Sure, and I am collecting the insurance money... No bud, but they got my laptop, an iPad and kid's cell phones. Our identities are probably in some cdrug-addict's hands. Along with a year's worth of research that's was oonly 60% backed up. Little Steven's science project... Its gone. Marie's pretty broken-up. She called an alarm guy. The rep they sent out seemed shady as heck himself"
You: "Tough break. So sorry buddy."
Now it's really time to call someone! And not the shady guy John called.
Call the best local home security or alarm company.

Finding the right company doesn't have to be like finding good service at a restaurant on Valentine's Day. Year after year, California Security Pro (CSP) ranks #1 with multiple alarm rating companies. Don't just take our word for it though, consult some experts:
The Prime Buyers Report - It's the consumer reports of the service industry. It's 3rd party research done to the research industry's standards. They've researched thousands of local businesses for license status, surveyed past and current customers, reviewed complaint history and more. California Security Pro is #1 in every county we serve. Check out your county here.
Yelp - See what actual clients say about us. Search "Home Security" or "Alarm Companies" in your city at yelp.com for all of your local alarm companies.
Angie's List -

Angie's List is similar to Yelp but it's a paid service. You must be a member to write a review and read other reviews. Angie's List customers rank us #1 in most cities we serve.

Trust Pilot

- "

Transparency means reviews come from people like you... and benefits companies, too. What better way to tell how your company is doing than to hear it straight from your customers? All reviews, both the good and the bad, open up possibilities to build credibility, popularity, and reputation." - Trust Pilot.

BBB

-

You already are familiar with the Better Business Bureau so we'll just throw it out there that California Security Pro is an BBB accredited business.
California Security Pro's president, David Loetz started this company in 1999 with the goal to be customer obsessed. Simple and straight forward. Hire great people, provide ongoing and excellent training and encourage great people to use their talents and take care of the clients like family. It's an honor to serve our clients and it feels pretty good to have people not only offer a hearty "Good Job" every now and then, but take their own time to write reviews that make us blush.
When something go bump in the night, it's too late to learn that you didn't choose the most reputable company. Finding the right alarm company is a huge deal, but it doesn't have to be difficult or time consuming. Whatever company you choose, look at a handful of reviews, check their BBB status and see where they fall on the Prime Buyers Report. Cool things like having a price match policy can be a big help too!
When you decide that California Security Pro is worth a call, we'll come out and offer a no obligation and FREE home security review of your property and provide you with a written quote. Give us a call at 1-800-310-9490 or click below and fill out the form. Now you can enjoy the rest of the 2 hours you set aside for alarm research and have a nice Pina-Colada.
Sign up hereand receive articles on every topic under the sun that has to do with security. Cell phone security, moving security and even personal security for you kids, dog and home. Make suer to leave us a comment to and let us know how we are going, We'd really appreciate it.