ADT Security Pro - Home Security Blog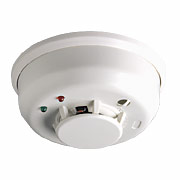 When we bring up the subject of monitored fire protection with ADT, customers often ask what the difference is between the ones they already have and an ADT Smoke Detector. No one wants to spend money on something they already have. However, there are considerable differences between ADT Monitored Smoke Detectors and the ones many people buy from a local home improvement store.
Every second counts when protecting your family from a fire and ADT Smoke Detectors are an important part to protecting your home, family and pets. In an article titled Fire Alarm Will Stop Catastrophic Devastation of Your Family, it explains how three decades ago, you had 17 minutes to get out in a home fire... now with modern homes, you have three to four minutes. WOW... What's Changed?
Let's see what makes a smoke detector from ADT different.
Main Differences:
1. ADT Smoke Detectors are
photoelectric detectors compared to ionized smoke detectors
installed in 90% of American homes. Photoelectric detectors are far superior at detecting smoldering smoke that often happens when a fire is staring. Often photoelectric smoke detectors detect fires before the flames actually ignite and save precious time. They also
have a rise of heat
that helps quickly detect a fire if the flames ignite and begin to create a rise of temperature.
Read More
Tags: ADT Security System, Home Security Equipment, ADT Home Security Systems