Home Security Systems are pretty straight forward, however, choosing one can make for a challenging decision. One reason might be the pressures. For many, you just had a break in or a neighbor did, maybe you just brought home a little bundle of joy and a heightened sense of vulnerability along with it, or you just moved in and met the pushy neighborhood sales guy. Top that off with some price confusions. One company charges $99 and another charges $999 for systems that look exactly the same.
Choosing your new alarm system can start to feel more like a sledge-hammer to the head. To help you out, here's a list of what you need to think about to make a wise and informed home security decision: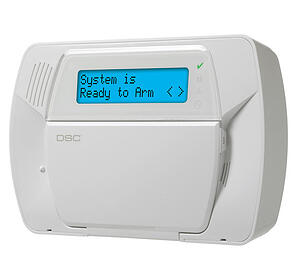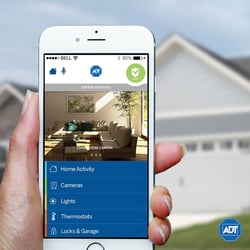 OR
Know Some Home Security Basics and DON'T Get Taken Advantage Of
A little knowledge can go a long way when some pimple faced kid is trying to pull a fast one on you. You need to know these basics:
1. Wireless vs. Hardwired systems: This is in reference to the devices inside your home. They will communicate with the panel via wireless signal or there is a wire run from every device back to the panel, like a land line telephone. A basic rule of thumb is, if you have a hardwired system (or a pre-wired home where just the wires are run but no devices) you want to look into the merritts of using that system. Depending on how thorough your existing system or wiring is, utilizing what is already there is often the best option.
A good way to compare your options is to decide on the system that you want including how many door and window sensors, motion detectors, etc. Next compare the price for a completely wireless system vs. using the wiring and devices you already have. If you selected additional devices beyond what is already wired, those additional devices will be wireless. What you will have, in this case, is a hybrid panel that communicates with wireless and hardwired devices alike. Compare the price of those two options to help make your decision.
Side note: Both hardwired and wireless technologies are reliable and perform great in most applications, If a company tries to steer you towards what is convenient for them, You might consider a second opinion.
2. Cellular vs Land line connection to the central monitoring station: When it comes to the signals sent from your alarm panel, outside your home, to the monitoring station, there are two options. Cellular communication is a newer technology that is just like it sounds... cellular, like your cell phone. The alarm has it's own built-in cellular communicator and it makes a cellular call to the monitoring station to communicate emergency signals. Cellular communication is quicker than land line communication.
Option #2 is using a land line to call in signals. The alarm makes a land line phone call into the monitoring station. There is technically a 3rd combo option that utilizes the land line and cellular, it is a called cellular back-up. Cellular communication is used if the land line fails. Cellular only is more common these days as many people forego having a home phone because they are affected by outside forces like being cut or phone company service interruptions.
How Many Bells and Whistles Do You Want? Have a Good Idea Ahead of Time.
True story... I once went to the grocery store to fill a prescription and drove home with a living room set and a television. Really, that's not a story I created. Basically, I had been toying with the idea of new furniture. I had randomly been thinking a red couch would be kinda sexy and represent my new adult stage in life. (Please don't laugh.) My prescription was going to take 20 minutes so I went outside for a cigarette. A cigarette break while waiting for my prescription cost me almost $2,000.
The unnamed slick store had my dream living room right in the front window. Sure they had more economical choices in the nose bleed section of the store, but I had seen my future and destiny in the front window. Now don't get me wrong, the couches were (and still are) comfy, like your favorite pair of jeans worn on the second day... COMFY! And I they get oohs and ahhs when people walk into my house.
Ready to buy + bright, shiny features = impulse buys. You don't even want to hear what happened when I went to "browse" a car dealership for my first car.
So beware, home security today can literally make you a pot of coffee in the morning*. If you are looking for that, it is an AWESOME feature! But the blood that pumps through your home security system is always going to be security. The primary and no-compromise need of a system is to adequately protect your loved ones. For some, having surveillance cameras equals peace of mind as well. They are even surprisingly affordable. For some tho, all the bells and whistles make the alarm system the best things since sliced bread.
Another addition to the basic security is remote access. For people who travel or just lead very busy lives, remote access is crucial. You forget to arm the system. No problem, check and see, then arm from any Internet enabled mobile device. If you "accidentally" forget the in-laws are arriving, your wife can even unlock the door remotely. That brings us to home automation and the cool video here.
Automated door locks, lights that turn on at specific times, the ability to check your thermostat and adjust remotely, these are features that save you time and money and add convenience to your lifestyle. But a couple questions to ask: Do you use a mobile device? a Smart Phone? Almost 80% of our clients choose remote access to their home and system. That's a high percentage of clients, but if you are the other 20%, it's good to know before hand.
Security systems can be a platform to integrate control of many systems in your home which can be very convenient and fit in well with todays mobile lifestyle. However, taking a few moments to look at which features really appeal to how you live can go a long way towards making confident investment vs. having a great story to share about what not to do.
Choose a Home Security Company You'd Be Friends With
Friends can mean a few things these days. You have social media "friends" and you have friends that you wouldn't mind grabbing a coffee or beer with. When you work with a company, shoot for both. We all have a story of completing some business transaction and thinking, "That was great customer service, that guy was one of the good guys!" here's mine:
We once went to buy a Christmas tree and had the lot owner chat us up for a minute or two and then apologize profusely that he had an appointment down the road. He took off his gloves and said, "Unless you have further questions I can aswer, I'll let you all find your tree and get back home. Here, use my gloves, pick the tree you want and put the money in a baggy on that stool over yonder." WHAT?? No joke... Then he high-five'd the kids, and left. If he sold year round, we'd buy everything he sold, for me. We readily returned last Christmas. This time we got hot cocoa, fresh baked cookies and coloring books for the kids. Great price on top if it, but honestly, he could charge a bit more than the next guy and I would pay for that kind of service. Heck, I would happily have a beer with the guy. Needless to say,we will be back every Christmas. Maybe even after we move which will put us an hour away.
Isn't life too short to deal with crappy companies, pushy "sales" people and less than stellar customer service? Hopefully you have a corner coffee shop that knows you by name and the way you like your coffee. That's the experience you deserve. My suggestion to you is to read 3rd party reviews. Preferably ones posted on a site like Yelp, Trust Pilot or Angie's List (Angie's List is a membership only site.) Any business with half a brain will post ONLY the good ones on their own site. Check a third party site to makes sure you get the whole picture. No company is perfect, everyone gets a bad review every once in a while, but read what the reviews say about the people you will be dealing with. Do you see a lot of "these are great people" and "they went above and beyond." Basically, you should.
And on to social media "friends." I know, why would you want to hang out on Facebook with the local alarm company? Well, there is actually a good reason. Here at California Security Pro, we care about all things security. Your personal safety, Internet safety, all kinds of good stuff. We even chat about what's going on in the different communities, crime trends and current scams to watch out for. Take a quick look at this blog to see what's going on with our different social media channels. Once you're installed we want you to have access to anything you want to know about your system and what security issues you should be aware of.
So that's it. A great start to making a smart choice for your family's home security needs. The great news is that almost 80 percent of homeowners with alarms rated their systems as effective in protecting their homes. That's according to a survey by Consumer Reports. If you are ready to set up a FREE On-site Security Review, simply click the link or for more information about Home Security, download our FREE Guide to Home Security by clicking the big button to the left.