Kern County Home Security Reviews
See what our current clients have to say about us and you'll be confident that you are making the right choice when you choose California Security Pro.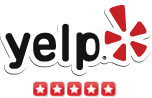 "Daniel Zartner from California security pro did the install and was awesome, I was very pleased."
Daniel Zartner from California security pro came to my house today for an install and was totally professional and a hard worker who made everything he installed look good as if i did it myself, i was very pleased, and not only with his work but his attitude was so awesome i told him about applying at my company, not too many hard working 23 yr old's that work and communicate with people like he did to my wife and i. so if California security pro sells you an adt system ask for this guy, you wont be disappointed!
Josh M., Bakersfield, CA

3/13/13

"Definately Appreciated The Great Service."
After having our home broken into, we definately appreciated the great service we received from the sales persons and the installing technician Daniel! Everyone answered all of our questions and were very helpful, and it was perfect that they were able to schedule an installation very very soon. Not to mention, we got a great deal! :)
Barbara S., Bakersfield, CA


"CSP was easy to deal with and very professional."
CSP was easy to deal with and very professional. Installer was out the next day!
Christopher M., Bakersfield, CA


"He was knowledgeable, helpful, and extremely kind."
Elliot Young just set my fiance and I up with ADT. We received excellent customer service from Elliot. He was knowledgeable, helpful, and extremely kind. Thank you Elliot!
Jennifer H., Bakersfield, CA


Very professional. Helped determine which was the right security package for us! Well presented and concise!
Marilyn T. Bakersfield, CA


Thanks to Daniel and Ron for great work on my ADT Pulse Interactive security system installation. They worked very late to try and complete the installation. Returned the next day to complete and assisted me in understanding the system.
nice job.

Very Professional and congenial. Looking forward to doing business with them on my future Security expansion.

Exceeded my expectations great company

....Thanks to salesman Angel, Installation Manager Ron and Installer Daniel..
James C. Durbin

Would highly recommend California Security Pro


the sales rep Angel R. and Ron L. the instalation crew were so helpfull and extremly professional. I never felt pressured into buying a security system and Angel did everything he could to help me feel more comfortable living in my home by making a security system affordable. this team was was so friendly and down to earth I'm glad they helped me out!
Erica S. Bakersfield, CA


We searched for a while to find an alarm system we liked. Chanel A. and Kenneth M. were very informative and knowledgeable. Ron L. came down to install our equipment. The install was very smooth and easy. We were given all the information we needed about our system and the controls. He left us his card and told us if we needed anything or thought of any other questions about our system, we could call him day or night and he would help us out. We call in to their service department to see about moving our installation date and time. We were helped by Jason G.. He was very courteous and knowledgeable and he bent over backwards to make sure we very satisfied. The service was amazing and I am telling all my friend to sign up with California Security Pro.
Jonathan M. Bakersfield, CA
ADT Monitored Security Systems Installed throughout Kern County
California Security Pro installs ADT Monitored Security System for homeowners in these Kern County Cities.

Kern County

Arvin, CA
Bakersfield, CA
California City, CA
Delano, CA
Greenacres, CA
Lamont, CA
Oildale, CA
Ridgecrest, Ca
Rosamond, Ca
Shafter, CA