ADT Command BUSINESS SECURITY SYSTEM - BUSINESS OWNERS #1 CHOICE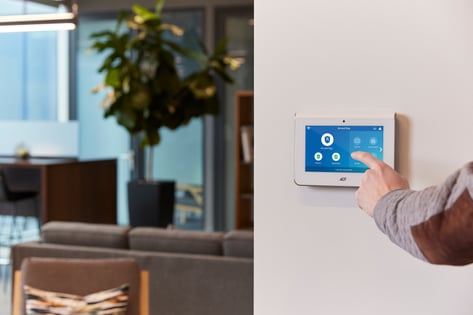 The ADT Command System is the new standard for business security and video monitoring. ADT is by far the most popular business security monitoring option of our customers and is certainly the finest security monitoring available today. ADT will give you a true sense of security, peace of mind and confidence that you are being protected by the best.
What makes the ADT Command your finest security solution for your business is the ability to use mobile devices like smart phones, tablets and laptops to check the status of your security system. The ADT Control App also gives you the ability to remotely arm and disarm your business security system. You can also set up your security system to send you text and email notification of emergency events. All this is backed by the most comprehensive security network of interconnected central monitoring stations providing your business emergency monitoring every second of everyday.
Schedule a free business security review to have one of our Security Consultants come to your business and give you a live demonstration of the ADT Command. Once you experience the ADT Command, nothing else will compare.
ADT for Business Security
Remote Interactive Security Services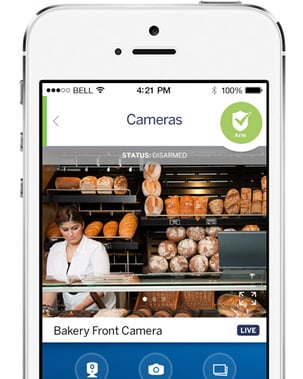 The ADT Command provides incredible protection for a very reasonable price. Here are the seven main benefits the ADT Control App will provide for you and your business.
1. Remotely check the status of your security system
2. Arm or disarm your security system remotely
3. Get text and email notification of alarm events and emergencies
4. Receive reminders to arm your security system
5. See event history and user activity
6. Download iPhone, iPad and Android Apps
7. Manage your security system from your personalized web portal
These seven benefits make the ADT Command the favorite of our customers. For business owners on the go the remote security features make the ADT Command the perfect business security solution.
ADT Command with Business Video Monitoring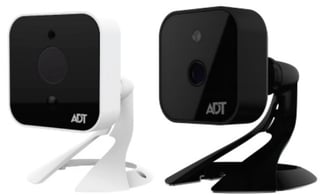 ADT Cameras give you the added security of video monitoring. Some of the main benefits are:
1. View secure real live video of your business from anywhere using a mobile device or computer with an Internet connection.
2. Record video clips of device and emergency alarm events. Send video clips to users via text or email notifications.
3. Use motion activated technology built inside the ADT cameras to trigger video clip recording. Fantastic to record anytime an employee or customer enters a designated area.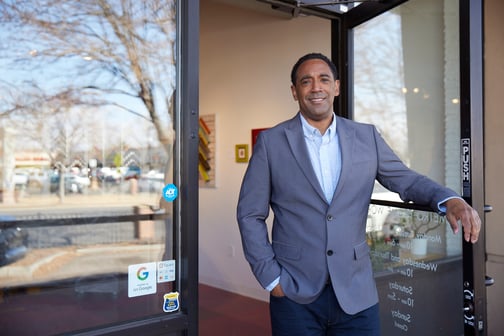 Business Security Cameras with Digital Video Recorder (DVR)
Security Camera Systems are great for helping to prevent theft and vandalism at your business. Video surveillance systems can provide you the ability to record from your security cameras onto a digital video recorder. You can view the cameras remotely or look at recorded video from the last several weeks to several months depending on the hard drive storage capacity and the settings of the recorded video.
Most DVRs for video surveillance systems come in 4, 8, 10, 16 channel systems and multiple DVRs can be used if you need more cameras.
You can get a video surveillance system independently from your ADT security system.
Reduce Shoplifting with Video Surveillance
At California Security Pro, we are here to provide the protection you need. The security products we have are the best you will find anywhere. Security Cameras:
Help protect against shoplifting, vandalism and robbery
With recorded video on your DVR will be used as evidence for police emergencies
Manage Your Business with Video Surveillance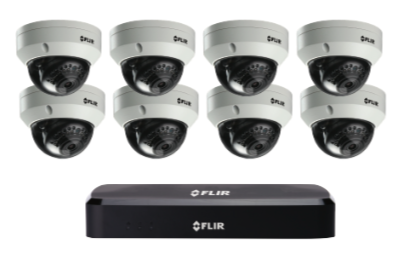 Worried about what goes on in your business when you're not around? Fear no more with the 'eye-witness" Security Cameras! A video surveillance system helps you monitor your business no matter where you are.
Improves employee productivity and business efficiencies
May reduce fraudulent liability claims
Helps improve business operations and increase net profit!!!
Call to schedule a free business security review
800-310-9490
or
800-960-4590
for Southern California
.
Customer Reviews
"...safer with a more established company..."
"I just opened a new business... ADT has been around for many years... I figured that I would be a lot safer with a more established company... since they were able to answer all my questions and make it more cheaper... I went with ADT."
—Chitwan S., San Ramon, CA
Additional Information for Business Security