ADT Ventura County Home Security Companies
ADT Security Ventura County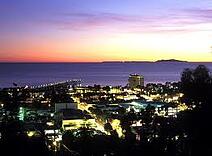 California Security Pro is your best choice for getting an ADT Monitored Security System installed in your Ventura County home.
California Security Pro has been installing ADT Monitored Security Systems in Ventura County since 1999. California Security Pro is one of the largest ADT Authorized Dealers in the United States and ranks in the top 20 of 600 ADT Dealers nationwide.
We have installed over 20,000 Security Systems for California homeowners and help protect many of Ventura County's residents and small businesses.
Rated Top 10 Home Alarm Companies in Ventura County
California Security Pro is honored to have been awarded a Prime Buyers Report 10 Security Company in Ventura County and currently the only company to be given the Top 10 Seal.
We also have an A+ BBB rating and have earned 5 Star Ratings on Yelp from our satisfied customers. It would be our priviledge to install a security system in your Ventura County home and we would take incredible care to give you top level service.

Yelp Review - "Awesome experience!"
Awesome experience! First off, I just have to say, I have never spoken to such a friendly, GENUINELY caring, yet professional salesperson as Taniqua P! She was so patient and spent time listening to my security needs and making sure they were met- all at a GREAT PRICE! I really appreciate her taking time with the paperwork, so that I would get the best deal. I also was impressed that she was never pushy about up selling any products. She also scheduled us with Ron who knew exactly what he was doing, explained every step of the process, and even made sure I was satisfied with the position of the outdoor security camera before securing it permanently to the wall. He was friendly, quick, knowledgeable and professional! We are so thrilled with the convenience and ease of use of the ADT Pulse app, too -it was exactly what we needed. We will make sure to recommend this company to our family and friends. Thank you, Taniqua and Ron!
- Ami V., Las Vegas, NV (Recently moved to Ventura, CA)
...................................................................................................................................................................................................
Great customer service.
Angel and Ron were awesome. Everything was on time and streamlined.
Shooter, Ventura, CA
Customer Testimonials
"Thank you so much."
ADT removed one thing on my mind that was adding to my stress level - thank you so much.
Lorinda Fournier, Ventura, CA
ADT Monitored Security Systems Installed throughout
Ventura

County

California Security Pro installs ADT Monitored Security System for homeowners in these Ventura County Cities.
Ventura County

Bell Canyon, CA
Camarillo, CA
El Rio, CA
Fillmore, CA
Moorpark, CA
Oak Park, CA
Oak View, CA
Ojai, CA
Oxnard, CA
Port Hueneme, CA
Santa Paula, CA

Simi Valley, CA
Thousand Oaks, CA
Ventura, CA