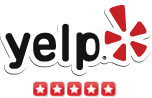 1/20/16

"I've had no issues over a year later."
Fish Araya from California Security Pro was very friendly, responsive and helpful with my home security installation. The security system has been working well and I've had no issues Over a year later, I asked Fish a technical question about the system and he was again very helpful. Would recommend this system to my neighbors and friends.
Aaron H.,Lafayette, CA


7/28/2013

"This is the company to use for alarm installs And I could not be happier."
I recently bought a new home in Lafayette. Decided to get an alarm based on the great reviews of California security pro. Jarrett came to my house on time and gave me extensive overview on his company. I decided to go with his recommendations And the next day the alarm was installed. The tech came out the next morning and did a great job with install and explanation of the system. This is the company to use for alarm installs And could not be happier. So thank you Jarrett and California Security Pro.
Francis B., Lafayette, CA

7/11/2013

"We are completely satisfied with the system."
the installation of the system was completed in a short time frame, and the installer explained the system so that we could both understand it. The sales rep followed up to check if all went ok, and that we could add on extras down the road. we are completely satisfied with the system and would recommend it and California security pro to anyone.
William S., Lafayette, CA

1/16/2013

"Choose this company for your home security needs."
I was impressed by the professionalism of Lance Quevillon. He really worked with my circumstances and situation and made valuable recommendations and suggestions that would best suit my needs. The installer was professional as well, and kept me in the loop about how long the job would take.
I'm not just interested in buying quality products, but I also value and enjoy working with professional, upstanding people who conduct themselves appropriately. If you want to support a company worth supporting, that delivers a good product and value, choose this company for your home security needs.
k k., Lafayette, CA
Just had our existing security system updated and converted over to ADT. Paul Daly did a geat job explaining equipment, telling us about our options, and configuring what we needed keeping cost in mind. Micah did a geat job installing the equipment and showing us how to use it. Paul was very responsive and even stopped by the day of our installation to make certain everything was on track. Mical went the extra yard crawling through our atic to see if a control pad could be moved from its existing location to a new location that required running the wiring through the attic. Gladly recommend CSP, Paul and Micah.
Excellent Pre Sales Service and installation. Jarrett offered great guidance on what to think about in terms of security. HIs guidance was not driven by monetary means but by custome service, The installation took several hours and even when i was unsure of some sensors, i got a hold of Jarrett who helped me immediately.
We called ADT to get an estimate for a security system. Justin was the salesman who came out. He was very attentive, listened carefully to our needs and concerns and provided some great recommendations. He even gave us tips on things that we could do on our own to make our home even safer. He was very patient when we told him we were stil shopping around and invited us to call him at anytime and he'd come back out at our convenience. After talking to other alarm companies, we felt ADT offered the best equipment for our needs. True to his word, Justin came back to our home the same day that we called him back, finalized everything and arranged for installation the very next day. Rene was our installer and was also great. There was a minor glitch in the installation, but Rene came out the next day and quickly fixed it. We've had the system for a week and it's working great. Everyone we dealt with at California Security Pros was very professional, knowledgeable and attentive to our needs.