ADT Local Installation Technician-Tamas Papp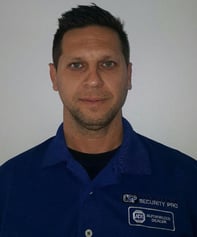 Tamas Papp is your local ADT installation technician. As your local ADT security expert, Tamas will help you design an ADT Home Alarm Monitored System that fits your needs and budget.
During Tamas's visit to your home, you will experience his world class customer service and top notch installation. To Start, Tamas will conduct a walk thorough with you before the installation to discuss the placement of your new equipment and answer any questions you may have at that time. Next, Tamas will perform the install and when the installation is complete he will test the system to ensure that all equipment is working properly. He will educate you on how to use your system and perform a thorough demonstration answering all of your questions and concerns. After these steps are completed, your alarm system will be ready for use!
Tamas chose to work with a company that cares about his customers just as much as he does. His concern about the safety of the community he lives in can be seen daily through his strong dedication and full understanding of how this business works. When it comes time to choose the best security company available, there is only one choice, call to schedule an ADT installation today 1-800-310-9490!
Installation Packages for Los Angeles Security Companies:
For Los Angeles, CA homeowners, we offer a wide array of ADT monitored security systems to choose from. An ADT wireless security system uses your existing home phone line to send the signal to the ADT central station. If you decided not to have a standard home phone service in your Los Angeles, CA home then you would need an ADT cellular security system.
Our newest ADT Pulse system offers you the ability to interact with your mobile device to ARM/DISARM with secure web access as well as receive text and email notifications of alarm and device events.
To get your best deal in Los Angeles, CA and save money on all ADT security equipment packages, get ADT coupons.
Yelp Review
8/10/2016 "

They were super professional, efficient, customer focused, and helpful

"
5 Stars! They were super professional, efficient, customer focused, and helpful with questions and concerns.Angelwas our rep and he did a fantastic job working to accommodate our needs. He was a huge reason we went with CSP. Thomas (our installer) was fantastic as well...patient as he walked us through the system. FYI bee called around prior to CPS and had another security company send out an agent. It was a nightmare as he was aggressive and rude. Save your time and go with these guys from the start!
- Tracy P., Venice, CA
 

Yelp Review

 




7/14

/2016 "Great service, quick response"
Great service, quick response. Steve is diligent in his follow-up and we are happy 
to have worked with him. Highly recommend the service. - Sun M.,Santa Monica, CA 
(New Homeowner in Los Angeles)

Yelp Review
6/29/2016 "

Brandon hooked us up!"
Brandon hooked us up! Was informative, consultative and responsive. All that plus a new alarm system. We are slow adopters & Brandon's continued patience with my ongoing questions before/ during / after has been very much appreciated. Recommend Brandon if you are looking for same qualities. (installed by Tamas)
peter t.,Oakland, CA
5/18/2016 "

Angel made our entire transition very smooth"
Angel is the best agent in ADT. If it wasn't because of him, I wouldn't have used this service. He is very professional and cooperative and easy going. Angel made our entire transition very smooth and I'm happy I got a great experience with him at ADT. (installed by Tamas) - Nazila J., Beverly Hills, CA
5/5/2016 "boy they didn't disappoint."
A stellar track record on Angie's List and Yelp led me to California Security Pro and boy they didn't disappoint. I did a ton of research online on different monitoring companies and found that while ADT is the largest provider in the US, service levels can vary significantly by region depending on the dealer. Lucky for me the folks over at CSP have been top notch and my rep in particular, Angel, has been an absolute pleasure to work with. Angel was very good in explaining his product and why they're differentiated. I also didn't feel pressure to give him the sale which was refreshing. He's extremely professional and I don't think Ive met an individual that's more dedicated to their job in a while. Seems like he's constantly seeking professional improvement. I've had a number of follow up questions since my installation and he's been quick to respond to everything, day or night, and always with a positive attitude. It's been great and I have significant comfort in putting my family's security in ADT, CSP and Angel's hands. That says a lot - I highly recommend!!! (Company edit: This alarm was installed by Tamas) - Brian K., Los Angeles, CA (Palms Area)
5/2/2016 "I hope this company realizes what a gem they have in Mr. Rodriguez,"
I am very impressed with the service I received from Mr. Angel Rodriguez. Despite a several last minute changes and some very inconvenient requests made under my account, Mr. Rodriguez was surprisingly cordial and willing to help...even after his work-hours in the evenings. He was very patient and courteous and he took care of everything on time. He always responded on time and kept all his promises, even when I had to make so many last minute changes to my orders.

I hope this company realizes what a gem they have in Mr. Rodriguez, as I will continue to use them for my future projects. And I have no doubt that this young man will take a larger role in his company to influence greater number of people. For the record, no one had asked me to write this review and it is a pleasure to speak of someone who seems to go out of his way to help his clients above and beyond his due diligence. Thank you.

Best Regards,
Dr. B - B K., Beverly Hills, CA
.........................................................................................................................................................................
4/26/2016

"I feel confident and secured with my new ADT system"
I am extremely happy with the service provided by the ADT and it's agent Tamas who installed the equipment at my new house. I feel confident and secured with my new ADT system even when I am away from the house.
The installation was done in a very professional manner and was given a thorough walk through of the overall system and it's function. I certainly recommend the ADT system and the agent for his service. Kiran Kumar V., Simi Valley, CA
4/23/2016 "We are pleased with the ADT system"
We decided to install a security system in our home after a burglary. Otis, our sales rep, came out to evaluate our needs and give us a quote on an installation to meet our needs. He was very professional, courteous, friendly, and knowledgeable and helped us decide on the best system to meet our needs. He did a walk-through to determine where all the sensors needed to be placed, and took our input about what we would like to have covered. He gave us a quote on costs and did not do a "hard sell" but let us decide (taking a few days) in our own time which we appreciated. Otis has been very responsive both with completing our purchase and being available to answer questions before and after installation. The installation was scheduled in a very timely manner and the installer did a good job. He then instructed us in the use of the system, and answered all questions we had at the time. We are pleased with the ADT system, and the California Security Pro staff, and would recommend them to anyone who would ask. - Barbara M., Walnut, CA
4/21/2016 "ADT was one of the only ones that actually came to my house"
I recently moved to a new house and needed a security system. I researched about 10 different companies. ADT was one of the only ones that actually came to my house to give their recommendations on what security MY house needed versus what was the most expensive option. Angel Rodriguez came to my house to talk to me about my options. He was extremely knowledgeable about the proper security measures I should take for my house, and was very courteous, kind and respectful. Installationwas scheduled quickly and the installer was fantastic. He showed up on time, worked hard and really made sure to check and double-check that everything was working properly. Then he spent a good 15 minutes talking me through the different options, instructions and capabilities of the website and app. I highly recommend ADT for their service, in particular Angel. Thanks for a great job! - Anita B., Santa Monica, CA

4/20/16"Impressed."
Just signed up with ADT and impressed with the genuine professionalism displayed by Otis and Angel. They know and stand by their product. I appreciated how they did not use the typical fear tactics such as the statistics of the local crimes and recent headlines. Their knowledge of the security system helped us decide to go with them.
rodney v.,South Pasadena, CA (New Homeowner Northridge, CA)
Angie's List ADT Reviews

We are proud to service Angie's List customers and we thank those who took the time to let others know about us! Angie's List is a membership service that compiles consumer ratings of local service companies and contractors. Take a look at what members are saying about us:
ADT Reviews:

Trustpilot

's List

Reviews prove to customers whether or not we put their needs first, our customers speak for us by proudly placing there review on Trustpilot; after all, customers trust other customers and our consumer's reviews say it best! We would like to thank all of our customers who took the time to let eveyone know about their experience with California Securty Pro!