ADT Coupons Will Save You Money on Home Security
California Security Pro offers a FREE home security review along with FREE security equipment valued at $850 when you get monitoring service with ADT. ADT is the #1 home security alarm monitoring company in America. Already prewired or have existing security equipment? No problem because you will still receive $850 of FREE upgrades to your existing DSC, GE and Honeywell/Ademco manufactured products. Go with the best without paying more than you should!
If you have an existing security system make sure to have someone come out to take a look at it to see if it is worth using. With ADT you will get the $850 in free upgrades to your existing security system with ADT alarm monitoring service. If you purchase a security system over the phone or online, many companies often try to get you to scrap your existing system and just start with a brand new system. Often this is a complete waste. See if what you have is worth keeping and add features you want to it. Many times you will get a very robust system at a very affordable price.
ADT Coupons:
Use the below coupons when you order your ADT Monitored Alarm System. If you find an ADT coupon with a better offer just give it to our Security Consultant and we will honor any ADT approved coupons.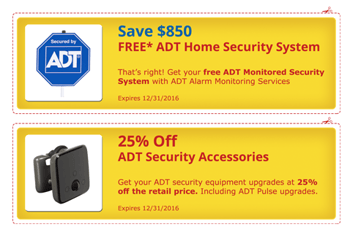 The 25% off of ADT security accessories includes a discount off any of the retail prices for equipment upgrades in the California Security Pro price book. It also gives you discounts on all ADT Pulse equipment upgrades. Including ADT Pulse Cameras and home automation devices like thermostats and lamp modules.
California Security Pro has packages that have already been discounted. So find out what package is best for you, then add additional upgrades to your security system at 25% off.
As your local ADT Authorized Dealer, we specialize in the latest technologies for monitored home security systems backed by the world class ADT monitoring service. We will come to your home and offer expert advice along with the best ways to keep your family and belongings safe from harm. We will offer suggestions to save you money and provide you with peace of mind!
Check out our scores and reviews:
A+ Better Business Bureau Rating
Prime Buyer's Report Top 10 Security Companies
Here is the FREE Equipment you will receive with your ADT coupon:
1 Wireless Control Panel
1 Security System Keypad
6 Wireless Door / Window Sensors**
1 PIR Motion Detector - Wireless
1 Quick Key Remote
1 Alarm Siren
1 Power Supply and Battery Backup
1 ADT Yard Sign and Window Decals
Police, Medical and Fire Panic Buttons
Next Day Installation Available! Just $99
**Ask about your 6 FREE wireless door or window sensors with our Facebook promotion, FREE* system includes 3 wireless sensors without Facebook promotion.
We Will Match All ADT Coupons or Direct Mail Promotions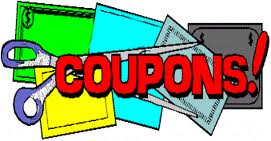 Take advantage of our price matching policy! In today's economy a coupon or special offer can go a long way in helping you save money. If you are shopping online, have ADT coupons or you received a direct mailer with special offers, don't hesitate to call us because we will honor the pricing, equipment package promotions and monthly monitoring rates on all ADT approved offers.
Go with the top ADT Authorized Dealer in California and also insure you get the best price possible. Show us ADT coupons, online special offers, direct mail pieces for ADT or a written proposal with a better price that our current offer and we will match or beat the best deal you can find. We want to protect your home, family and business and also want you to feel like you got the best special offer you could find for ADT.
Call 1-800-310-9490 to schedule a FREE Home Security Review to receive your FREE equipment!!