Local Installer Rene Mayorga: Sacramento Security Companies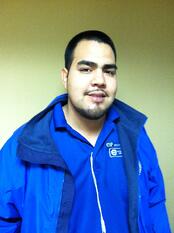 Rene Mayorga is your local ADT Sacramento ADT Installer. After starting a career in automotive sales, Rene decided to transition into the home security industry. Six years later Rene still enjoys the rewarding feeling of knowing that his work provides peace of mind on a daily basis for thousands of families all over California. Rene will install your monitored ADT alarm system with precision and quality.
During Rene's visit to your home, you will experience his world class customer service and top notch installation. To Start, Rene will conduct a walk thorough with you before the installation to discuss the placement of your new equipment and answer any questions you may have at that time. Next, Rene will perform the install and when the installation is complete he will test the system to ensure that all equipment is working properly. He will educate you on how to use your system and perform a thorough demonstration answering all of your questions and concerns. After these steps are completed, your alarm system will be ready for use!
When it comes time to choose from the Sacramento Security Companies available, there is only one choice, call to schedule an ADT installation today 1-800-310-9490!
Rene Mayorga Recommends these Local Businesses:
1A Advanced Garage Door, 7534 Westgate Drive, Citrus Heights, CA 95610 (916)838-8182 "Consistently great service from this place."
Hi-Tech Carpet Cleaning, 3510 La Grande Blvd, Sacramento, CA 95823 (916)996-4943 "My whole family uses this Hi-Tech."
Sacramento Pipeworks, 116 N. 16th Street, Sacramento, CA 95811, (916)341-0100 "You have to check this gym out!"
Rene Mayorga Recommends these Local Restaurants:
Boon Boon Cafe, 3022 Stockton Blvd, Sacramento, CA 95817, (916)456-4647 "Best Thai food in Sacramento."
Pork Belly Grub Shack, 4261 Truxel Road, Suite A7, Sacramento, CA 95834 (916)285-6100 "Try the pork belly fries, they're great."
Chando's Taco, 863 Arden Way, Sacramento, CA 95816, (916)641-8226 "My Favorite tacos in Sacramento."
Sacramento Security Company Installation Packages:
For Sacramento, CA homeowners, we offer a wide array of ADT monitored security systems to choose from. An ADT wireless security system uses your existing home phone line to send the signal to the ADT central station. If you decided not to have a standard home phone service in your Sacramento, CA home then you would need an ADT cellular security system.
Our newest ADT Pulse system offers you the ability to interact with your mobile device to ARM/DISARM with secure web access as well as receive text and email notifications of alarm and device events.
To get your best deal in Sacramento, CA and save money on all ADT security equipment packages, get ADT coupons.
Rene's ADT Customer's 5 Star Yelp Reviews: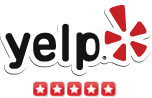 7/21/15

"Treated me like a family."
California Security Pro is one of the best security providers I have ever seen, It has been an out of the world experience dealing with them. Kyle is a blessing to mankind. Visited me on a Sunday. Spent 4 hours inspecting my house, discussing every security issue in detail and length and make recommendations that has helped me save hundreds and yet boast of top of the line security system. Kyle is a good human being. He treats clients before anything else. He treated me like a family. As a follow up to my meeting with Kyle, Rene visited our premise and did a fabulous job. He was extremely patient and educated our family on every aspect of the security system. Always smiling. Great guy. He asked me to relax and worked on installing the system. Took me a few hours and then he looked at me with a big smile and said" you are secured". What a feeling dealing with them. I strongly recommend them. If you need a security system, go for them. Believe it or not-customer service is just awesome. Kyle is a very senior manager but does not forget to call his customers once in a while. I have been with them for 10 days and Kyle and Rene have called us twice to check, if all is well. Love you guys. God bless.
Amit H.,Danville, CA
7/15/15

"Excellent job in supporting our needs."
We just finished installing our ADT security system. Brandon Tomas, rep from California Security Pro, has done an excellent job in supporting our needs. He is patient, responsive and proactive in problem solving. Rene has done a great job in installation. He arrived promptly and worked efficiently in rewiring the old system and installing the new system. He is well trained and knowledgeable. I highly recommend the team if anyone is considering a new security alarm system.
Tina U.,San Jose, CA
7/13/15

"Tom cannot thank them enough."
My boss, Tom, had a situation pop up and needed immediate attention. Rene & Andy came through, assessed the situation and took care of him right away. Didn't try to over sell a system he didn't need, they just listened to what he wanted and set him up. Tom cannot thank them enough for their professionalism, attention to detail and care of the customer. Tom gives them high marks and recommendation. If you find yourself in the market for a security system, go see California Security Pros in Napa. You will not regret your decision.
Greg V.,Union City, CA
4/14/15

"Trust."
Brandon did a great job. Diligent, on-time, courteous. There are a lot of guys out there selling security, and I went with Brandon because I felt like I could trust him .. and he gave me a great deal.
Joshua K.,San Francisco, CA (New Homeowner Oakland,CA)

3/27/15

"We made a good choice."
My wife and I just moved into our new home about a month ago, and the first on our list was to get a alarm system. ADT was our first choice. We meet with Joseph Abeyta (rep in our area) , Joe was very informative on explaining how ADT System works. Joe didn't pressure us In buying more than what we needed. When we were in agreement, we set up the install appointment. Rene Mayorga ( installer ) arrived, he explained what he will be doing step by step and asked us if we had any questions. When Rene was done with the install, he took his time an showed us step by step instructions on how to set and dis-arm the system. Rene is an Awesome installer, his work is clean and very professional! ! Good Job Rene!!! My wife and I feel we made a good choice getting ADT System and feel very safe when we are home or away. MAhalo (thank you ) Joe and Rene
Byron F.,Emeryville, CA (New Homeowner Baypoint,CA)

3/9/15

"Perfect timing."
We recently bought our first home and we were going to start looking for an alarm system when Joseph Abeyta came knocking on our door to offer their service. It was perfect timing. He was very professional and knowledgeable about the security industry. He helped us choose the plan that worked best for us and their prices are unbeatable. He scheduled installation right away and Rene Mayorga came to do the job. He was also very helpful and taught us everything we needed to know about how to operate the system, which by the way, is extremely easy. Thank you both, as you have given us a peace of mind!
Jennifer P.,Pittsburg, CA

3/8/15

"Easy to work with."
Working with Bill Wood at California Security Pro was easy from start to finish. He wasn't high pressure at all, which is very important to me -- I HATE feeling pressured. He just offered what he thought was best, and then took the care to come by during the installation to check on things. Oh and installation by Rene was great -- I felt super comfortable with him doing everything that needed doing. Both Bill and Rene were so polite and easy to work with. I highly recommend giving Bill a call!
Maddee J.,Napa, CA

3/7/15

"Awesome."
Awesome set up by Rene. He was thorough and even offered to bring me a extra device out on a different day. I needed and didn't order a carbon monoxide unit hook up. So I appreciate him making the extra trip. Bill also stopped by to make sure the install was going well. Thanks to both of you!
julie w.,Clayton, CA

12/19/14

"We're very satisfied and will recommend."
We're trying to look a security system for our house. Joseph Abeyta came and explain all the options. Joe quoted me a great price on the system, so he scheduled the install right away. Rene Mayorga(installer) did an excellent job installing the alarm system. We're very satisfied and will recommend to anyone who needs system for their homes. Professional top notch customer service for Joe and Rene
Alquin S.,Antioch, CA

12/17/14

"Thumbs up for the quality."
We are incredibly pleased with the kind of customer service we received. Bill Wood took the time to explain, in detail, the workings of the system, and not to mention, I had quite a few questions! The installation was surprisingly quick. I can't stress how much I appreciate their reliability and willingness to accommodate my hectic schedule. Finally, thumbs up for the quality of his work. I can rest assured that our business will be safe at all times. Thank you!!!
Lucy C.,Antioch, CA

11/6/14

"Good experience and would recommend in the future."
Just had the ADT Pulse system installed and so far it's working out great. We had a consultation withLarry Maerina and he was great to talk to as he gave us some good ideas for additional security and safety, however we did not feel like he was trying to sell us on anything that we didn't need. On the day of installation, Rene Mayorga was the installer and he was also very nice and helpful. Overall, good experience and would recommend in the future.
A W,San Francisco, CA

8/29/14

"Facilitated the best fit for us."
We are one week post a devastating home robbery. I checked out Yelp as I always do for references and within 5 days we had our system installed and our anxieties reduced. Fish understood our needs and concerns and he facilitated the best fit for us including our installation appointment that was timely and most convenient. Our installer was also a dream. Both of these competent men were very supportive and great safety educators. The only downside to the entire experience is that our parrot is now replicating the system's beeping sounds and she is driving us and our dog nuts.
Valerie T.,Hercules, CA

8/26/14

"Great Experience."
Joe Abeyta came to my house to present us the ADT information, but my husband wasn't home at the time. Joe wasn't pushy to sell me the product, he was very understanding that I wanted my husband home to hear about the services also. He very kindly worked with our schedule to come back the following day to sit down with us and talk about the company, products and different services that are offered. He was very knowledgeable and thorough. He recommended some things and didn't recommend others based on the needs that our family was looking for. Getting signed up was a very simple process, and in just a few days our installer was at our house!! Rene came to install our system. He was very professional while in our home. He took his time to be sure that everything was done the correct way the first time!!! We have a lot of doors and windows, so it took some time, but he never complained and was very nice while here. After installing everything, he gave us an overview of the system, and got us logged on with the apps for our phones. He made it very easy to understand!!! Joe came back the following day to review the entire system, everything online, our account, our apps, and follow up with any questions that we had! He was complete, professional and friendly about everything!! Thank you for the great experience and I will definitely tell my friends about you guys!!
Traci S.,Brentwood, CA

8/11/14

"I'm very Happy."
Bill came to my house and thoroughly explained everything to me, making sure I would have everything I needed for my house. Rene was the installer, and he was great, too. I have had no problems at all since the installation, and Bill was readily available with any followup questions. I'm very happy with my decision to go with ADT.
Nannette H.,Healdsburg, CA

7/31/14

"All has worked great in the 8 or so months since we've had the system, could not be happier."
Great service, all went as represented, Kyle Madison gave good, clear representation of what to expect and did followup as well to check on our satisfaction. Installation was very fast due to wireless system. All has worked great in the 8 or so months since we've had the system. If the system goes off (we accidentally set it off several times) we are immediately notified of the event and how it was resolved. Could not be happier.
Kimberly W.,Danville, CA (New Homeowner Alamo,CA)

6/30/14

"Extremely polite and worked around my needs."
Jason Cernak was extremely polite and worked around my needs. The statement "Security will work around your needs without hindrance to your activity" is what caught me. He worked around my budget and explained each and every bit of it. Then Rene was the one who came the very next day to install at our place. He was patient and identified the windows that missed and added it to get apt protection. He was very patient and explained everything in detail and also helped me get the app and it's usage. Both are awesome
Naga K.,Dublin, CA

6/28/14

"The service is out Standing."
Fantastic customer service, professional and willing to go the extra mile to make and keep us happy. Rene Mayorga went above and beyond when installing our fairly extensive security system. From installing several cameras to crawling under our house in the dirt and spiders he did it all with a friendly smile and a very professional demeanor. We were so happy we asked for him specifically to come back and install more cameras. The service is outstanding and we feel so much safer with the system he installed. We would highly recommend California Security Pros and inarticulately Rene Mayorga.
Arnette L.,San Francisco, CA(New Homeowner Livermore,CA)

6/24/14

"I would definitely recommend."
Brandon Tomas (Area Rep) made the whole process a smooth one. He offered several different options that suited our needs. I had a last minute install time change and they were able to accommodate it. Brandon is very professional and followed up after the install. I would definitely recommend ADT
Allan C.,San Francisco, CA (New Homeowner Oakland,CA)

6/24/14

"A+ company in my book."
Brandon came back on his own time after missing our appointment and explained what happened. He asked whether if I had any further questions, but a company that can acknowledge their mistake and came back as follow up is an A+ company in my book.
Kenneth Y.,San Leandro, CA

5/10/14

"I would recommend them for others looking for an alarm service provider."
My alarm system company of almost 3 years gave me two weeks notice to buy a new equipment to upgrade from 2G to 3G. It was an extremely unattractive deal so I went shopping for new alarm service provider. I contacted ADT and they returned my call promptly. The visit by Rocky, the regional manager, was very professionally conducted. I had little need to upgrade my system or buy extra stuff as everything I had was less than 3 yr old. Rocky did not push hard on selling me extras which I had expected from an alarm service provider. He did try to tell me something the installer had to check out so as to justify the installation fee. I felt it was a bit of a manufactured excuse but I let it pass as he had to earn his fees. (The installer did not even know anything special that he had to check because everything was working well.) To make thing complicated, I actually needed the installer to install something extra after Rocky left. I appreciated the fact that Rocky did not charge me an arm and a leg for the extra. Rene the installer was great. He stayed for a long time and did a great job. Everything worked and was neat and clean after his work. I tried their online system. It is ok. I wish it is more "advanced" in many ways. Maybe we live in Silicon Valley so we have much higher expectation of what a system can do. I would recommend them for others looking for an alarm service provider.
Ella S.,Redwood City, CA

4/30/14

"Good price and great customer service, you cant put a price on safety."
Thank you to Joe for being such a great guy and setting up my family with a great deal on a great security system. i would recommend anyone/everyone to get a ADT security system, good price and great customer service, you cant put a price on safety.
Delia H.,Antioch, CA (New Homeowner Brentwood,CA)

4/27/14

"Fair prices."
This company is the real deal!! I almost got taken on a very bad, expensive ride from another "authorized ADT dealer". Luckily I called this company, based on the excellent reviews, and was so relieved to be in good hands. Leo S. was absolutely excellent in his recommendations, his warm personality, and his ability to get me fair prices. We now feel safe and well taken care of with this CA Security Pro!
Julie L.,San Carlos, CA

4/23/14

"This is an amazing system."
I recently purchased my first house in San Leandro and Leo Sabado drove up a couple weeks after moving in on a Sunday afternoon. He introduced himself and what CSP had to offer as an ADT dealer. Since we had family over we asked if he could come back the next day as we really hadn't put much thought in to getting a system. He came back the next day in which we let him know that we still didn't get a chance to talk about it but would and get back to him first thing the next morning which would be Wednesday. In turn we deciding to make the decision to see his presentation and get a system installed. He addressed every question we had in regards to the system and costs as well as any concerns. This is an amazing system and so much more advanced and easy to use than the one I grew up with. Thursday evening Leo went above and beyond not only coming over on his birthday but also ordering us pizza from one of his favorite spots since we are new to the area but getting us scheduled for our install that very Saturday. He made it clear that we could call him for anything no matter how silly the question or if we had any problems. Saturday rolled around our install guy was great! He helped me in making the decision for the best place for us to put our panel as well as our fire alarm. He made sure that everything was where we liked it and went through the whole routine of setting up the system not only for the house but online as well and getting our account website all set up. He was done in just a few hours and I was able to move on with my normal weekend routine... which happened to be finishing painting. This team was amazing and I have since recommended Leo and CSP to my closest friends who after seeing our system didn't hesitate to give Leo a call to set up a meeting. I have since only had to call Leo for a question and he was prompt in answering as well as stopping by to assess my issue. What great customer service!!! Thank you to Leo and the whole CSP Team!
Emily M.,San Leandro, CA

4/21/14

"Peace of mind knowing that we are protected."
Joe Abeyta was thorough from start to finish. Actually, he went above and beyond. He took the time to explain the different products and elements that coincided with the alarm system. Once installation was complete, Joe took the time to come to our home and ensure that everything was installed properly and also to ensure that we were aware of how to use all the equipment we had installed. This was not something that Joe had to do, but he did. This demonstrates the length he is willing to go to ensure his customers are satisfied. Rene completed our installation and he too was awesome. He arrived within the scheduled time frame, and was very professional throughout the entire process. He explained what he was going to do and made sure that we knew how to use all the equipment properly. Additionally, he also gave us suggestions based on his professional experience. The entire process with ADT was hassle free and my husband and I definitely have peace of mind knowing that we are protected.
Maria M,Danville, CA (New Homeowner Pittsburg,CA)

4/16/14

"Very professional and courteous."
Went with California Security Pro based on the raving reviews here. Excellent experience so far. Installer is very professional and courteous. We especially would like to mention the sales manager Fish. Absolutely no pressure sales approach. He understood our small business needs right away based on his past business experience. He didn't try to over sell anything that we don't need just to earn more commission. He even gave us some free business advice's that we desperately need.
Way to go!
Dan L.,South San Francisco, CA

3/10/14

"I highly recommend Brandon and Rene."
Brandon knocked on our door a few days after we moved in. We had boxes all over and we were exhausted. After he introduced himself, I said that we wanted to hear about ADT and we were planning on getting a security system, but that we were just too exhausted to make any decisions that day. He graciously said he would stop by another day. I truly appreciated his understanding and that he did not push us to listen that day. When he came several days later I was rested and ready to her about ADT.
Brandon gave a clear overview of the ADT system, then listened attentively to our needs, and then explained our options. He was very clear about the cost as well which I appreciated. He was always very professional but also friendly. I felt that he really cared that we would get the setup configuration that would meet our particular needs. When Brandon and Rene came to set the system up they were very considerate of my home, wearing foot covers to protect the floor. They set the system up efficiently and to meet our needs. When we changed our minds a few days later about whether to have a voice or sound, they graciously returned. I just had a question recently and called Brandon. He was prompt in calling back and helpful with his response. I highly recommend Brandon and Rene.
Helynna B.,Oakland, CA

3/5/14

"We are very happy."
Bill Wood did a great job explaining the security system to us and making us feel comfortable with it. We were happy to know he is available to answer any questions we may have later on. Rene also did the installation quickly and efficiently. We are very happy to be dealing with Bill and ADT! Donna W.
Donna W.,Napa, CA

3/3/14

"Couldn't be more satisfied."
We just got our house inspected and evaluated for a security system by Jarrett from California Security Pro - ADT. Jarrett pointed out things we needed but also let us know things that we probably didn't need to save us money. Jarrett was informative and very honest and gave us tips on things we could do ourselves to secure our house better like the release rope on the garage door so crooks couldn't get in that way. We couldn't be more satisfied with Jarrett and the company with all the new technology
they have available.
Michael U.,San Jose, CA

2/21/14

"Totally satisfied."
This review is way overdue! We had our ADT system installed last August and have been totally satisfied with the equipment, our service rep, the installers, and any interactions with the "command center." Before contacting CA Security Pro, I read threw all the Yelp reviews and decided this was the dealer I wanted to work with. Our service rep, Joffre Bolda, was professional at all times and we never felt he tried to "up sell" to us. He returned any phone call messages promptly and I always felt he was trying his best. I was even more satisfied with my dealing with CA Security Pro when I discovered that my girlfriend who had the same ADT system installed with same number of contacts, during the same month of my installation paid exactly DOUBLE the price! She bought her system thru the national ADT contact. After she found out how ripped off she was, she called national ADT to complain and was told there was no price adjustment available. Caveat emptor!
Jo B.,Hayward, CA

2/8/2014

"Best price, smooth installation, and 5 star customer service."
Incredibly easy and positive experience! Best price, smooth installation, and 5 star customer service throughout! I highly recommend this team...Rene made sure everything was working perfectly before he left and that all our questions were answered. Plus great follow up afterwards to make sure we were happy and things were still working smoothly!
Miguel M., Antioch, CA

1/30/2014

"Provided us with an excellent experience."
They really provided us with an excellent experience, and walked us through everything. The sales rep. Joe Abeyta was there through the whole install to make sure that all of our expectations were met and even came by to follow up with us after it was all done with to make sure we understood how to use everything. I would highly recommend California security pro to anybody looking for an alarm system.
Jordan C., San Lorenzo, CA, (New Homeowner-Pittsburg,CA)

1/16/2014

"Very reasonably priced and it was installed less than 24 hours later!"
I've been considering a security system for a while, so after a lot of research and deliberation, I decided to go with ADT. Andy Hale (whom I HIGHLY recommend working with) came over and explained all the options. He was very professional, knowledgeable and honest and I couldn't be happier with my new system. It is very reasonably priced and it was installed less than 24 hours later! I have nothing but great things to say about my experience and I will recommend ADT (and specifically Andy) to all my friends.
S. D., Napa, CA

1/15/2014

"Friendly, fun, efficient and overall awesome!"
BRANDON is the man! He did a great job on my Oakland restaurant and is very nice guy. Friendly, fun, efficient and over-all awesome! If any of my buddies need an ADT installation, I will definitely refer Brandon.
J G.,Oakland, CA

1/10/2014

"Terrific to work with."
Brandon has been terrific to work with. He even dropped by to follow up and was able to help us with the settings saving us a service call.
Mike F.,Oakland, CA

1/8/2014

"Installer and Joffre were there on time and installed system, we are very happy with ADT and job they did."
Called and scheduled appointment . Service Rep Joffre Bolda came to my home and went over ADT contract, offers and made suggestions about how to protect my home. We scheduled install date and both. Very helpful with where to place alarms. Installer Renee Mayorga very neat on install and made sure we were happy with where control panel would be installed. We are very happy with ADT and job they did.
Jim P.,Concord, CA

12/27/2013

"Definitely recommend this company to any home owner, parent, or anyone looking to protect their house and family."
As a mother of 4 children safety is a top priority to me!!! Lance Q. Came out, did a walk thru of my home , gave me some great security tips and helped me pick the best system for my family. The NEXT DAY Rene came out to hook everything up , he was thorough, professional and made sure everything was just right before he left! I would definitely recommend this company to any home owner , parent , or anyone looking to protect their house and family. These guys are great, fast and make sure every little detail is taken care of!
Heather L., Vacaville, CA

12/22/2013

"This co. was great from the beginning to the end."
This co. was great from the beginning to the end. Mr Ryan Zach helped us pick out the system for us . he was polite. Knowledgeable and very clear explaining all the systems and in his answers to our questions.and included a great savings on the package we selected. The installer was on time. neat ,careful and clean.
James H., Concord, CA

12/21/2013

"Very friendly in answering all of our questions."
We recently purchased a new alarm system with California Security Pro. Jason C. was our rep and was amazing to work with. He answered all of our questions in detail, made appropriate recommendations, and had excellent follow through. Rene was our installer and he was very thorough, maintained a clean work-space, and was very friendly in answering all of our questions. We installed sensors on every door and window (the chime effect was important to me for my little ones) and added a security camera for our driveway. I would highly recommend Jason, Renee, and California Security Pro. It's urgent to secure your home and family in today's unfortunately crazy world.
E A.,Dublin, CA

12/20/2013

"Love the system and the ability to control it through my phone."
Just had the ADT PULSE security system installed. Love the system and the ability to control it through my phone. Jason is our sales rep and he was a no pressure sales guy. He sold us exactly what we needed with no pressure to add anything we really didn't want. More importantly, he has come to the house multiple times to answer questions and help us set things up. His service has been outstanding.
Kathy G., Dublin, CA

12/19/2013

"5 stars for great customer service."
Thanks Ryan for your help!! we got our alarm set up from Ryan Abalos, he was very helpful and a great person to work with. We had another ADT dealer come by to our house and we didn't trust them and they over priced us, but thanks to Ryan he wasn't pushy and didn't try to oversell us on things we won't use. I highly recommend California security pro as a ADT authorize dealer and Ryan Abalos as your alarm agent. 5 stars for great customer service
Dennis A., Tracy, CA

10/19/2013

"A+ in our book."
We are extremely happy with our new system. My husband and I didn't really know where to start and Dorelle walked into our lives through the door where I work. She came to see my employer and I knew that I wanted her to come see us. She did and we signed up right then. Within 2 days we had Rene come by, on our schedule, and do the install. We got the smoke and heat detector and really feel safe now. A+ in our book.
Vicki W., Pleasant Hill, CA

9/21/2013

"Made the whole process easy from start to finish."
Excellent service from start to finish. I highly recommend Brandon and Rene from California Security Pro as they made the whole process easy as they are knowledgeable and professional.
Bryan C.,San Leandro, CA

9/17/2013

"Great post installation follow up."
Great service from beginning all the way through installation of my ADT system. Brandon was very professional, knowledgeable and very easy to work with to get my ADT system installed. Rene the installer also did a fantastic job getting everything setup for me with great post installation follow up from Brandon. Highly Recommended.
Ki H., San Francisco, CA

9/7/2013

" Was impressed with these guys."
Quick. Professional. Informed. I have to say I was impressed with these guys. They came at the exact time they said they would, they did what they said they would and everything works perfectly. They make you feel safe and secure. Probably good for a security company, no?
Jess M., San Francisco, CA

9/5/2013

"Very friendly, prompt, cordial, and precise in their services."
The house already came with an ADT alarm system but required updating. My authorized dealer Brandon, along with his technician associates Renee and Larry were very friendly, prompt, cordial, and precise in their services. Brandon even honored the rebates and discounts after I signed up for the package. If other ADT experiences do not go smoothly, perhaps ask for Brandon Tomas.
C L., San Leandro, CA

8/14/2013

"Very Satisfied"
The Area Representative (Dorelle) came out to our house a month after we moved in. She did an excellent job of explaining all of the options to us. We felt very confident in her advice, and she seemed really interested in giving us what we wanted and what would be the best for us (not necessarily the most expensive options). We really liked her kindness and honesty.
Rene was the excellent technician that came to our to set everything up. He was also very good, and did everything very quickly. We're very satisfied with the service so far, and I would recommend this security system without hesitation.
Eric A., Walnut Creek, CA

8/13/2013

"My experience with CSP was great."
After a recent break-in, my family and I decided to invest in a security system. I looked through Yelp and saw California Security Pro with all the high ratings and I immediately called them. Jarrett explained to us about the different features and packages on the ADT system. He was very patient and thorough on explaining the system. Carl came in to install the system. He was very helpful on going through the process of setting up the ADT account and how to use the products. Rene helped set up another system at my relative's house and he did a phenomenal job.He was very patient and efficient. After the install he made sure all of our questions were answered and offered help if we needed it. My experience with CSP was great and I would definitely recommend it to anyone who is thinking of investing in a security system.
Eugen X., San Francisco, CA

5/16/2013

"I would highly recommend California Security Pro."
I just recently had a ADT system installed in my home and was very impressed with the service I received! Rene (installer) was right on time and did a great job of explaining the install process and the system usage instructions. Kyle the sales rep was very thorough and explained the options professionally and patiently. I would highly recommend California Security Pro.
jason m., San Ramon, CA

5/9/2013

"Great professional service all around."
5 Stars for Jay, he made getting us set up in our new home in Concord with an ADT security system easy and was very pleasant to work with. The installer, Renee, was also pleasant to work with, very professional, and treated our home with respect. Great professional service all around.
Dan T., Concord, CA

10/31/2012

"They were both fantastic, pleasant, trustworthy, timely, thorough, and honest."
If you are anything like me, you might be too lazy to read a long review. So let me give it to you in a nutshell. Last week we got a home system for our new house. Dave Smith was our rep and Rene was our installer. They were both fantastic, pleasant, trustworthy, timely, thorough, and honest. I highly recommend California Security Pro. You will be in great hands with David and Rene.
S. P., Novato, CA

9/23/2012

"Would surely recommend this company to my friends."
These guys are the real pro. Brandon and Chad, the sales rep, stopped by as soon as I called them. They went over various options and we got rolling as soon as we signed up the contract. The next day they realized there was slight error in the paper work. Chad came by again late Fri evening just to fix this issue so that there is no delay in the installation.
Rene, the install technician, came as appointed. He explained the use of system and made sure we understood how to operate it. Overall experience was good. Would surely recommend this company to my friends.
Ram D., San Ramon, CA

07/25/2012

Good service sales by Brandon and great installation by Rene. System works well.
Alex A., Hayward, CA
ADT Reviews: Trustpilot's List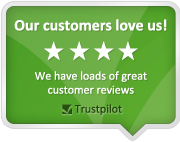 Reviews prove to customers whether or not we put their needs first, our customers speak for us by proudly placing there review on Trustpilot; after all, customers trust other customers and our consumer's reviews say it best! We would like to thank all of our customers who took the time to let eveyone know about their experience with California Securty Pro!
3/19/15
Excellent and efficient service with all questions answered.
The sales rep was efficient and covered all equipment to be installed. He took time to go over the total package we wanted and also made suggestions for our individual safety like the motion detector and broken glass alarm. The total package we purchased was under $50.00 a month. We are completely satisfied with the quick installation the next day. Less than two hours. Both the sales rep and the installer went over the use and functions of the wall mounted control box and allowed us to practice the use of each button. Example: home and away buttons. We highly recommend California Security Pro
Joanne Wong, Fremont, CA
3/18/15
Excellent Service !!!
I was very satisfied with their services, both Jason ( sales) & Rene ( installer) were great and professional. I have also already recommend California Security Pro to a friend and family.

Thank You California Security Pro.
MARIO A, Dublin, CA
12/1/14
ADT installers were fast and thorough.
They did a very good job with no problems
Robert Akins, Novato,CA
7/10/2014
Get a good nights sleep and worry less about the increasing crime element!
I finally got tired of the growing number of Gray Hairs on my head. I worry about my Lady, our Home and all our worldly possessions! I mean, I've got an Alarm where I work, on my Vehicle and where I store my Stuff. So why do I NOT have one on my Home? My lady and I went to the County Fair where we always buy the products that are found with a great price. Cookware, Fancy Blender, Cool Electronics, a new Wallet and then here is this guy sitting at a simple table, with a few props, for a company that installs Home Security Systems. We both remembered the Mac Book Pro that was taken right out of our home, just before we arrived, about a year ago. We looked at each other and new this was going to happen. I dreaded the idea, all those holes, cables, patching the walls, BOY was I wrong. Less than a week later the installer arrives, right on time and puts me completely at ease. An hour later he is all done and the system is flawless. But that isn't the remarkable part, we are right in the middle of a MAJOR remodel, the WHOLE house looks like a bomb hit it. He just went with the flow, did his job and 'Bob's your Uncle', We have a Security System of which to be proud. WAY TO GO, California Security Pro!!
Paul D. Donovan and Lynette W. Nishikawa, Sunnyvale,CA
12/24/2013
Good
The sales person Ryan went thru various plans in details, the engineer who installed the system was good in explaining on using the system
PRAKASH RAGAVAN, Tracy, CA
10/29/2013
excellent service and great price too.
Very happy about the whole service process from price quote with clear list of items, great installation and configuration. Now I could arm/disarm the security by using my iPhone app remotely!
Peter Chen, San Jose, CA
7/22/2013
great people great product
They knew ehat they were doing , and realy proffesional as well as friendly
Jim Counts, Penngrove, CA
Angie's List ADT Reviews

We are proud to service Angie's List customers and we thank those who took the time to let others know about us! Angie's List is a membership service that compiles consumer ratings of local service companies and contractors. Take a look at what members are saying about us:
Review Date: May 14, 2015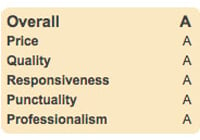 " ADT security system."
Installed a new ADT security system
Frank Robinson,Saratoga, CA
Other Nearby Counties and Cities Serviced By Rene: