ADT El Cerrito - Larry Maerina-Security Consultant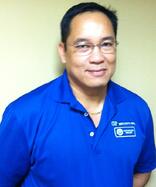 Larry Maerina is your local El Cerrito Security Consultant. He is a native to the bay area and values keeping his neighborhood safe! Larry is a UCSD graduate with previous experience working in sales for AAA. He is honored to serve his community by offering "peace of mind" and the best security solutions available to you.
As your local ADT El Cerrito security consultant, Larry will help you design a monitored ADT Home Security System that fits your needs and budget. Whether you recently moved into a new home, opened a new business location or experienced a recent burglary in your neighborhood, Larry Maerina is your local El Cerrito security expert.
Larry will share his knowledge and safety tips to ensure you and your family is safe. Call today to schedule your FREE home security review 1-800-310-9490!
Larry's Favorite Local Restaurants:
Larry Maerina Recommends These Local Buisnesses:
Steve's Auto Care,

11820 San Pablo Ave

El Cerrito

,

CA

94530

(510) 237-3906

TK Auto Body,

10551 San Pablo Ave,

El Cerrito

,

CA

94530 (

510) 525-4746
Larry Maerina's ADT Customer's 5 Star Yelp Reviews: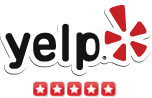 12/29/2018 "

came out the next day and got me set up with a great package for my house."
My parents home got broken into on Christmas Eve so they decided to get an alarm system. They raved about the job the sales rep,

Larry Maerina, did for them so they put me in contact with him. He came out the next day and got me set up with a great package for my house.
He set up the install for the next day and the technician set everything up in 1.5 hours. Thank you Larry for all of your help.
__________

Yelp Review
9/21/2016 "

conscientious, pleasant, efficient, knowledgeable, professional, and not pushy in any way."
I never write reviews, but I had to come out of hibernation to share my experience with California Security Pro. It was exceptional.

We were traumatized after a break-in and decided that it was time to get serious about security.Larry came within one hour of our call, which was at 8:30pm. He was conscientious, pleasant, efficient, knowledgeable, professional, and not pushy in any way. It felt like a consultation, not a sales call, and the system we selected felt like the perfect fit. (So happy that we could get an alarm system that was mobile-enabled, by the way).

The installation was scheduled within one business day, and was also a great experience.

We feel so much safer in our home. The Bay Area sadly has the highest property theft rate in the country. I wouldn't look at any other dealer.
Nicholas F., San Francisco, CA (Carl tech)

Yelp Review
9/12/2016 "

very honest and very professional"
Personally, I never like or trust any security dealers because they always trying to sell you more stuffs that you don't need but until I met Larry Maerina. Larry took the time explain all about ADT security pro system and make sure we understand what we need. He is very honest and very professional. He's not try sell me all kind of things instead he walks around my house and tells me what's best to secure my home. Installation schedule was on time, he sent the best guy name Pat, he did a wonderful job on it. My parent and wife love it.

No need to search around for other Security Company, I highly recommend to give Larry Maerina a call at ADT California Security Pro. You will receive the best service you ever had. This is real my friends....Call him and you know what I'm talking about. I'm very appreciated and Larry Maerina deserved +++ 5 Stars.
ken h., San Pablo, CA
2/13/16

"Above and beyond."
Larry went above and beyond to make sure the system we got was perfect for our situation. He was very easy to work with and we feel confident and safe with the system that he and Carl Henderson installed. Carl was efficient, extremely competent and thoughtful. Installation was quick and just as expected. We are thoroughly satisfied with the service and the system.
M. J.,El Sobrante, CA
2/10/16

"Solid people to work with."
Great company with solid people to work with. Our sales rep, Larry, was a great help. He worked with us to provide the best deal and followed up quickly with installation and setup. He, along with the installer Carl, were both there to set the system up. They were professional, diligent, and cleaned everything up before leaving. I highly recommend them!
Alexander C.,San Francisco, CA
7/8/2014
Wonderful! !!!!
Everyone involved in the process was excellent! Larry did not sell us what we thought we wanted, but what we needed. Jesse was installing at our home for hours making sure everything was perfect. He went through scenarios of what could happen if we went one way or another. Overall my husband and I are extremely pleased.
ELIZABETH OROPEZA RYAN, EL SOBRANTE, CA








5/30/2013

" Very impressed with the service I recieved especially from Larry Maerina."
I am a new customer of ADT security in Richmond, ca I was very impressed with the service I recieved especially from Larry Maerina. He was very professional and explained every step thoroughly, and followed through with checking back with me. The security system has already made us feel more safe and we are happy with ADT.
Ann R., Richmond, CA

5/30/2013

"They are friendly, punctual, and respectful."
Larry Marina came highly recommended to us. We called and within 4 hours, Larry was at our door. He gave us an overview of the company, our location, and services provided by ADT. He evaluated our home and did not try to over sell anything to us. He has great knowledge of our community and crime patterns. In addition to customizing our home security, Larry gave us great tips on DIY ways to improve the security of our home. He answered our endless questions and explained different scenarios. Several days later, Micah, the technician came and installed our system in an hour. He explained our system, gave us tips, showed us how to control our system via their website or apps. Larry stopped by after the installation to make sure we were happy with our system and answer additional questions.We are very pleased with the services Larry and Micah provided us with. We highly recommend them. They are friendly, punctual, and respectful.
Aida S., Berkeley, CA

5/12/2013

"I would definitely recommend CSP to anyone who is interested in getting an home alarm system."
5 star rating for sales rep Larry Maerina and system installer Hector from California Security Pro / ADT. A job very well done.Recently I decided to put in an alarm system in my home for added security and a peace of mind. Without knowing much about the different alarm companies, I naturally went on line to do my research. Even though I always take on-line reviews with a grain of salt, since CSP has very good ratings, I decide to call them for a consultation.My sales rep Larry was extremely pleasant to work with. He was punctual, professional, informative and patient in explaining the security options he has to offer. Never at any time did I feel like I was under pressure to close the sales. When I told him I have an appointment with another alarm company for competitive bidding, he pointed out the pros and the cons and differences between the different systems without any negative talks which I found to be very professional. When I called Larry back for the 2nd consultation, he was once again punctual and patiently answered all my questions. During the signing of the contract, he carefully explained all the terms and charges to me and changed the length of contract with ADP from 3 to 2 years. I scheduled the installation on a Saturday and was given a 2 hour time slot appointment. About 1/2 hour before my installer Hector arrived, CSP called me to inform me he was on his way. Just like Larry, Hector was punctual, professional and courteous. He was very efficient with the install and completed it in about 1 1/2 hour. After the installation, he walked me through the system, showed me the different features and patiently explained to me how to use the system. From the sales to the installation, everything went very smoothly and so far I am quite satisfied with my alarm system. I would definitely recommend CSP to anyone who is interested in getting an home alarm system.
Alex C., Dublin, CA

5/4/2013

"professional services specially Larry Maerina."
Great professional services specially Larry Maerina is real professional to work with.
Yasir M., Hercules, CA

4/19/2013

"Recommend service."
Larry maerina gave me a great deal. Awesome guy. Recommend service.
Muhammad M., Richmond, CA

3/23/2013

"Great Customer Service."
Larry Maerina was available immediately and was very helpful. He provided tips to help prevent burglaries and created a system that fit our needs. We have ADT in our other home and the price is great for the service you are receiving. The best part is the ability to monitor your home from your cell phone and the great customer service.
Lisa T., Richmond, CA

3/22/2013

"Two thumbs up for both Larry and Carl! Will definitely recommend!"
We finally decided on investing on a home alarm, my aunt recommended us to Larry Maerina. Larry did a home assessment and we were extremely pleased with his service. I am always a skeptic when it comes to sales people, but Larry was very honest. There were other equipments that i thought we needed and would've made the install more expensive but Larry explained the pros and cons and talked me into not getting them because we don't need it. He was true to his word that he will not try to sell us any unnecessary extras.

On the day of the install, Carl Henderson showed up. He was very professional. I always like to observe and ask a lot of questions whenever something is being installed in my home and Carl was extremely patient with me. He was quick and very efficient.

Post install, Larry showed up at my house and followed up as he promised just to check in and to make sure that everything went well. Two thumbs up for both Larry and Carl! Will definitely recommend!
Ken M., Pinole, CA
Review Date: June 30, 2015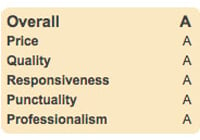 "Went well."
Installed a motion sensor and door and window sensors,it went well.
Tami Smith,Lincoln, CA
Review Date: April 21, 2014

"Larry Maerima was excellent."
Larry Maerima was excellent. Everything went great. He was very friendly and helpful.
cynthia loza, Hercules, CA
ADT Reviews: Trustpilot's List

Reviews prove to customers whether or not we put their needs first, our customers speak for us by proudly placing there review on Trustpilot; after all, customers trust other customers and our consumer's reviews say it best! We would like to thank all of our customers who took the time to let eveyone know about their experience with California Securty Pro!
4/10/15
Excellent service
On time and extremely courteous customer service reps who were able to take care of my needs very quickly on a short timeline
Mohamed Marleen, Oakland, CA
10/29/2013
Amazing experience and seamless integration with my iOS device.
To date, my experience with CSP has been nothing short of amazing. Larry was incredible and accommodating to my rigid schedule. Hector did a wonderful job installing the system and showing me how to use it. I would certainly recommend CSP to my friends. In fact, I already forward your info to a friend who recently purchased a home and is looking for a efficient security system. The Pulse system is seamless and I enjoy using it. Thanks again for the great service.
Donane Greenidge, Okaland, CA