DSC Impassa 9057 Cellular Wireless Alarm System
The DSC Impassa SCW-9057 is our most poplular cellular home security system. Most of our customers want the security benefits of two way voice and the DCS 9057 does this via cellular communication.
It is also the system we use the most often for ADT Pulse security system installations with ADT Security Apps for your mobile devices. ADT Pulse includes interactive remote services like remote status, remote arm/disarm, text and email notifications of alarm emergencies and a personalized web portal for setting up your system including history of events, schedules and automations.
DSC Impassa SCW-9057 Wireless Alarm System with Cellular Built In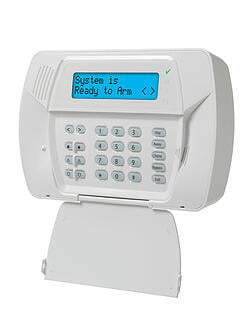 Highlights:
Built-in 2-way audio VOX and push to- talk alarm communication via phone line and cellular
2-way wireless support:

1 keypad
2 sirens
16 wireless keys
Supports 64 wireless zones and 16 wireless keys (without using a zone slot)
Real time clock update using cellular module
Cellular Security System with Two-Way Voice Audio Alarm Verification
The DSC Impassa 9057 is quickly becoming our most popular security panel. With many new and existing homeowners deciding to no longer have home phone service, this cellular alarm system is the perfect choice to protect your home and family. It is also one of the first security panels that enables you to have ADT SecurityLink (two-way voice) monitoring service over cellular communication.
With the DSC Impassa 9057 you have one of the finest ADT monitored security panels available today. Now you can have a wireless home security system with cellular communication, two-way voice audio alarm verification, phone line cut protection and added wireless devices like secondary keypad, indoor siren, outdoor siren/strobe and wireless ADT Monitored Carbon Monoxide Detector.
This very affordable security solution allows you to have both ADT Cellguard and ADT SecurityLink Monitoring Service all because the technology is built into the DSC Impassa 9057. Superior home security at a price you can afford!
Cellular Security System with ADT Pulse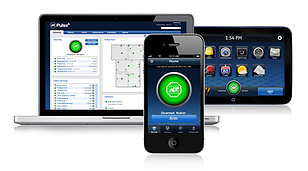 With the DSC Impassa SCW9057 we are able to do ADT Pulse Level I over cellular communication. If you decide you would like ADT Pulse Level II with ADT Cameras or ADT Pulse Level III for home automation, you will need to have an Internet connection. ADT Pulse Level II and III require the addition of the ADT iHub Gateway which uses the Internet connection to communicate between all the devices and security equipment.
See what clients like you are saying about ADT Pulse on our ADT Pulse Reveiws page.
Order your cellular alarm system call 1-800-310-9490.