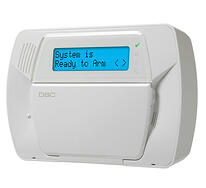 Our top pick for the best ADT wireless security system is the DSC Impassa 9057. The DSC 9057 wireless security system is one of the best options when it comes to having a wireless security system installed. Why? Because of the what is built into the system itself and the upgrade potential of security accessories available with this wireless security system.
First we will take a look at the specs of this ADT wireless security system, then some of it's built in features and also the security accessories that go with the system.
ADT Wireless Security System Specifications

DSC Impassa Self-Contained 2-Way Wireless Security System SCW9057 Specifications:
Supports 64 wireless zones and 16 wireless keys (without using a zone slot)
Built-in 2-way audio VOX and push-to-talk alarm communication via phone line and cellular
Integrated HSPA (3G) cellular module with 3G signal strength read-out
Real time clock update using HSPA (3G) module
Remote firmware upgrade via HSPA (3G)
2-way wireless support: – 1 keypad, – 2 sirens, – 16 wireless keys
Easy wireless device enrollment process
Full 32-character programmable labels
Enlarged keypad buttons
5 programmable function keys
Individual FAP keys
17 user codes
128 event buffer
False alarm reduction features (CP-01)
Outdoor temperature display
Label Library
Built In Features of this ADT Wireless Security System
The DCS Impassa SCW9057 has a keypad with a LCD display, LED Indicators for ready, armed, trouble, and power. The SCW9057 also has Dual Action Keys for fire, medical and police emergencies and one touch Function Keys for stay arm, away arm, chime, bypass zone and quick exit. The layout of the keypad and function buttons make this system very easy to use.
The DSC 9057 also has built in siren, battery backup, speaker and microphone for two-way voice, cellular GSM and the CPU (central processing unit) all with in the main "keypad". A disadvantage of most "all-in-one" security systems is that if a burglar rips them off the wall you have no connection or communication to the Central Monitoring Station. With the DSC Impassa SCW9057, it has a tapper switch on the back of the system so if it is ripped from the wall it will send an immediate signal to central station. It can do this because it still has power from the battery backup built inside the unit and the cellular GSM unit that is built in can still communicate via cellular. In fact, the DSC 9057 could continue to communicate for over a day after it was ripped from the wall. This is just a fantastic home security system!
Security Accessories of the DSC 9057 ADT Wireless Security System
Besides the standard wireless door/window sensors, motion sensors, glass break sensors, smoke/heat detectors and key chain remotes, the DSC SCW9057 has some real nice security accessory upgrades available.
One of the most popular upgrades is the outdoor siren strobe. The ADT outdoor siren is not only a fantastic deterrent with a loud audible siren and flashing strobes on an attempted burglary, it also adds some nice lifestyle features. When arming or disarming your security system outside with your key chain remote, the outdoor siren chimes and flashes the strobes notifying you that the system has been either armed or disarmed. It also has a thermometer built in so you can see the outside temperature on your keypad display inside Besides the outdoor siren, an additional wireless keypad is also a very popular upgrade, especially for the master bedroom. Other upgrade accessories are the additional indoor wireless siren and a wireless carbon monoxide detector. Click here: for more information on the DSC Impassa SCW9057 security system upgrades accessories.
ADT Pulse Tier I is also available using the DSC 9057 panel. This gives you remote security and control of your home security system from anywhere you have Internet connectivity. ADT Pulse Tier II & III will also be available within months and will make the DSC Impassa SCW9057 one of the most robust ADT wireless home security systems on the market today.
To find out about getting an ADT wireless security system installed in your home or business call 1-800-310-9490 today.