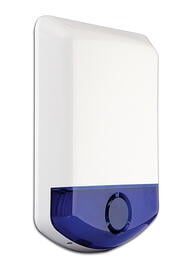 An ADT outdoor siren can be an added level of protection for your home security system. Just seeing an outdoor siren is often enough of a deterrent for a burglar to simply pass your home. The outdoor siren lets everyone know that you have a security system and if they try to break in the whole neighborhood will know.
The main purpose of the ADT outdoor siren is to audibly notify that a burglar is attempting to break into your home. The burglar will obviously hear the siren and hopefully run. Neighbors will hear the siren and call for help. It's been found that around 70% of burglars will simply take off once an audible siren goes off. The last thing a burglar wants to have happen is to be caught.
Outdoor sirens and bells were very popular when many alarms were only local alarms and not being monitored. Neighbors looked after each other at that time and could call for help. Until recently, outdoor sirens were not being installed often. We have started to see a significant increase in the number of outdoor sirens being installed and a lot of interest from customers.
ADT Outdoor Siren for the DSC 9057 Impassa
Pictured above, this ADT outdoor siren (WT4911) is an option when you install a DSC 9057 Impassa security system. This outdoor siren offers a few other benefits besides being a deterrent and an audible noise to scare off burglars attempting to break into your home. Besides making noise this siren has flashing lights that go on and off when the alarm goes off. Pretty bright at night, these flashing lights are another deterrent and lets you, neighbors and police responding to the alarm know where the attempted burglary is happening.
This outdoor siren siren can also be programed to sound and have lights flash when you arm or disarm your system. This is perfect when you are using your ADT key-chain remote outside. It's so nice to get an audible and flashing lights notification that you have either successfully armed or disarmed your security system without having to go inside to verify. From inside your car, leaving your home for a walk or a bike ride, just use your key-chain remote to arm your security system and feel secure knowing that you have successfully armed your alarm. This can also be a nice benefit if you have a detached garage, since you do not have to be inside to arm or disarm your security system.
Another benefit is that the DSC WT4911 has a temperature gauge that sends the control panel the outdoor temperature. You will be able to see what the temperature is outside from your keypad. The outdoor siren also has a tamper switch on the back so if someone tries to rip it down the alarm will go off.
ADT Sirens Save Lives

Home alarm sirens are a very important to the protection of your family. ADT sirens go off in both police and fire alarm events. If your system goes off due to a burglary or from someone pressing a police panic button, your siren will sound continuously. In a fire emergency the siren sounds three times then a pause followed by sounding another three times, pause, and so on. If you wake up in the middle of the night and your alarm is going off, you'll know whether it's a fire or a police emergency. Knowing what type of emergency is happening is a key to making the right decision as to the best way to protect your family.
Related Video: Siren scares off home intruder...
Make sure everyone in the family knows what to do in either a police or fire emergency. You need to have a plan. Practice your family's fire evacuation plan and make sure you have a meeting place outside far enough from the home to be safe if your home is on fire. A fire evacuation plan is definitely something you need to have and your alarm siren is often what notifys you of a fire starting in your home. To have your alarm sound in a fire you will need to upgrade your burglary system with a monitored smoke detector.
If you have a large home it may be necessary to add additional an additional siren. If your alarm goes off you want to make sure everyone in your home knows there is an emergency. You can add additional indoor sirens to most security sytems today. The DSC Wireless Indoor Siren WT4901 is an example of a fantastic option to create additional noise in an alarm event.