Local Installer Jeremy Lorenzo: Sacramento Security Companies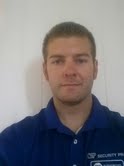 Jeremy Lorenzo is your local ADT Sacramento ADT Installer. Jeremy will install your monitored ADT alarm system with precision and quality.
During Jeremy's visit to your home, you will experiance his world class customer service and top notch installation. To Start, Jeremy will conduct a walk thorough with you before the installation to discuss the placement of your new equipment and answer any questions you may have at that time. Next, Jeremy will perform the install and when the installation is complete he will test the system to ensure that all equipment is working properly. He will educate you on how to use your system and perform a thorough demonstration answering all of your questions and concerns. After these steps are completed, your alarm system will be ready for use!
Jeremy grew up in Quincy and now resides in Fair Oaks,CA. Jeremy has been Installing Alarms For 11 Years. Both of Jeremy's Parents used to work For ADT Corporate and that is what started him in the trade. Jeremy likes to spend his free time exercising, riding dirt bikes and snowboarding.

When it comes time to choose from the Sacramento Security Companies available, there is only one choice, call to schedule an ADT installation today 1-800-310-9490!
Jeremy's favorite local restaurants:
Jeremy recommends these local businesses:
Jeremy's ADT Customer's 5 Star Yelp Reviews: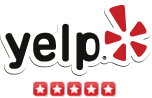 2/19/2019 "

No hassle at all.

"
I talked to Derek Smith about installing a security system. He was very helpful and gave me all the options. We decided on a plan and he arranged everything. No hassle at all. He was amazing.
Jeremy, the installer was great and went out of his way and double checked everything and showed us how to work the alarm, which is very user friendly.
Overall I highly recommend Derek Smith for getting a security system :)
"came the next day" - Angie's List Review
A salesman came the next day after I called the company. He thourghly explaned their system and what options were available to me. Together we selected a a system including options I required for my installation. I signed a contract for the agreed upon system and one year's monitoring service. The new system was installed and operational within two days. Upon completion,the installer sat down with me and went over the operation of the total system, my required interaction with the monitoring station and the operation of the equipment actually installed in my house. In addition to the cost of installation, the monitoring service is approximatly an additional $50 per month.

....................................................................................................................................................................................................

Yelp Review
"

He came out of his way to meet our needs."
Jordyn Bular came to my home and treated us respectfully, is very knowledgeable, answered all our questions, and brief. He came out of his way to meet our needs. We are very happy that Jordyn came to our door, we will be more secure in my neighborhood with this system.
- Lisa C., Sacramento, CA (installed by Jeremy Lorenzo)
....................................................................................................................................................................................................

Yelp Review
"Total professionals"
Total professionals who provide excellent and efficient service. Jarrett and his team have done several installations for me, all of which were done with excellence. I would recommend this company to anyone who needs a comprehensive alarm system at a good price. These guys are in it to win it.
- B P., Menlo Park, CA

Yelp Review
Kyle is the best! We used ADT for many years and recently relocate to CA. He walked us through the entire process and provide the professional experience on what we need. Clean and clear! No hidden cost. He even helped us pull in the installation time by his personal relationship. I would say cost nowadays are more or less the same among reputatable shops...go look for great service like this company.
Jimmy C., Dublin, CA - install by Jeremy
 Yelp Review 
 "second excellent experience with Brandon"
My second excellent experience with Brandon (as a neighborly gesture, he introduced me to my first home's best friend - the alarm) was fixing our store-front workshop up with a solid defense. He is probably the most gentlemanly person I have ever done business with, and I get the feeling he is genuine.
Jeremyinstalled the system with aplomb, despite some last minute change orders. After he left, I realized he didn't install the pad where the old one had been, but over to the right, and kicked myself for not paying better attention while he was there.

The price was very competitive, and I have only had good experiences with the phone support people. I like that the variety of ways to arm/disarm the system (key pad, remote, phone), and the app is pretty easy to use. - Claire F., Oakland, CA
"Courteous and professional."
The folks at California Security Pros (ADT alarms) are wonderful!! Kyle Madison, our sales agent gave us all of the pertinent information we needed to have for our new alarm to be installed, and was very courteous and professional. Because we live in the Sacramento area, he was able to provide an excellent installer to take care of our needs. There is no doubt that I would refer anyone looking for an alarm for their house to see the folks at CSP, and to talk with Kyle.
Robert C.,Arden-Arcade, Sacramento, CA (New Homeonwer Fair Oaks,CA)

"Great experience,thank you Jeremy and Shane!"
I had a great experience! Shane was awesome! He gave me everything he promised! Great customer service prompt return in phone calls when I had questions! Jeremy was the installer he was very professional and the install and training to use the machine was thorough! Thank you Jeremy and Shane!
Kim W.,Modesto, CA

"Great job."
We just had our security updated at our new business and Jeremy did a great job setting it up and Jarrett was very helpful in getting us scheduled so quickly. I would highly recommended using Adt for your security system. Thanks guys.
Judy O.,Fair Oaks, CA

"Super responsive and available."
We had some intense stuff happen before we moved to our new home (stove and fridge stolen) and wanted a security system before getting everything moved in. Brandon was able to get everything scheduled and ready so we didn't have to stress out about anything further. Jeremy (the install tech) was helpful and efficient and well informed. He was careful to set things up in the least obtrusive places around the house which is super appreciated. We had an issue with a sensor and another tech was sent out to fix it the next day. Brandon has been super responsive and available for everything from the start. I'll recommend him and his team to anyone who is looking for a security system for their home.
Nick L.,Oakland, CA

"Best features and most reliable team."
After my parents moved into a new neighborhood we looked up the crime statistics in the area and determined that a security system would be in our best interest. We contacted the company with the best features and most reliable team. Bill was superb. He pointed out kinks in our property that could easily be exploited by anyone trying to break in that we never would have thought of. He was courteous and very professional. After the consultation we felt more secure. Thorough as heck. Thanks for everything, looking forward to dealing with Bill and his company for years to come.
Simon T.,San Francisco, CA
"These guys did a great job!"
I recently had my system put in with cameras and new sensors. These guys did a great job! Jeremy was the technician that installed the new system. I would recommend them to anyone that is interested in installing a security system.
Lysa S.,Sacramento, CA

"I feel very safe and secure!"
We just moved in our new home and decided it was time to get an alarm. We spoke with Shane who set up the appointment and the paperwork. We had all the paperwork filled out the same day and he worked with our schedule for the appointment. He was very helpful and informative, he answered all the questions I had. Jeremy called us and let us know he was on the way for the install and was on time. He was efficient and thorough. He went over how to work everything and was very helpful. I know how to work everything and I feel confident leaving my house. I feel very safe and secure! I would definitely recommend getting an alarm. If you do, go with California Security Pros and ask for Shane and Jeremy.
Hannah M.,Elk Grove, CA

"I can say I am really please with my experience."
Alright, so I decided to even make an account just to leave a review.
California Security Pro's really impressed me. I was always one of those people who thought alarm systems were a little much but after having it the last few days I have felt more at peace and so does the wife when leaving the home. Being able to control everything from either the keypad, remote, or phone is so convenient and I love being able to receive updates and notifications. Shane originally helped us by setting up the appointment and going over all the various plans and getting us set up, we never felt that we "had" to sign up, in fact the more we talked the more comfortable we were with the idea. After we set it up they sent the documentation over promptly to sign and even let us know that our city required a permit (I did not know this or expect CSP to tell us!) When the day of the install came our installer was Jeremy, he called ahead to let us know he was on his way and gave us an ETA and sure enough there we was when that time came around. He was very well spoken and dressed professionally. We walked through the house identifying areas for the keypad/sensors and old alarm system. He installed the alarm and removed the old equipment within an hour. After he went over how to use the pad and all the cool features and gave us his contact information if we ever needed anything more. I can say I am really please with my experience so far, and like I said before having an alarm system really does help me sleep better and gives me peace of mind when I am away.Thanks Shane, Jeremy and California Security Pros!
Travis T.,Elk Grove, CA

" I would recommend California Security Pro to anyone."
Contacted Shane concerning an alarm system for our home. After going over the available options, we made our selection. No up-selling of any sort and no gimmicks. Our installer Jeremy, was prompt, courteous and efficient. He was very informative while going through the alarm system with us. I would recommend California Security Pro to anyone needing an alarm system. Thank You
George M.,Elk Grove, CA

"Wanted us to be happy and feel secure."
My Husband and I decided it was time to get a security system. After talking to our neighbors who all have had different systems. We called Shane at Sac. Security Pros. He was very helpful and showed us the different plans. we picked the one that worked for us. He answered all our questions and also shared with us what should know too. He didn't pressure us and for the sale or to get a more expensive plan. He wanted us to be happy and feel secure. The office contacted us to set up the time for install and Jeremy was right on time. He was very professional and showed us the system and how it works. My Husband and I would highly recommend Shane and Jeremy to our Friends and Neighbors. We feel more secure when we leave the Home now.
Penney M.,Elk Grove, CA

"We were so pleased."
My thanks to Bill Wood for great information and help in setting up a system in Glen Ellen. We were so pleased we asked him to redo our SF home too.
Andy M.,San Francisco, CA(New Homeowner Glen Ellen,CA)

"I can control the whole system, even when I'm not at home!"
I was offered an ADT Alarm system installed at my home that included a smart door lock and it even has a smartphone app so I can control the whole system, even when I'm not at home! A realtor friend of mine asked me to call Levi O'Campo at California Security Pro. He listened to my needs for home security, and the alarm package he recommended has all the features our family needs. The installer,Jeremy was very accommodating, as I wanted the control panel on a certain wall, and he figured out a way to make it happen. Thank you!
Kimberly O.,Folsom, CA
Bought another house....brought our ADT with us. Our favorite tech guy, Jeremy, showed up and just shook his head, amused. Deja vu. A mere 15 months later and he's installing the second system for us, but in a bigger house with even more construction chaos going on. Plus, this time there were TWO wildly barking little dogs wearing sweaters. I was still covered head-to-toe in paint and sawdust. He even worked around the even surlier wave cable guy. Did it with a great sense of humor and professionalism.
Laurel F.,Sacramento, CA



ADT Reviews: Trustpilot's List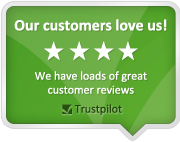 Reviews prove to customers whether or not we put their needs first, our customers speak for us by proudly placing there review on Trustpilot; after all, customers trust other customers and our consumer's reviews say it best! We would like to thank all of our customers who took the time to let eveyone know about their experience with California Securty Pro!
Well done.
Every aspect of my interaction with California Security Pro was professional, timely, friendly and easy. Recommended.
Zachary Manzanetti, Sacramento,CA
Great Service!!! Did what they promised
So I got my alarm system in Antioch. Joseph was great. It took me about 2 months to make my choice but Joseph was very helpful and was not pushy at all. He said he knew he could give me the best offer and whenever I was ready he would make it work. Everything he said I would get I got, there was no bait and switch or false promises. The installation went without a hitch, they explained everything to me and made sure I was comfortable with the system before they left. Overall Great service. You can trust them to get it done right the first time.
SHUMAIL ALAM, Los Gatos
Excellent Work!
After a recent break-in, we were searching for an alarm system company. We were considering going with a different company that advertised not just security but smart temperature control and other home automation, but since our first concern was security, we called California Security Pros after reading excellent reviews on Yelp. When I found out that they could setup our entire house at the basic price because we had pre-wiring, and that they also offer all the gizmos of the other company, the choice was clear. We are very happy we went with California security pro's and feel we made the right decision.
Luis R, Sacramento,CA
Excellent Service
They were on time for each appointment. It took awhile to install the system, but it was done very professionally.
Cathleen Holmes, West Sacramento, CA
Great customer service
Great customer service
Lonnie Haney, Fairfield,CA
Excellence services to customer.
I would like to say big thanks to Ryan. He is excellence to help customer. It was worries free to speak with him about the home security protection. It has confirmed my trust and more confidence to introduce your company (ADT) to all of my friends/relatives. I am more than happy to contract with your company (ADT) for my property. Additional, Jeremy L. is professional technician. He performed excellence job to install the systems. He have big knowledge on his job and very organized. He took time making sure things were done correctly as well as answer any questions from me. Very helpful and friendly! A big thanks to both of them.
Minh Nguyen, Rancho Cordova,CA
Great Service!
We were very impressed with everyone involved in the process of getting a new alarm system installed in our home. They were all extremely knowledgeable about their product, and they made us feel very comfortable in making the decision we made. We would highly recommend this company to anyone in the market for an alarm system!!
Gary Holman, Sacramento,CA
Angie's List ADT Reviews
We are proud to service Angie's List customers and we thank those who took the time to let others know about us! Angie's List is a membership service that compiles consumer ratings of local service companies and contractors. Take a look at what members are saying about us: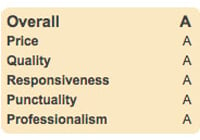 "Went well."
Installed a motion sensor and door and window sensors,it went well.
Tami Smith,Lincoln, CA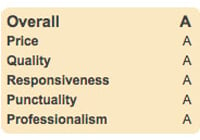 "ADT installation."
ADT installation, hire again? Yes
Denise Leppo,Elk Grove, CA

" Went great."
California Security Pro - ADT Authorized Dealer installed a security system. It was a big deal purchase. It went great. They stayed within the $99. It took them about an hour. There were no issues.
Janet Tyas, Citrus Heights, CA

"Extremely pleased."
Both the sales representative and the installation technician arrived on time as scheduled. They both were professional and knowledgeable. Both were a pleasure to work with and I felt very confident working with them. Their explanations regarding the service and the instructions in the use of the service were thorough and understandable. I am extremely pleased with the Sacramento office and its staff and would highly recommend them.
Marlette Clark , Sacramento, CA

" Everything went well."
Everything went well. Technician was timely and professional. Alarm, window/door sensors and cameras were configured and installed on tri-level home. My family is safe and secure.
Keith McKnight, Oakland, CA

" Joy to work with."
Both the Field Manager/Sales Rep (Ryan) and Technician (Jeremy) were punctual, arriving at or before the agreed upon times. Ryan was very personable and knowledgeable about the various options available to me and did not promote one over the other. He let me make my own choice based on the information he provided. Since I'm a "geek" I went with the upper-end package that included wireless connectivity to ADT, monitoring via my PC or Smartphone and the key fob (love it!!). Jeremy was a joy to work with since installation does require a bit of "owner" participation. He made suggestions regarding placement of keypad and motion sensor, was very diligent in making sure that wiring for the keypad power was "out of sight, out of mind" and was very good at instructing me on how to use the system without "invading" my privacy with respect to passcodes, etc. And this after going to the Dentist in the AM to have preliminary work done for a crown!! Talk about dedication. Since I will be switching out my front and rear doors as part of my house renovation I'm expecting to contact this vendor to come and reset the sensors.
Paul Schierenberg, Wilton, CA (Sacramento, CA)
Customer Testimonials
Feb 20 , 2016
"I would recommend them to anyone."
Recently I made some upgrades and installed a new system from California Security Pro. Based on the great Yelpers and reviews of your company online I ended up not even calling anyone else! Since I am not a Yelper and do not subscribe to Angie's list I wanted to make sure I gave applause and recognition to some of your employees I had the pleasure of working with.

First was Kyle, who came out to my home on a weekend to speak with me about my Security needs in my Danville home. Next was Jeremy who came right away and spent time, albeit with some quirks in my 1961 home and electrical outlets , did what he had to do to get everything up and running. And………….Alicia Coelho-----Oh my goodness. Was she great at all the email and guidance, answering swiftly and efficiently each time I had a question.

Major, major KUDOS and applause to all three -- Kyle, Jeremy and Alicia. Oh, and the one person who even dropped off a couple more signs for me. You should see my house advertising ADT. Had my handyman put up ALL the signs today. I live on Danville Blvd on the main drag and I have signs everywhere. If you even had some that said "California Security Pro" in metal…….. I might add those too!!

Anyway, what a great bunch to work with and I would recommend them to anyone. They all are an ally and asset to your company. Wonderful employees and I love my new system.

Thank you,

Doreen Baleria,

Danville CA
Sacramento Security Company Installation Packages:
For Sacramento, CA homeowners, we offer a wide array of ADT monitored security systems to choose from. An ADT wireless security system uses your existing home phone line to send the signal to the ADT central station. If you decided not to have a standard home phone service in your Sacramento, CA home then you would need an ADT cellular security system.
Our newest ADT Pulse system offers you the ability to interact with your mobile device to ARM/DISARM with secure web access as well as receive text and email notifications of alarm and device events.
To get your best deal in Sacramento, CA and save money on all ADT security equipment packages, get ADT coupons.