Customer Reviews of Security Companies in Sacramento
Many of us look to online customer reviews to help us make a decision on which company we want to do business with. I believe when you look at California Security Pro customer reviews you will feel confident that we are a great choice to help you with your home security. With over 500 five star Yelp reviews throughout our California locations, an Angie's List A grade, Trustpilot five star rating and a Better Business Bureau A+ rating you can trust we will give you the exceptional service you deserve.
Our owner and CEO, David Loetz, created our company's slogan. #1 in California... #1 in Customer Service. We are truly customer obsessed and we will do everything we can to give you the absolute best customer service possible.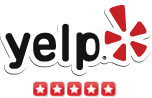 Yelp Review
"

He came out of his way to meet our needs."
Jordyn Bular came to my home and treated us respectfully, is very knowledgeable, answered all our questions, and brief. He came out of his way to meet our needs. We are very happy that Jordyn came to our door, we will be more secure in my neighborhood with this system.
- Lisa C., Sacramento, CA
....................................................................................................................................................................................................
Bought another house....brought our ADT with us. Our favorite tech guy, Jeremy, showed up and just shook his head, amused. Deja vu. A mere 15 months later and he's installing the second system for us, but in a bigger house with even more construction chaos going on. Plus, this time there were TWO wildly barking little dogs wearing sweaters. I was still covered head-to-toe in paint and sawdust. He even worked around the even surlier wave cable guy. Did it with a great sense of humor and professionalism.
Laurel F.,Sacramento, CA



Gregg W.,Sacramento, CA


Our area rep, Andy Hale, was very helpful and really listened to what we needed. We wanted a quality system but also wanted the various monitoring and equipment options explained in detail. Andy was patient and answered all questions. We came away with a great system at a great price. And he was on time for the appointment, another plus. California Security Pro had the system installed next day. The technician, Jeremy, knew what he was doing and had us up and running in a few hours.

Gregg W. Sacramento, CA


"Polite and thorough."

Jon Delgado came and signed us up very polite and thorough. Thanks Jon for making us feel secure.

Eric L.,Sacramento, CA (New Homeonwer Roseville, CA

"Best prices and service."


"I feel safer!"
I agreed to do business with California Security Pro for many reasons:
1. They are a California company
2. They are willing to match other ADT company prices (if you have proof)
3. They offer a TWO-year contract whereas others make you sign up for three
4. Greg, the district manager, was friendly and punctual
5. Jeremy, the installer, was low-key, knowledgeable, and considerate in leaving the place clean
6. My boyfriend signed up after me--and he's a hard sell!
7. I feel safer!
Dianna A., Sacramento, CA

"Excellent ability to Protect your Family."
I had a guy come too my home last week to get a security system..His Name was Paul Bosley Pittman he was the best and Greg was excellent also..our phone has the ability to know if our son is home..Wow now my son is not jumping on the couch..He knows daddy is watching..If I had the opportunity to refer a Company & Service it would be California Security Pro in Sacramento & Paul bosley-Pittmans excellent ability to Protect your Family. .(916) 514-3615 Paul's #
Dacreon Z., Sacramento, CA

"I guarantee you will not be let down."
After being broken into a few times in the last few weeks I had Chris P show up at my door. I was not really looking for a security system and had bad experiences in the past with them, when he came by but after talking with him for a few min. he seemed to know about they systems and really cared about what was going on with the break ins. So I set up an appointment with him and when he came in he was very easy to talk to and was very knowledgeable on all the products and plans. We had lots of questions and he answered them all. We got the pulse system and could not be happier with it. We then ran into a problem about a week later and he got right on top of it and fixed it. Chris has some of the best if not the best customer service skills I have seen and I would recommend him to anyone and have already recommended him to a few people. I guarantee you will not be let down. give him a call Chris 916-643-3910 Thanks again Chris for everything
Scott G., Sacramento, CA




Bjorn Haro came knocking on my door on a day where chaos was continuing in my house(much like everyday) i asked if bjorn could come back another time. He set a new time more convenient for me and my wife. Bjorn was very patient with my questions and took the time to explain everything to me. I would highly recommend california security pro to anyone who is looking for a security system. They made everything soo easy and the installer Jeremy was awesome as well, very professional, very clean, and neat.
Randy S. Sacramento, Ca

"We went with the pulse plan and are completely satisfied with it."
Our family recently installed ADT through California Security Pro. Greg Blazek was our security consultant, he provided excellent service and helped find the perfect security package for our home. Jeremy installed our alarm system and was very quick with the install and with showing us how to use the alarm. We went with the pulse plan and are completely satisfied with it. Both Greg and Jeremy provided professional and courteous service, and were very sympathetic to our security needs. Greg provided us with all the knowledge we needed to feel comfortable with the security package we decided to go with. I highly recommend California Security Pro, and Greg Blazek at (916)613-0703
Steven P., Sacramento, CA

Like many millennial first-time home owners, we purchased a home we love, but is in a "developing" neighborhood. That's a euphemism for "we think our neighbors are great, but not the occasional crazy meth-head who walks by." Within the first week or so of having the keys to our home, at least three different security companies came by. One let my dog out the front door and stood by while I ran to get her out of the street. Another just creeped me out. Another seemed indignant that I was (rather obviously) busy at the moment. Then Greg showed up. Good first impression: he smiled and stood back from the door so that I didn't feel like my space was being invaded. He also ignored that I was a sweaty, paint-covered mess--holding a wildly barking dog decked out in pink clothing--and managed to speak to me like a normal person. After a couple more times of him showing up during the total chaos of us getting our house ready, we made an appointment. He answered all of my stupid tourist questions patiently. I had to leave about half-way through the appointment, so whatever he said to the better half clearly sealed the deal--probably something along the lines of "happy wife, happy life....." The very friendly and professional Jeremy arrived to install our system. He took his time making sure things were done correctly......and answering more of my stupid tourist questions. He managed to work around the cable guy, our construction, and, of course, the dog. And now we have a nice shiny security system.
Here's what I love:
1. It's really, really friggin loud when it goes off.
2. It's easy to use and customize.
3. We have a cool remote-control panic-button thing.
4. We can check and adjust our system from our iphones.
5. The sensors aren't unsightly.
6. Did I mention it's really, really loud?
Greg stopped by again to make sure we're totally comfortable using the system quickly and in customized ways, and I'm fairly certain Jeremy was on the other end of the phone during a couple of system tests. A big thanks to both of them! Seriously, call Greg. 916-613-0703 Peace of mind is priceless. Our security system is affordable. And did I mention it's loud?
Laurel F., Sacramento, CA
"The only peace of mind is to have ADT."
Please have patience with me - I was just burglarized by a pro (s). I am still very raw, numb, angry and so hurt. My parents passed last year and left me a great deal of beautiful expensive jewelry. I inherited many antique items from the family. I already had guns, comic book collection from the 60's, antique Gorham sterling service ware, my own collection of jewelry, and lots of junk silver as well as collections of gold and silver coins. I had a safe (weighed at least 250 lbs. and not in the cement) as well as a new gun safe. The gun safe was in a extra bedroom closet and the pro punched the pad off (took it) and snipped the safe - took everything in it. The "smaller" safe was carried out and put in a Ford 150 truck in my garage. The key to truck (as well as I pad, camera and credit cards) was on the kitchen counter. A recently bought case of wine and 1 lb. of sliced turkey in ref. taken! Cadences were smashed and taken or some just taken. This happened between 8 and 9 pm on 7/12/2003. Neighbors were all home. The truck went out the garage and the door left open. Chris P. was the supervisor as the ADT people went all over my subdivision. Chris came to me and we made the appointment - he spent at least 3 hours here guiding me, explaining over and over what options are - he played with my new Corgi puppy and just had so much patience with me. The so called pros took no credit cards or electronics - nothing that could be traced. I know Chris will come back to help and explain anything to me - he and his crew are just beyond any service I have ever had. I thought I was safe with my "stuff" in safes in my home - and I told NO ONE about what I inherited. Neighbors were shocked I had a safe let alone two. The only peace of mind is have ADT. I can monitor my home while out of the country - and I can take it with me anywhere or give to family members if I sell and move. I wish I had done this before - but life will go on and I will come to understand the treasures were stuck in the safe as it is not safe to wear that type of jewelry out anywhere today. I wish I could have given the gold bracelets to my grand daughters and two gold railroad clocks to my grandsons.
Linda W., Sacramento, CA

"Offer me a great deal, thank you Bjorn"
I had a wonderful experience with manager Greg Blazek at California Security Pro, authorized dealer for ADT securities. I recommend everyone to get this service because it gives you peace of mind for you and your family; knowing you are protected from burglars especially at this time in this economy. My mother's neighbor was recently killed in her back yard from people braking into her home and she was very upset about it.. People, even if you live in a good area, people are targeting even those areas now.. Don't take it for granted and protect your family by getting ADT.. Greg will give you a good discount on the installation if you call him at (916) 613-0703 and tell him Grace Cota sent you.
Thank you.
Grace C., Sacramento, CA

"By far the service this company provides deserves two thumbs up."
By far the service this company provides deserves two thumbs up. I had an agent come out to my house and explain everything in detail and really hooked me up. Bjorn Haro did a great job in getting exactly what I need and what I can afford. Thank you for protecting our neighborhood and our family.
Yevgeniy G., Sacramento, CA

"Cedric is a true asset to CASP, and was a pleasure to do business with."
Scheduled for a consultation with Cedric Miles; he was very professional, friendly and answered all of my questions earnestly. He made sure I understood all of my options and provided clear and concise information; without pushing me to purchase the most expensive option like most salesmen do. Cedric is a true asset to CASP, and was a pleasure to do business with. Now, I am just waiting for the install. Thank you, Cedric.
Ken P., Sacramento, CA