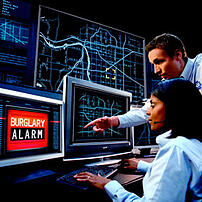 ADT Central Station Monitoring network offers one of the finest alarm monitoring services in the world. Alarm monitoring is offered for home owners and businesses throughout the the entire United States. Alarm monitoring services are available for burglary, fire protection, medical emergencies and the monitoring with ADT Pulse services include video monitoring and Remote Interactive Services.
With ADT they are many different levels of alarm monitoring options. The price range for monthly service for an ADT home security system alarm monitoring is from $36.99 to $51.99 a month. The ADT Pulse alarm monitoring packages range from $51.99 to $60.99. What are the differences? The basic difference between each package resolves around whether the package comes with two-way voice, cellular communication, remote security with ADT Interactive Services, video monitoring and home control. Lets take a closer look at the benefits of each alarm monitoring upgrade.
Alarm Monitoring with GSM Cellular Communication
At California Security Pro, over 50% of our customers choose to go with a cellular security system. Many homeowners are deciding to not have standard phone service in their home so they need a cellular security system. Others just want the benefits of cellular communication which include: a faster alarm signal communication to ADT Central Station Network, phone line cut protection and the ability to make changes to your home phone service without it effecting your home alarm. Cellular alarm monitoring options start at $42.99 for monthly monitoring service. A one time investment to upgrade the security equipment to cellular communication is just $100. Their are multiple other options for cellular alarm monitoring including ADT Pulse packages.
Our most popular cellular home alarm system is the DSC 9057 which is a wireless home security system. Most customers go with this system and choose the monthly package called Bundle GSM which includes ADT CellGuard and two-way voice connect which is $47.99 a month. About 40% of our customers go with the Bundle GSM alarm monitoring option. We are also starting to see a lot of interest in the ADT Pulse cellular security systems and remote service alarm monitoring.
ADT Alarm Monitoring with Two-way Voice Connect
Whether you decide to go with standard digital monitoring, cellular alarm monitoring or with ADT Pulse monitoring, ADT's Two-way Voice Connect is always an option to add to all types of home security monitoring packages.
What are the benefits of two-way voice communication and voice connect monitoring service?
Audio verification of alarm events
Higher priority level for police responses to verified alarms
Reduces false alarms
Homeowner can talk hands free from anywhere in the home with ADT Central Station Operator in emergency events.
The importance of having two-way voice is well worth the small cost of getting the service. You will get the upgraded two-way voice equipment for free. Around 70% of our customers get alarm monitoring service with the two-way voice audio verification monitoring.
ADT Pulse Remote Interactive Services Monitoring
ADT Pulse alarm monitoring is by far the fastest growing segment of ADT home alarm monitoring services. ADT Pulse brings mobility to home security by giving customers the ability to remotely control their security system, view their cameras and control the home thermostat and lamp modules. It's home security on the go and customers are absolutely loving the added security benefits for their home and family.
Check out these ADT Pulse related security blogs:
ADT Pulse is quickly becoming the new standard for home security and home automation. You should definitely consider the ADT Pulse as an option for alarm monitoring and see if it makes sense for your family or business.
Which alarm monitoring option is best for your family?
Often when trying to figure out what monitoring service is best for you it is easiest to have a Security Consultant come out for a free home security evaluation. We will go over your options based on what you want and custom design a security system that works for your family's lifestyle and within your budget. To set up a free home security review call 1-800-310-9490. We have appointments available mornings, afternoon, evenings and on the weekend.
Related Video:
Here's what having ADT Monitoring did for this family...