5 Star ADT Customer Reviews In North Hills, CA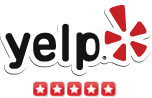 5/22/14 "I would highly recommend this company,only a phone call away if we need them"
We just had our ADT security system installed about a week ago and everything works great. Our sales representative was Grant who explained the different packages they have to offer. We informed him what kind of security system we were interested in and he was able to suggests different types of systems and what was included with the system. The cost of the system we decided on was a reasonable price and he was very professional. Later that week, Daniel came by to install the system. Another polite and professional person who took his time to answer any questions, correctly install the system, make sure the system was working properly, and taught us how to use the system before he left. He was able to use the existing system that was not active and made sure all the sensors and motion detectors were working before installing the new system. We mentioned that one motion detector was giving us problems and he changed it with no additional costs. The system works great and now feel comfortable that our home is protected whether we are there or not. Since the install, customer service for both Grant and Daniel have been great. We've called them a couple times with follow up questions and they both were available to answer them. We are glad to know that they are only a phone call away if we need them. I would highly recommend this company. - Brian A.,Los Angeles, CA (New Homeowner North Hills,CA)

5/7/14 "Great ADT pulse system, got me a great deal!!"
My wife wanted a security system for our new house. Initially I was reluctant bc I've always had big dogs protecting my home. Anyway Ana B. was great. She helped me get a great ADT pulse system. I even got automation so I can unlock doors if I get locked out w my iPhone and even set the temperature. I got carried away and included video surveillance and sensors for the windows and motion and glass sensors as well. She was able to work with me and got me a great deal!! I will definitely call her for more upgrades!! - Romeo M.,Van Nuys, CA (New Homeowner North Hills,CA)

5/2/14

"We got it all!"
So excited about our new system!!! We got it all! Thermostat, Cameras, window sensors, etc. And all are programmable by our iPhones!! Call Ana!! She was very helpful!!! Daniel, our tech was great. Both were very knowledgeable and no hard sales pitch!! We definitely recommend ADT!!! - Julia M.,Los Angeles, CA (New Homeowner North Hills,CA)

Agoura Hills, CA
Alhambra, CA
Arcadia, CA
Arelta, Ca
Artesia, CA
Avalon, CA
Azusa, CA
Baldwin Park, CA
Bell, CA
Bell Gardens, CA
Bellflower, CA
Beverly Hills, CA
Bradbury, CA
Burbank, CA
Calabasas, CA
Canoga Park, CA
Carson, CA
Cerritos, CA
Claremont, CA

Chatsworth, CA

City of Commerce, CA

Compton, CA

Covina, CA

Cudahy, CA

Culver City, CA

Diamond Bar, CA

Downey, CA

Duarte, CA

El Monte, CA

El Segundo, CA

Encino, CA

Gardena, CA

Glendale, CA

Glendora, CA

Granada Hills, CA

Hawaiian
Gardens, CA

Hawthorne, CA

Hermosa Beach, CA

Hidden Hills, CA

Huntington Park, CA

City of Industry, CA

Inglewood, CA

Irwindale, CA

La Canada
Flintridge, CA

La Habra
Heights, CA

La Mirada, CA

La Puente, CA

La Verne, CA

Lakewood, CA

Lancaster, CA

Lawndale, CA

Lomita, CA

Long Beach, CA

Los Angeles, CA

Lynwood, CA

Malibu, CA

Manhattan
Beach, CA

Maywood, CA

Monrovia, CA

Montebello, CA

Monterey Park, CA

North Hills, CA

North Hollywood, CA
Northridge, CA
Norwalk, CA
Pacoima, CA

Palmdale, CA

Palos Verdes
Estates, CA
Panorama City, CA

Paramount, CA

Pasadena, CA

Pico Rivera, CA

Pomona, CA

Porter Ranch, CA

Rancho Palos Verdes, CA

Redondo Beach, CA

Reseda, CA

Rolling Hills, CA

Rolling Hills
Estates, CA

Rosemead, CA

San Dimas, CA

San Fernando, CA
San Gabriel, CA

San Marino, CA

Santa Clarita, CA

Santa Fe Springs, CA

Santa Monica, CA

Sherman Oaks, CA

Sierra Madre, CA

Signal Hill, CA

South El Monte, CA

South Gate, CA

South Pasadena, CA

Studio City, CA

Sun Valley, CA

Sylmar, CA

Tarzana, CA

Temple City, CA

Torrance, CA
Valley Glen, CA

Valley Village, CA

Van Nuys, CA

Vernon, CA

Walnut, CA

West Covina, CA

West Hills, CA

West
Hollywood, CA

Westlake Village, CA
Whittier, CA

Winnetka, CA

Woodland Hills, CA