With ADT Pulse Voice App when You Speak, Your Home Listens...
**Updated September 2, 2015 to show that voice functionality is now integrated into the standard ADT Pulse App. You no longer need to have one app for manual control and another for voice control. It's all in one!**
ADT Announces Availability of ADT Pulse Voice Features integrated into the ADT Pulse APP, the First and Only Voice-Controlled Smart Home Security App. "You Speak. Your Home Listens" – New Voice Recognition Feature Allows Users to Safely Manage their Home with Personal Commands, now integrated into the ADT Pulse App for voice or manual control within one app.
BOCA RATON, Fla., Jul 01, 2014 (BUSINESS WIRE) -- Leading security and home automation provider ADT today announced availability of ADT Pulse® Voice, a new app that combines the ADT features customers know and love with the security and convenience of personal voice commands. ADT Pulse Voice technology is the first of its kind in the smart home space, enabling homeowners to log in and log out of the Pulse Voice app via custom technology that recognizes unique voice signatures. Once logged in, users can arm and disarm their Pulse security panel, control their home's lighting, adjust thermostats, lock and unlock doors, and check the overall status of their home – all verbally and virtually touchless through an iOS or Android smart phone. It's a new frontier in the world of smart home technology, and it's brought to consumers first by ADT. Read more of this article on MarketWatch.
Today's life is fast paced! Weather it's getting homework into backpacks, coffee into travel mugs or reports submitted before the 8am deadline, life happens at warp speed and the demand of technology is to keep up. With ADT's Voice App, there's no need to slow down and manually manipulate our smart phone device. With the sound of your voice, lock doors, adjust thermostats, turn lights on or set a mode that does all 3 with one command. This no cost addition to existing ADT Pulse Systems is one more step showing ADT's commitment to stay on the cutting edge of technology with a focus on creating the ultimate user experience.
ADT Pulse Voice takes Remote Security and Home Management One Step Further
"In 2010, ADT launched ADT Pulse, the first home and business automation platform available for the mass market nationwide. Today, Pulse customers across the U.S and Canada are able to adjust thermostats and lighting, lock and unlock doors and view real-time video from security cameras, all from their smart-phone, laptop or tablet." - ADT Corporation 2012 report
With the addition of ADT Pulse Voice features, existing ADT Pulse customers can download the ADT Pulse App, that now includes voice control, at no cost through Google Play for Android applications and as well in the Apple App Store for Apple devices. "It's all about providing the best possible user experiences for our customers," said Arthur Orduña, senior vice president and chief innovation officer for ADT. "As more people use voice commands to interact with their smart phones and other devices, it's critical for us to securely extend the convenience and accessibility of ADT Pulse through voice input. The launch of ADT Pulse Voice is another example of how ADT is using innovative technology to ultimately improve the user experience for customers and meet their individual needs in a way that complements their digital world." read full article on electronic house

Is ADT Pulse Voice Control Secure?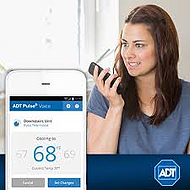 YES!
The Pulse App requires not just 1 or 2 verifications, but 3 verification checkpoints when using voice prompts. The app first recognizes a unique voice signature, then a secret phrase and finally confirmed identification of a mobile device. It employs an automated speech recognition format and a voice authentication biometric for ultimate security. All this utilizing embedded resources to assure commands are carried out promptly.
The ADT Pulse App in is your new best friend. We all want easy-to-use time-saving technology and here it is. There will never be another day when you grab keys, balance groceries and a briefcase, jab the keys at the lock, then run to the keypad, hitting the lights on the way. Ahhh, now you can relax and start heating the house up. With ADT Pulse App, all those functions are one hands free command. The app even confirms your request.
If you are not currently an ADT Pulse customer, ACT Now! Get more information by calling 1-800-310-9490.
What are customers saying about ADT Pulse Voice App?
ADT always thinking ahead!
by Geod82
I love this app!! It's really great when you're driving and don't want to take your eyes off the road you let your voice do all the work.
Having fun controlling my house with my voice.
by remohomer
Cool app. Works great with my Pulse system and I'm having fun controlling the house with only my voice.
With about 75% of our customers already experiencing the advantages of ADT Pulse, ADT Pulse Voice feature is just one more amazing feature helping us utilize Smart Home technologies. If you have not had to a chance to experience ADT Pulse for yourself, call now for a free home security review at 1-800-310-9490.
Editor's Note: This blog was originally published 07/22/2014 to announce the ADT Pulse Voice App. This feature has now been integrated into the ADT Pulse App version 7.0.0 to offer just one app with all ADT Pulse freatures.