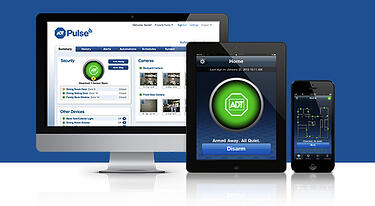 The options to control your ADT Pulse monitored security system make it very convenient to use and control. With life on the go, it is great to be able to control your security system remotely and get text or emails of alarm emergency events. It is also nice to have multiple ways to manage you ADT Pulse system when you are at home.
You can expand your ADT Pulse beyond just controlling your security system. When you add ADT Pulse cameras you will be able to view your cameras live and get 30 second recordings of events or alarms. By adding home automation you will have the ability control your lighting, thermostat and automated door locks.
So... what are the device options you have to manage your ADT Pulse security system, cameras, video recordings, thermostat, lights and door locks?
Mobile ADT Pulse System Management from Your Smart Phone or Tablet
Control your ADT Pulse security system remotely from your iPhone, Android phone, Blackberry or any other smart phone with a Internet connection. Also download the ADT Pulse app for either your iPhone or Android phone. The ADT Pulse apps make the system incredibly easy to use remotely. Check the status of your security system, remotely arm/disarm, look at secure live video for your ADT Pulse cameras, change thermostat settings, turn lights on/off and lock/unlock your ADT Pulse dead bolt lock. It's home technology convenience all in the palm of your hand.
You can also control your ADT Pulse security system and home automation with your iPad or other tablets with an Internet connection. There is an ADT Pulse iPad app that makes your Pulse system very easy to use. The interface and images on the ADT Pulse iPad app make the management of your home technologies super user friendly. It is pretty cool in its design features as well.
With iPhone and Android ADT Pulse Voice Apps you can control your security system and home control with voice commands. It's INCREDIBLE!!! Dowlond your free ADT Pulse Voice App from Apple App Store or Google Play.
Managing your ADT Pulse Security System with Your Personalized Web Portal
Managing your ADT Pulse security system from a PC or laptop gives you complete control over your ADT Pulse security system, home automation, system settings, schedules and management of system users and access codes.
The ADT Pulse personalized, web portal dashboard gives you an overview of the current status of your system, the homeview of all system devices, recent recorded video clips, notable events and your system schedule for the day. Your personalized web portal also give you the ability to see the complete history of your system for the last 30 days. You may also setup your text and email alerts, automations and schedules for your ADT Pulse system from your web portal. You manage your site settings, system users and check on system devices all from the System tab of your ADT Pulse web portal. With the easy to use drop down menus and menu tabs, the ADT Pulse web portal makes managing your ADT monitored security system and home automation devices simple.
The ADT Pulse Touchsrceen Control Center

This ADT Pulse touch pad gives you control over your security system and home technologies from anywhere inside your home. It is a fast and convenient way to manage you security system.
It shows you the status of your system on the home screen and gives you the option to arm your security to stay or away mode. It also has a police emergency panic to notify the ADT Central Station that you are experiencing a police emergency and need immediate help. It is also a quick way to view your cameras and see what is going on throughout your home or check to see who is at the front door. You can also control door locks, the lights and thermostat from your ADT Pulse touch screen control center.
The ADT Pulse touch pad has convenient local traffic, weather, news and sports with a word of the day as well. You can also set up the home screen to scroll through your favorite photos or have it display a clock. It has mode options to set your home to night mode or if your are headed on vacation touch one button to set your security system, lock the front door, set your thermostat to the temperature you want it at while your away and turn on the lighting schedule to make it appear your home at night. Customize modes to give you the options you want to control with one touch of a button. Adding a touch pad control center to your ADT Pulse system makes using your system super convenient.
Control ADT Pulse from Your TV
Currently, with the a Samsung Smart TV you can download Android apps. This allows you to add the ADT Pulse Samsung Smart TV App to control your ADT Pulse system from your TV remote, all from the convenience of your couch. Hopefully this is the first of many future options to control your ADT Pulse security system and home automation using your TV as an interface device. It is very nice to be able to check who is at the front door from your TV or check on the baby upstairs. If you are watching TV from bed before going to sleep for the night and don't want to get up to arm your security system... no problem. Set your ADT Pulse security system to night mode all from your Samsung TV remote. How nice is that?
Call 1-800-310-9490 for more information about ADT Pulse.