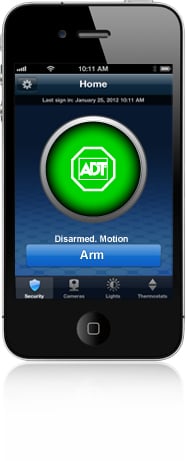 At times, it's a crazy world out there and there is nothing more important than protecting your family. ADT Pulse is quickly becoming the standard in mobile home security and worth considering as a security solution for you and your loved ones. USA Today just did a nationwide story on home security which featured California Security Pro, an ADT Pulse customer and remote home technologies. The title read, "Light's on, no one's home, but it's secure... Keep watch from wherever you are."
For years homeowners have been getting security systems to protect their homes and families from burglary, fire, carbon monoxide and medical emergencies. Twenty years ago, most security systems were hard wired burglar alarms and often were only local alarms without security monitoring service. Then wireless security systems became available so you could get a security system in an existing home without needlessly drilling holes throughout your home to pull wires. In the last 5 years, security systems with GSM cellular communication have become the standard as many homeowners no longer have traditional land line home phones. But the most popular new benefit of today's security technology is the ADT Interactive Services of ADT Pulse mobile security solutions.
ADT Pulse is mobile home security all in the palm of your hand!
Like the marriage vow of for better or worse till death do us part, mobile smart phones are here to stay. One of the better uses of mobile smart phone technology is the Interactive Services of ADT Pulse mobile security.
Forgot to arm your security system today? No problem. As an ADT Pulse customer, you will enjoy the ability to check the status of your home security system and remotely arm or disarm your system. Ever worry about what's happening at home? Relax, knowing you will receive text and email notifications of any home emergencies. For convenience and ease of use, there are free iPhone and Androids Apps available for ADT Pulse home security.
Although many customers use their desk top computers, laptops, tablets like an iPad and the touchscreen control center as interface devices for ADT Pulse, customers definitely enjoy the mobile experience of controlling their security system from their smart phone the most. It gives you so much peace of mind knowing that everything is fine at home even when you are on the go.
Not only will you enjoy mobile security benefits but you can also get ADT Pulse video and home automation with ADT Pulse Interactive Services.
Let's Take a Look at ADT Pulse Mobile Video Monitoring.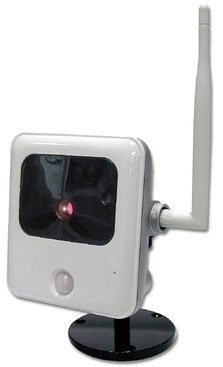 With ADT Pulse video monitoring you can remotely see what's happening at home. Did your kids get home from school, how is the handy man's work coming along and what is your dog up too? With an internet connection, check out live, secure video from your phone. Take a picture or record a short video clip of what is happening and text or email it. If there is ever an emergency at home check in immediately with the personal video monitoring service of ADT Pulse video.
Busy all day and do not have time to check in with your ADT Pulse mobile video monitoring. Just set up your system to record 30 second video clips of alarm events or record a clip when anyone opens a door or arms/disarms your security system. You can then go back view the video latter or have the clip sent to you via text or email.
ADT Pulse video monitoring is also great when you are home. One of the most important safety measures at home is to not answer the door unless you can see who it is. Use your front door camera to always see who is there before any family member opens the door. Watch the kids playing in the back yard or keep an eye on the baby sleeping while you are cooking dinner. Get a few bookshelf cameras so you can move them around depending on what you want to see at the time. You may also add up to 10 total cameras to your ADT Pulse security system .
If you need recording 24 hours a day, you'll need to upgrade to a video surveillance system with a Digital Video Recorder. The ADT Pulse personal video monitoring is designed for secure, real time live video and recording of short video clips of device and alarm events. Have a Security Consultant give you a free home security review to go over your video options to see what is best for you and your family.
ADT Pulse Offers Mobile Home Control - Thermostat and Lighting Control

You are at work and just realized you left the heat turned way up. What a waste of money and energy! No problem, with ADT Pulse home control technologies and a simple touch of a button on your smart phone turn your thermostat to where you want it to be from virtually anywhere. With ADT Pulse home control you will be able to remotely manage the temperature of your home, turn lights on and off and also lock or unlock your front door.
Besides the mobile benefits of home control, with ADT Pulse you can setup schedules for your lights or thermostat. With the heating and cooling of your home being so much of your energy use you can save upwards of 18% on your energy bill by better managing the temperature of your home. Your ADT Pulse Web Portal will make it extremely easy to take control of your heating and cooling cost by propering managing your thermostat. Schedules and automations are key factors to saving significantly on your energy consumption. An example, program your thermostat to go to a desired temperature anytime you are leaving home and arm your security system to the away mode.
Lights can be controlled remotely and schedules can also be programed. Away on vacation and want it to appear that someone is home. Just program your ADT Pulse system to have certain lights go on and off on given days to make it appear that you are still home. The future of whole home light control are also available as an upgrade.
One of the parts of the ADT Pulse security system that is quickly becoming a fan favorite is ADT Pulse door locks. Forgot to lock the door on your way out of town, no problem. Remotely check the status of your door lock from your smart phone and lock or unlock it from anywhere. With life so much on the go these days, it's nice to be able unlock your door remotely if your friends arrive early or the handyman is there waiting because you are running late. It also gives you peace of mind knowing everything is locked and secure when you are sitting on the beach enjoying the Hawaiian breeze.
Which ADT Pulse Mobile Solution is Right for You?
To find out more about ADT Pulse Interactive Services and remote mobile security, have a Security Consultant come out for a free home security review. This way you will be able to figure out the best security solution for your family's needs. The Security Consultant can custom design an ADT Pulse Monitored Security System for you and give you a few options that fit within your budget.