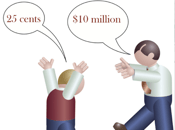 There's two kinds of people when it comes to your home's security system and ADT Specials. There's those that pay the first price they see. Then there's those that love yard sales, they've haggled over the price of a $1 sombrero in some tiny tourist town south of the border or those that merely watched a TV show where someone argued with a guy named John until John paid him to take a 1971 RV off his hands.
We figure you are the second person. Mainly because you are reading this post. We get your need for a quality product at a price that will make you burst into song.
ADT Special Offers that will make you grin
You'll be glad to know, the buck stops here. At least, the bucks stop climbing out of your pocket here.
Special #1:
You'll start with a FREE* basic security system or basic ADT Pulse system that includes:
One Wireless, hardwired or hybrid control panel.
One pet Immune motion detector
Six door/window wireless sensors or 15 wireless contacts for a pre-wired/hardwired system
One key-chain remote
One yard sign and window decals for your windows
That's our everyday special.
Special #2 varies. There's ALWAYS a monthly or weekly special offer and sometimes BOTH at the same time. There's even a little something FREE for those that like us on Facebook.
Give us a call at 1-800-310-9490 or fill out the form by clicking below, and get a price quote including current specials. If you received another written quote or printed offer that does end up better than what we offer, we'll price match that too.
ADT Coupons make your home security system MORE affordable
ADT Special #3 is applying a coupon. What's so special about this coupon? It CAN apply with other offers. (Mention it when you call!)
Any devices you decide to add to your FREE* system will come with a 25% discount. Choose from:
Additional ADT door or window sensors
and more... for a complete list of our a la carte security devices click here.
ADT Pulse Special Pricing and Offers (these might cause you to do a hand spring)
ADT Special #4 is our ADT Pulse FREE Camera.
ADT Pulse is home automation and home security. It's also the most popular security system in the country. Introduced in 2010, over 1 million happy customers have installed an ADT Pulse System and are loving them. With the Pulse system and it's accompanying mobile app, you'll monitor systems like your heating and cooling and video surveillance from anywhere in the world; and in real time.
Get a FREE high-resolution Indoor Day/Night HD camera when you upgrade from a standard ADT Pulse system to an ADT Pulse system with home automation. This package comes with a lamp / small appliance module and your FREE camera. This is an introductory package to the Pulse home automation platform. With the lamp module, you can plug any small appliance or lamp into it (must have an on/off switch). You leave it in an on position, and you can now regulate the flow of electricity to it with your system. Control on/off coffee pots without leaving your bed or have the lamp in the front window turn on when you open the front door, disarm your system or motion is detected on the front porch. The module integrates whatever you plug into it with your system. and it can now be controlled via mobile app, on a pre-set schedule or in response to the action of another device.
A bargain by definition is something of value received at a discount. With ADT you get the #1 home security monitoring in the world. With an ADT special, you get it at the best price possible. That's a win/win. AND if it happens to make you jump for joy, it's a win/win/win. Can't beat that!
Call today and set up a FREE security review for your home or business. You'll meet with a local representative, familiar with your community, that will offer you solutions based on your families needs and budget. Call today at 1-800-310-9490 or click below and we'll call you.