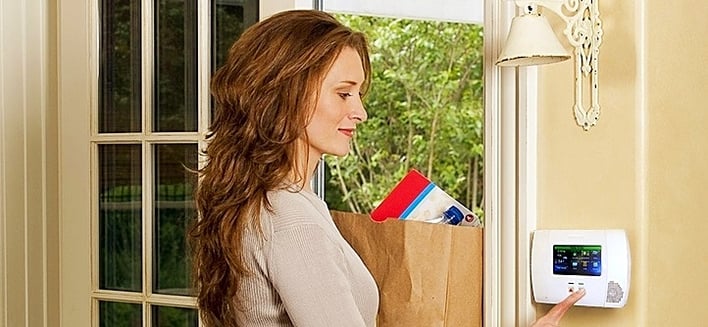 More and more of your neighbors and neighbors across America are investing in monitored home security systems. The reality is becoming obvious that burglaries are not just happening in "other" peoples neighborhoods. You'd be hard pressed to find a person that doesn't have a neighbor, a work mate, or a personal friend that has not experienced a break-in of some kind.
Experts estimate that the percentage of homes with security systems will at least double over the next 5 years. Not surprising with many police departments advertising that 87 % of burglaries are considered preventable. Not all the reasons are that obvious though...
Here's 5 reasons your neighbors are investing in monitored home alarms for their homes:
Crime statistics are becoming hard to ignore.
Security systems are more affordable than ever
People are busier than ever
Home security as a home automation platform makes Smart home features affordable for the average home.
You no longer have to choose between "outdated" hardwired system or wireless home security.
1. Crime statistics are becoming hard to ignore
The FBI reports that a home is burglarized in America every 15 seconds, that's a handful of homes as you read this article. Most burglaries take place during the daytime while you are hopefully at school or work. If 87% of burglaries are preventable, investing in a security system, using it daily, and taking some common security precautions will drastically lowers the chances you'll be cleaning up broken heirlooms in a ransacked home. A home that does not have an alarm is twice as likely to be burglarized as their neighbor who does not have an alarm.
2. Home security systems are more affordable and more robust than ever
Do you remember your first cell phone? It was probably the size of a Camcorder and cost almost as much. Like all technology, alarms are faster, more stylish, more reliable and best of all, less expensive. California Security Pro will start you off with a FREE* system that can even include a camera and home automation.
3. People are busier than ever
Gone are the days of the one income family and someone at home to run the home and have the evening meal set for the whole family to dine each night. Even before marriage and kids, people are climbing the corporate ladder by way of long hours, work trips and late night dinners romancing clients. After kids come along, there's Girl and Boy Scouts, music lessons and little Susie's school play rehearsals. All while the home is left empty and vulnerable. A basic security system adds a layer of protection and a nice sign in the yard to deter would be intruders. Add cameras to further deter would be thieves and allow you to catch strange people in the neighborhood and alert your neighbors.
Monitoring like ADT Pulse allows you to check and see if in all that rushing around, no one armed the system and you can arm remotely or check the cameras to see if Fido's on the couch again. You can also have the system text you if someone comes on the porch with a video clip of who it is.
Related article: Community safety and social media
4. Home security as a home automation platform makes Smart Home features affordable for the your home.
Smart home technology is so commonplace that you might not realize you have it. Some cable providers have remotes you can talk to. That's a smart home or home automation device. Your universal remote is a home automation device too. Any device that causes other devices to perform a function at your command is home automation.
A few short years ago, if you wanted your cable box and TV to turn on at the same time, you had to get 2 remotes and press power on both. Usually, you'd need one to change the channels and one for volume. Home automation takes this, and your door locks, thermostats and/or lighting, and make them all work off one central control. It would not be uncommon to pay upwards of $5,000 for a very basic system that allowed you to control your homes system from one location.
In 2010, ADT released the first affordable system available to the masses that would incorporate all the above and your cameras, all controlled by one central unit. You can now even us Alexa to tell ADT to lock your doors or arm your security and all you need is your voice to perform tasks.
#5 No more wireless vs hardwired home security systems
When wireless home security came out, you had a choice between remaining with your hardwired system OR switching all the way over to wireless home security. For some, that would mean a system that initially cost $1,000 or more to install would need to be completely replaced. Why would someone do that? Because if a device stopped working you would need to repair it. Often that included finding the offending wire which caused demolition, replacement of drywall and repainting the area. Or you could start fresh with a wireless system. Also as wireless technology advanced, we now have home automation and other valuable features that do not come hardwired.
The solution is a hybrid system that allows you to take advantage of the investment in your hardwired or pre-wired home and have a control panel that as well can communicate with wireless devices. The best of both worlds, seamlessly integrated into one system.
To sum it up, there are many reasons to invest in home security today. Hopefully this article confirms just how intelligent you are to be pursuing the Internet for home security information AND opens your eyes to just how much a security system can do for your household.
If you are looking to activate an existing system in your home or invest in a new system, give us a call today at 1-800-310-9490 or click button below for a FREE home security review.