When it comes to our homes and families, we all want to feel secure and have "peace of mind". With the rapid rise in crime in our communities as well as the risk of fire and medical emergencies, the need for protecting what matter's most is becoming even more crucial. That is why an ADT monitored home security system is such a valued commodity in today's communities.
A monitored GSM Cellular Security System is the type of system you want to ensure that critical emergency signal is sent in the case of an alarm event. It is imperative that you get a prompt response and this type of system gives you just that. Using your landline phone is no longer enough protection. During an alarm event, the system takes over the phone line and sends a signal to the monitoring station. If the phone line has been cut the signal will not be sent and police will not be dispatched. Having a GSM cellular back-up will eliminate this problem and the signal will sent even faster.
GSM Cellular Security System Monitoring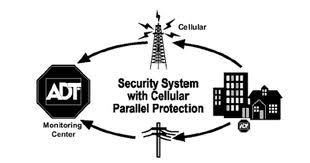 The other aspect of a home alert and response alarm system is how efficient your system is at getting a prompt reponse from the monitoring centers and authorities. Alarm systems have been alerting monitoring centers of criminal, medical, and fire emergencies for decades.
This is done by a connection through a standard landline phone service. However since the cell phone generation and Internet based VOIP services, traditional landline phone services have started to become a dying breed. This is where GSM Cellular Security Monitoring comes in for Home and Business.
Benefits of Having an ADT Monitored Cellular Security System Installed
Below is a short list of the beneifits of having a GSM Cellular Security System installed in your home or business.
1. GSM Cellular Alarm units send a much faster signal to the Alarm Monitoring Center. It is estimated to transmit the alarm triggered event to the Center 4 to 5 times faster than a traditional Phone Line based alarm. Obviousy the faster the ADT Center gets the alert, the faster they will dispatch the proper authorities.
2. GSM systems also provide "immunity" from cut phone lines. In many Home and Business structures the phone lines can be easily accessible from the outside and a savvy burglar might simply cut the phone lines coming into the structure from the street. This will eliminate the ability for a land line based system to communicate with the monitoring center preventing a Police dispatch.
3. Many people the have existing Landline based systems will most likely change carriers or discontinue those services in the coming years. Having a GSM based installed system now will prevent these customers from having to upgrade or change the type of monitoring they have in the future. Another thing to consider is that a traditional Landline can cost from 15-45 dollars per month to maintain. In most case scenarios is is less expensive to have a GSM based system versus the monthly cost of alarm monitoring combined with Landline phone for communication to the Monitoring Center.
4. It is OK if you are still in love with your current Landline and won't part with it! Another popular option is to have an Alarm system intalled that has a GSM Cellular "Backup" option. This means that the primary communication between your system and the Monitoring Center will be through your current Landline, however if that line is cut or goes down for any reason the alarm will then rely on GSM Cellular transmission as a secondary protocol.
In any event, the best scenario for any home or business owner is to have an alert and response security system installed. When it comes to alarms it's better to have it and not need it, then to need it and not have have it!
For more information or to order your GSM celluar security system call 1-800-310-9490
Related Video:
Here's what monitored security really does... Saves Lives. The France family was interruped by a naked man on a killing spree intent on harming them. See what happens...