The Evolution of Wireless Home Security
In 1853 the very first
Home Security System
was patented. It was a simple magnetic connection that relied on the opening and closing of a circuit to sound a bell. Amazingly enough, home security works on similar principles to this day. While these concepts have endured the test of time, it is
wireless
technology that has kept home security on the cutting edge.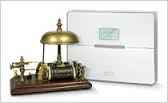 If you lived in 1853 and wanted home security the only option was to run wires along your walls and under carpets or drill lots of holes in your walls that would need to be repaired after wires are in. After the invention of household home security systems,
Hardwired systems
quickly became a process done during home construction. Installing wires before drywall was set into place was a more logical option that is still used today. But what if your home did not come pre-wired for a security system? Then your best option is wireless home security.
Installing a wireless alarm system offers huge advantages over installing wired systems – they're less obtrusive, easier to install, and are quite affordable – making them the alarm of choice for many of today's homeowners.
Advantages of Wireless Alarms
Affordability. Because installation of wireless systems is simple, these systems are a more affordable option than retroactively installing a hard wired system.
Easy Installation. The main advantage of a wireless alarm system is that it does not require the time associated with a wired system. Wired installations require electrical expertise for wire stripping, circuit testing, and electrical leads.
Easy upgrades and expansion. Since installation is easy, adding additional sensors, cameras and home automation at any time is fast, simple and inexpensive. You can also remove just one part and replace it easily.
Battery-Powered. Hardwired systems use your homes electricity and have a battery back-up. Almost the opposite, wireless systems rely primarily on batteries with only the main panel plugged into a power source. Wireless system batteries last 2-3 years and the systems alerts you of low batteries. They also "check-in" with the main panel hourly to report that it is in service and battery levels are ok.
Longer Range. Wireless devices can communicate farther than hardwired devices wired system. This makes it easier to secure even the outlaying area of your property (like a detached garage or outbuildings that sit away from the house).
A Cellular Network. Wireless systems can use cellular communication. Even in the event of a power outage or your phone lines are cut, your system is still connected to the alarm company and the police. Even the best burglar would have a hard time taking out the entire cell network.
The Best Wireless Home Security
The
DSC Impassa 9057
is our most popular security panel. Being a
very affordable
cellular panel, it's a great solution for those who no longer choose to have a land line. It was also one of the first security panels that enables you to have
ADT SecurityLink
(two-way voice) monitoring service over cellular communication. With this panel, you have siren, back -up battery, cellular communication, speaker for two way voice audio alarm verification and phone line cut protection all in one unit. You can build the perfect customized system for your home by adding a secondary keypad, an outdoor siren/strobe, glass break sensors, or monitored smoke and CO2 protection. The
DSC Impassa 9057
is cutting edge wireless home security technology at an affordable price.
Integrating Home Automation features makes the DSC Impressa 9057 the perfect platform to put you on the cutting edge of technology.
Wireless Home Security and Beyond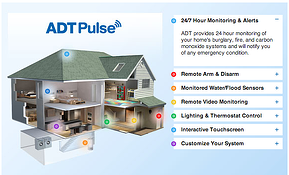 ADT Pulse Wireless Home Security has opened up a whole new world to many home security subscribers. The Pulse system offers a comprehensive home security experience. There are cameras for live video feed of your home and apps that allow you to view it all remotely. With the home automation options, there's not only super cool features that allow you to regulate heating, cooling and lighting, and tie automatic locks into your security system, there are also money and energy savings associated with automating your thermostat, lights and small appliances. With your ADT Personal Web portal, you can log in anywhere you have access to an internet connection and control your system from anywhere and at anytime. The ADT Pulse App and ADT Pulse voice App give you further control by being able to using your smart phone to control and access your system.
Wireless security also means you are no longer required to have a land line, Level I Pulse systems use cellular communication. When you move up to Pulse Level II and add cameras or Pulse Level III with home automation, an internet connection is required.
With all the options in home security, making the right choice can seem complicated. The choice between a hard-wired or wireless security system is usually pretty straight forward. Homes that are pre-wired for an alarm system should usually have a hard-wired or hybrid system installed. Hybrid systems utilize the existing wires and allow for the addition of devices that are not already wired in. Another benefit for older wiring is being able to install wireless devices where older wires might have been damaged over time. Your very best bet is having someone that will come out free of charge and review your options with you based on your home and specific need. Give us a call today to have a FREE in-home review at 1-800-310-9490 or fill out the form below and we will call you!