ADT Monitored Personal Emergency Response
A home security system with personal emergency response from ADT has the ability to provide monitored fire protection, personal medical alert assistance, carbon monoxide detection and can sense flooding. Instead of just having a home security system that protects from burglary only, enhance your system with personal emergency devices. A one time investment into additional emergency response equipment will give you additional protection for your home and family without raising the cost of your monthly monitoring rate.
Let's take a look at the different personal emergency response equipment and the benefits they will provide you.
ADT Monitored Fire Protection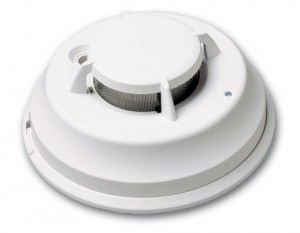 I believe that everyone who has a monitored security system should without hesitation have a minimum of one Monitored Smoke/Heat Detector installed. This device may save your home and the lives of family and pets.
Even if you have smoke detectors throughout your home, if they are not monitored they will only sound locally. They provide little or no protection from fire when no one is home. On the other hand, monitored smoke/heat detectors provide protection when you're home and away by sending a signal to the ADT Central Station Network allowing the ADT Operator to notify your local Fire Department. Monitored fire protection saves valuable time by notifying the ADT Central Station immediately when a fire is detected. In a fire emergency, whether you are home or away, help is on the way. A fire can double in size every 18 seconds, so a quick response in fire emergencies is so vitally important. Saving time….saves lives!!!
Another benefit of monitored fire protection is a discount on your annual homeowner's insurance. The discount varies depending upon each policy but typically monitored fire protection will save you about 5% or so on your annual home owner's insurance. When added to the typical 5% discount for a monitored security system your total discount on your annual homeowner's insurance with an ADT Security System with fire monitoring is around 10%. Insurance companies give you this discount because it saves them money by dramatically reducing the cost of claims from the destruction of fire. Also, within a few years you will usually recoup the cost of upgrading your security to fire because of the discount on your annual homeowner's insurance.
How many monitored smoke/heat detectors should you have installed in your home? Due to the cost most people can not afford to add monitored smoke detectors in every bedroom throughout the entire home. If you have a single story home with a hallway leading to the all the bedrooms you should have at least one monitored smoke/heat detector installed in the hallway. If you have a master bedroom on one side of the house away from the secondary bedrooms you should install a second monitored smoke/heat detector between the master bedroom and the living area of your home. With a two story, three story or a home with a basement at least one monitored smoke/heat detector on each level. The next level of fire protection is to add monitored heat only sensors in the kitchen and the garage where most home fires start. If your budget can handle it, some customers put monitored smoke/heat detectors in every bedroom as well. No matter what level is affordable to you, adding a least one monitored smoke/heat detector to you home is a great idea and certainly something you will not regret.
ADT Monitored Personal Medical Alarm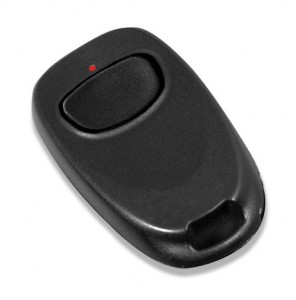 You've probably seen the "I've fallen and can't get up" commercials. Obviously, for many people with heart and other medical conditions knowing that at a touch of a button you can have your local paramedics dispatched to your home gives extreme peace of mind. It also allows many elderly to enjoy living independently without having to move to a convalescent home. It also brings peace of mind to children of the elderly knowing they will be notified of any medical emergencies their parents experience.
The medical panic remote can be worn as a necklace and there is also a watch style medical panic as well. It will work anywhere in the home and yard areas within approximately 75-100 feet from the main unit. There is also a medical panic button on the keypad as well. Once any of the medical panic buttons are pressed, it alerts ADT Central Station of a medical emergency in your home.
Most often two-way voice monitoring is used for personal medical alert systems. This allows you to communicate hands free from anywhere in the home with the ADT Operator. The operator will call your local paramedics and relay information of your medical emergency to the paramedics dispatched to your home. The operator will stand by until the paramedics arrive and also call to notify your emergency contacts. When you setup your account you decide who you would like us to call in case of an emergency and can include family, friends, neighbors, caregivers, etc.
By adding a personal medical alert to your ADT Security System you save money by not having a separate system for medical emergencies and paying two monthly monitoring rates. It just does not make sense to have an ADT Security System and a separate Medical Alert System. Combined both into one and have one monthly monitoring rate with medical, police and fire protection. If you're thinking of just getting a medical alert only system…why? For virtually the same amount of investment you can get an ADT Security System with Medical Alert for the same price as just a medical alert only system.
There's no question that personal medical alert adds extreme value to a security system, especially with the American population growing older and experiencing many medical health issues. This is another product and service that is saving lives!
ADT Monitored Carbon Monoxide Detection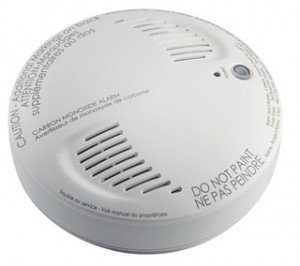 Carbon monoxide is an odorless, tasteless, and colorless gas produced by burning material containing carbon. Carbon monoxide poisoning can cause brain damage and death. Because you can't see it, smell it, or taste it, this poisonous gas is known as the "Silent Killer". In fact, carbon monoxide is the leading cause of accidental poisoning deaths in the United States.
Sources of carbon monoxide include many common household appliances. Some of the sources include faulty furnaces, gas water heaters, internal combustion vehicle exhaust, kerosene space heaters, charcoal grills, gasoline powered tools, propane heaters and stoves, gasoline and diesel powered generators, cigarette smoke, propane-fueled forklifts, gasoline powered concrete saws, spray paint, solvents, degreasers, and paint removers.
Early symptoms of carbon monoxide poisoning such as headaches, nausea and fatigue are often mistaken for symptoms of being sick or having the flu. By not detecting carbon monoxide poisoning prolonged exposure can lead to significant toxicity of the central nervous system, heart and can lead to death.
With a monitored carbon monoxide detector from ADT, you will receive protection with early detection of carbon monoxide poisoning. Your ADT home security system will sound and send a signal to the ADT Central Station that there is a dangerous level of carbon monoxide poisoning. Protect your family from this dangerous poison and make sure to have a carbon monoxide detector installed in your home.
ADT Monitored Flood Sensor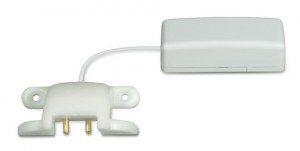 A flood sensor is a device to detect unwanted water in your home. Often used in basements around the country and provide protection in case sub pumps fail to remove water accumulation in the basement.
Here in California we do not have many homes with basements so a more common use of this device is for indoor laundry rooms. A lot of damage can occur if the washer overflows or a hose bursts in the laundry room. I have heard stories of severe damages do to flooding of a laundry room. One person had to replace almost all their floors downstairs. Another had a indoor laundry flooding occur while on vacation. The laundry room was upstairs and the water damage was insane with major construction and remodeling necessary to repair the damage.
If you have an indoor laundry room or another area in your home you are concerned about flooding, pipes bursting or water leak damage, it's a great idea to get a monitored flood sensor. With this protection your alarm would sound and ADT Central Station will notify you if there is a flooding issue inside your home. This could save you thousands!
Enhancing your ADT Security System with personal emergency response devices create multiple levels of protection in your home. Many of these devices combined with ADT monitoring service could potentially saves the lives of your family and pets. Once you have decided to invest in the monthly monitoring service for your home alarm system it makes sense to initially invest a bit more to equip your home with protection in fire, medical, carbon monoxide and flooding emergencies. Your monthly monitoring cost stays the same regardless of whether you install a security system only or if you've added monitored smoke/heat detectors, remote medical panics, flood sensors or carbon monoxide detectors. If it's affordable for you to add these upgrades, it's a one time investment that will protect your home and family for many years to come.
To order a new ADT Security System with personal emergency response upgrades or to schedule a free security review of your home call 1-800-310-9490.
Related Video:
Here's what monitoring really does... Saves Lives!