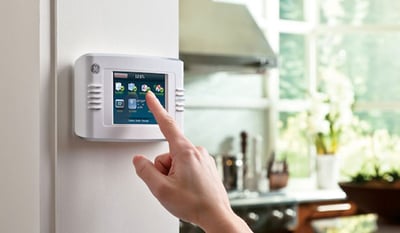 You might not realize Brinks and Broadview are now a part of ADT. So if you call them, you'll be directed back to us.
As for other companies like Bay Alarm and a zillion smaller companies, It's a common misconception that to utilize your home's existing alarm system you are required to call the company that installed it. Even if you don't like them... it's that or purchase a whole new system and not take advantage of the existing equipment! Luckily that is not the case. Here at
California Security Pro, many of our installers have been installing home security systems for over a decade. They've seen most of what's out there and have the skills to provide you with a great system, utilizing the parts of your system that are still functional.
Click to scheduling your FREE Home Security review. It gives you the opportunity to have a professional look at your existing system for free and give you options. You'll find out consultants honest, straight forward and not pushy, their job is to educate you and help you make the best decision, even if it's not us.
What about lock out or programmer codes when re-activating an existing alarm system?
A common misconception, or a line that some companies will use, is that their equipment is proprietary and has codes that lock out other companies from activating it. While this might be technically true in a few cases, it can also be misleading. You see, we don't want you to have an alarm panel from a decade ago or even 2 years ago. The alarm panel is going to be replaced with the most current panel. One that offers you current features like remote arming and disarming and touch-screen options as well. Even if you are our customer from days gone by, that old panel and its lock-out code is going away.
So while a panel might be proprietary and it might have a lock out code, You are going to get a brand new panel. As for the other devices like door / window sensors, motion detectors and so on, there are 3 big manufacturers for the alarm industry, and their equipment is all compatible with the most up-to-date panels used. They account for over 80% of alarm equipment. You'll get a new panel and in the majority of cases, be able to utilize your existing devices with it. And since it will now fall under our warranty, we'll make double sure that it's all in working condition at install.
What we suggest is having a FREE security review, there are systems that are not compatible with the big 3 manufacturers, some are simply too old (a concern for headaches of constant problems as well,) and there are some one off products that do not work with anything else on the market. We'll help you understand if you fall into any of those categories and present you with all your options
Click here to schedule a Home Security Review.
I have a hardwired system now. Aren't new system wireless and isn't that better?
Because our technicians get extensive training and the years of experience in our crew, we have specialists that deal with all systems.
Hard-wired system are very reliable. Many homes utilize hard-wiring during construction to get that reliability and we will check each and every connection to make sure there are no failures inside the wall with the wiring. The beauty of a modern hard-wired panel, or what's called a "hybrid" panel is that it can be used to incorporate and take advantage of your existing hard-wired devices or in the case of a home pre-wired at construction, the wiring being there AND can incorporate wireless devices as well. That's huge if the home wasn't wired for things like monitored smoke detectors and you would like to add those in, it's no problem. Also if a wire is faulty, that device can simply be replaced by a wireless component and avoid the hassle and cost of opening a wall to attempt to find the location of the failure.
As far as better? Here's a blog that covers the pros and cons of wireless and hard-wired systems. With advances in technology, wireless system are now incredibly reliable and eliminate a few weeks of construction to run wires in all the walls. Both systems offer reliability and versatility. Using what you already have in place simply offers you a great value as you are taking advantage of what you already have and adding in the devices that come with your FREE basic package.
So what's the advantage of sticking with Bay Alarm, Brinks, Broadview, Vivint, Frontpoint, Comcast, Monitronics or Protection One?
The advantage of the company that best suites you is going to be different for every single person. Equipment wise, there is no advantage of staying with one company simply because they originally installed the equipment. That notion is simply a false. You are free to pick the company of your choosing regardless of who installed the system that is now in your home.
Another point is businesses that have merged with others. As mentioned, Brinks became Broadview and later united with ADT, they no longer exist as separate companies who installs security systems. The anticipated merger of Protection One and ADT is slated for mid-2016. Protection one is known more as a commercial supplier of security systems but brings a strong reputation for excellent customer service. As for the other companies, here's what a few clients had to say about their switch or choice to go with California Security Pro (CSP) over another:
"After 3 years of using Comcast Home security I was ready for a change. I had some equipment issues with the previous service and the Comcast alarm would go off when we were on vacation with either sensors falling off or connection issues with the modems installed. I decided to do some extensive research on other alarm systems and all signs and research pointed to ADT as the solution. I contacted Kyle Madison and setup an appointment for him to review our layout and provide his expertise on what was needed based on my requests. Kyle was, and still is, great to work with and beyond knowledgeable when it came to our security needs. I went with his suggested system which was cost competitive and even offered more sensors then my previous provider.
Beyond the sale...' Read full review on Yelp (it's a bit long :)
Other Comcast Comparisons on Yelp: Danny T compared CSP, Bay Alarm and Comcast., Deanna G had Comcast out 3 times before giving up, Derrick M.- not impressed with Comcast,
.................................................................................................................................................................................
Compared California Security Pro ADT and Bay Alarm - the differences were substantial. Brandon Tomas was very open-minded to different security scenarios, able to answer questions, and when he didn't know - he didn't hesitate to call a technician and get the answer or provide references that could give me the information I was looking for. He was never impatient, always responsive, stayed committed, and confirmed that every aspect of the installation was accomplished exactly the way we had talked about.

When Pat Amatrone showed up to do the installation, the first thing he did was put shoe covers on. That's class. The installation went smooth and as planned, and Pat made sure that I was clear on every part of operating the system, and was especially accommodating about some nuance preferences. The service never stopped, even when I called or e-mailed after the installation.

The prices were lower, the equipment was better, and the service was phenomenal. What more can you ask for??? - Farris J, Richmond, CA See orig review on Yelp
Other Bay Alarm Comparisons: Patrick M - "Other companies were condescending", Heather M.-" Terrible first experience with Bay.", Indy R. Bay Alarm's price made them "wince",Rosy K "uber inefficient with its installation",
.................................................................................................................................................................................
I wanted an alarm for my place in Rohnert Park. During my research I found two competing security systems, ADT and FrontPoint Security Systems. I really looked at the pluses and minuses between these two systems, both highly rated by consumer and professional reviews. The difference was really Bill Woods from California Security Pro ADT Authorized Dealer from the NAPA office. Mr. Woods met me at my new place and we discussed just what system was needed to secure my home. He did not try to sell me extra stuff that I really did not need. He was straight up and frank about what a good security system should have. Front Point's selling points were very compelling, Bill recognized that. He was able to work with me and came through with what I deemed a very competitive package for a very good system from ADT. Bill convinced me that the new ADT Pulse system was a cut above the competitors plus the company is a security company first and foremost, hence their expertise is on security.
I also liked the fact that a professional installer will be installing my system. I know I can install a do it yourself kit but at the end of the day, I really wanted a pro to set the entire system up from the ground up. Jesse, the ADT installer, was on time. He was very thorough and completed installing the system at the scheduled time. He took the time to make sure that the system layout was what I wanted before he proceeded with the installation. Once completed, he really took the time to explain everything, very patient. He made sure that everything was put away, leaving the place clean, no messy installation. Bill made sure that the system was up and running flawlessly from follow up phone calls. It's been over a month since my ADT system was installed and I've been very pleased with the performance so far. The mobile application works as designed. I can manage my system remotely and friends are quite amazed with its capabilities. - Lou F.,Rohnert Park, CA
As you do your research, you will find an overwhelming amount of companies offering you home security. We're the #1 ADT Dealer in California because our goal is to take care of you, not meet a sales quota!
Alarm equipment is made primarily by 3 manufacturers and they have all stood the test of time. So it comes down to who is going to take the best care of you, not cause you headaches if you need assistance after install. Oh, and fit your pocket book too. We eliminate the pocket book issue by offering a price match policy and if you check us out on Yelp, we seem to be doing a good job at treating people the way they expect and often beyond that expectation.
If you'd like us to come out and give you a no obligation and FREE security review for your home of business, contact us at 1-800-310-9490 or click below and we'll contact you. We'll help you determine exactly how you go about re-activating an existing system.
If you have experience with another company (or us) we'd love to hear about it below! And you can sign up for our blog anytime, whether you are our customer or not. Our blog will keep you connected with what's going on in your area, crime trends about the state and answer questions you might have about home security. Sign up here.