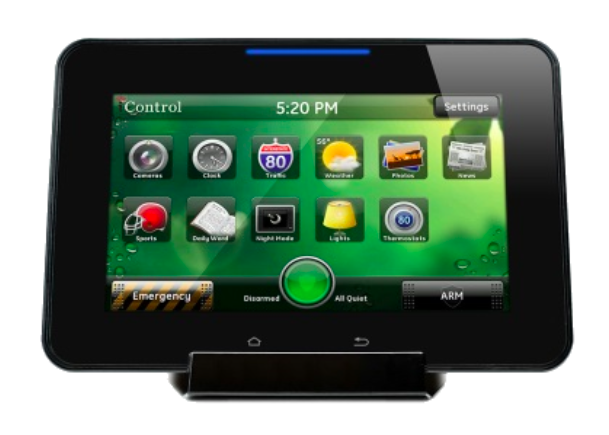 I used to tell our Security Consultants to tell customers to save their money and not buy an ADT Touchscreen Control Centerfor their ADT Pulse system. I felt mobile devices like phones and tablets were a better investment. With a phone or tablet you can control your ADT Pulse system from an ADT Pulse App and also use the device for everything else you would like to use it for. However, I had not owned an ADT Touchscreen myself.
Our ADT Regional Director had a touchscreen sent to me to test it out. I was reluctant at first because my wife and I were using our mobile devices to control our ADT monitored security system and were happy with the easy of use. I put the touchscreen near our front door entry. Within weeks of having it, we started using it everyday and use our other devices less and less. The ADT Touchscreen is just so convenient to use and it is dedicated to the security system.
So why is the ADT Netgear Touchscreen Control Center such a fantastic security system control device in your home?
ADT Touchscreen is Connected Via WiFi and Communication is Quick
The first thing I noticed while using the ADT Touchscreen was how easy and quick it was to use. With mobile devices you have to login into the ADT Pulse App each time you want to control your ADT security system. Even with the Touch ID setup on my phone it takes a few seconds to login. The touchscreen is always connected via WiFi and commands are instant without logins.
You can also have the touchscreen show the screen you last set on it. I like having it show the front door camera view. We can see anytime someone comes to our front door and make sure we know who it is before opening the door. During the hot summer months, my wife has it set to see the temperature inside... did I mention we don't have air conditioning. It gets pretty hot a few days a year.
From the home screen with one touch you can control your camera view, lights, thermostat, door locks and garage door. It makes the control of the cameras and home automation simple and quick. Convenience at your fingertips.
Security System Status is Easy to See on the ADT Touchscreen
There is a light on the top of the touchscreen that is green when the system is disarmed and red when the system is armed. You can see it from clear across the room. The system icon appears on the Home screen, and a smaller version of it appears on most other screens. It is a graphical representation of the overall status of your system. In addition to the icon, text on either side provides additional details.
Below is a screenshot from the ADT Pulse Interactive Solutions Touchscreen User Guide.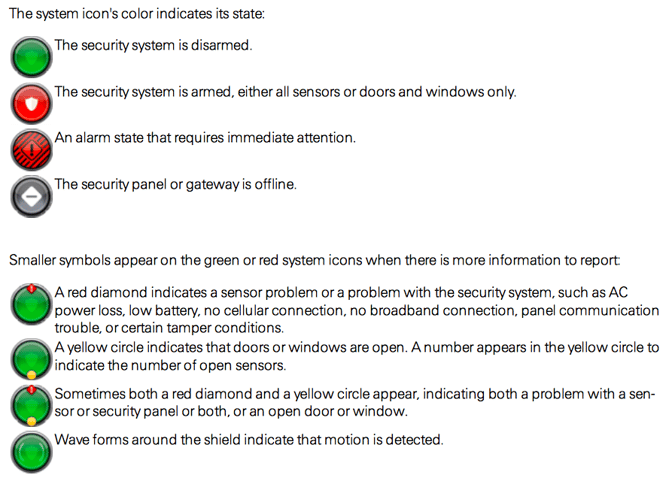 One of my favorite things about the touch screen is to press the above green circle when it shows the small yellow dot with the number of door and window sensors open. Once pressed, it gives a list of the openings that need to be closed in order for the system to be ready to arm. Makes it super simple to know what's open.
ADT Pulse Touchscreen Widgets
The widgets on the touchscreen it can be pressed at anytime for instant access to the information you need and the ability to control your ADT Pulse home automation features. Here is a list of the current widgets.
System Widgets
Cameras

Lights

Thermostats

Locks

Night Mode

Clock
Internet Widgets
News

Photos

Sports

Traffic

Weather

Daily Word
Of the system widgets above, I mostly use the cameras to view live video, the thermostat widget to see the temperature inside our home and the lighting widget to turn the living room lamp on, off or to dim at a particular level. Of the Internet widgets, I have set them up to give me local information. I find myself using the traffic widget to view my commute in the mornings and at times I check the weather forecast before I leave as well.
Touchscreen Emergency Buttons
One thing that you can not do with your mobile devices on the ADT Pulse App is send an emergency panic to the ADT Central Station. The ADT Pulse Touchscreen has police, fire and medical emergency buttons making it very convenient to get help from the ADT emergency operator. This is a life saving benefit of the touchscreen that the Apps on phones or tablets do not have. See below for details: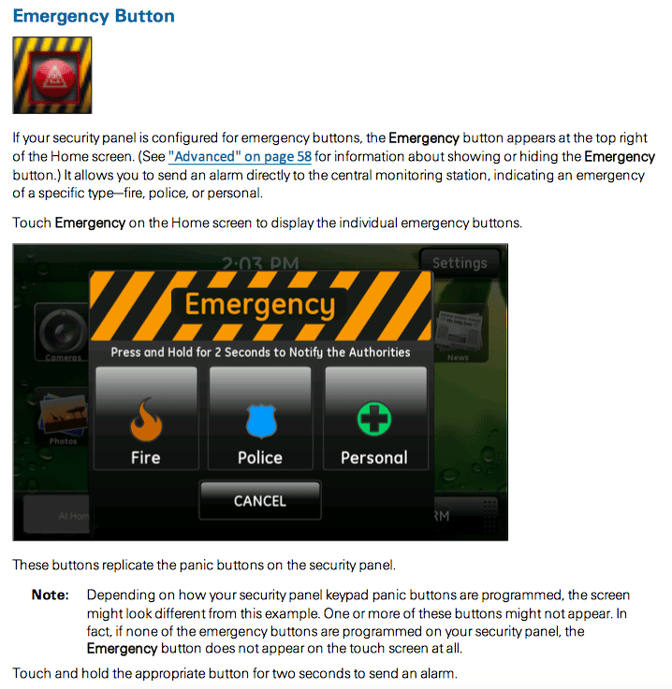 Now that I own an ADT Pulse Interactive Solutions Touchscreen Control Center, I do not want to live without it. Both my wife and I use this touchscreen more than any other devices to control our ADT security system and use it to gather information about our home automation devices as well. If you end up getting Pulse Level III monitoring with cameras, thermostat, door locks and light modules, you will definitely want to get one of these.
To learn more call 1-800-310-9490 today!