ADT Home Security Promotions Available in San Francisco, California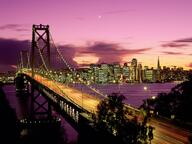 Get affordable and reliable products and services with an ADT home alarm monitoring service from California Security Pro. ADT will protect your home 24 hours a day and provide you the peace of mind you deserve! Our Security Consultants will ensure your system is set-up properly with each of the protection devices placed stategically throughout your home. Schedule a no obligation home security review today.
Get the Most Trusted ADT Home Security System in San Francisco, CA
ADT is the most trusted brand when it comes to choosing an ADT Home Security System that is right for you. We are committed to bringing our customers the best solutions which is why our home security products are superior. ADT is the #1 trusted San Francisco, CA home security brand and it is no wonder with over 6 million + customers and 138 year history. It is the brand of choice when deciding on a security company to monitor your home or business. We have personally installed over 20,000 ADT monitored home security systems in California including Southern California cities like ADT Los Angeles and ADT Bakersfield. Make the right choice and trust ADT to protect you and your loved ones when you need it most.
Protect Your Home in San Francisco, California with the Best Products and Service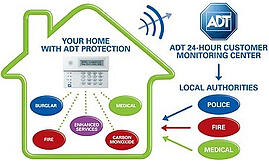 An ADT home security system in San Francisco is the right choice for protecting what is important to you. We will come to your San Francisco California home and provide a security system consultation that will include valuable security solutions to protect your home or business while you are away. There are many new threats today that we need to be aware of. By providing this personal service, you can be assured you are getting the best ADT product design that will meet your needs and budget. Our installation experts will offer advice to enhance your ADT home security system to make sure you are given superior service. Check out our 5 Star Ratings on Yelp from happy customers!
San Francisco, California Crime Statistics
Did you know a burglary happens every 14 seconds in the United States? Having an ADT Monitored Alarm System is a great way to protect your home and family from intruders. It actually helps to deter theives before they even attempt to break in to your home. Having a monitored ADT home security system protects your home 24 hours a day, 7 days a week, and 365 days a year.
San Francisco, CA Crime Statistics*
| | | |
| --- | --- | --- |
| | 2012 | 2013 |
| Population | 814,701 | 833,863 |
| Violent Crime | 5,374 | 7064 |
| Murder | 50 | 48 |
| Forcible Rape | 131 | 161 |
| Robbery | 3,088 | 4,202 |
| Aggravated Assault | 2,105 | 2,653 |
| Property Crime | 32,886 | 48,324 |
| Burglary | 4,408 | 5,931 |
| Larceny Theft | 23,304 | 36,527 |
| Motor Vehicle Theft | 4,174 | 5,866 |
| Arson | 161 | 227 |
*2011 FBI Uniform Crime Report (UCR)
Protect your home against San Francisco Crime with California Security Pro. San Francisco residents like yourself have great things to say about us on Yelp! Check it out: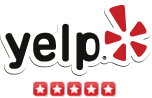 - D D., San Francisco, CA
...................................................................................................................................................................................................
Shopping around for security cameras was complex for me. When I talked to Joseph Abeyta he put me at ease about my options. He explained everything, kept in touch, and his word. He asked ME what day I wanted my system installed. Jessie the installer came on time. He was very professional, did a excellent job, and listened to my concerns. Everything exceeded my expectations! Thank you California Security Pro.
Tony C., San Francisco, CA
Just got through setting up our new home with ADT using Brandon and California Security Pro. Brandon is just a joy to work with and the team made the process a breeze. Pat installed the system and amiably tolerated all of my questions, neurotic debate over where to put installations, etc. Really felt like they went above and beyond to provide guidance in navigating a new security system and make sure we got a good value too. Really appreciate it, thank you!
Kate H., San Francisco, CA

Yelp Review
We recently decided to get a home security system installed and our neighbors recommended California Security Pro out of San Ramon. We met with Joseph Abeyta, who walked through the house and provided his opinion on the best security system for our situation. Joseph was very easy to work with and provided his honest opinion on what equipment was needed and didn't try to push for additional add-ons that were not necessary. Jessie was our installer and did a very thorough job and was extremely professional. Joseph and Jessie were a pleasure to work with and I would definitely recommend them and California Security Pro for installing home security systems in the East Bay.
Michael K., San Francisco, CA - New homeowner in Danville
Brandon with ADT helped us set up our service, made sure we had the package we needed, and made sure we understood how to use it. A security system is about peace of mind, it's something you hope you never need but are glad you have. Brandon provided that peace of mind and much more. He was professional. He was accommodating. He made things easy. I would recommend him to anyone and I will recommend him to everyone.
- Brett B., San Francisco, CA
2/5/16

"Best features and most reliable team."
After my parents moved into a new neighborhood we looked up the crime statistics in the area and determined that a security system would be in our best interest. We contacted the company with the best features and most reliable team. Bill was superb. He pointed out kinks in our property that could easily be exploited by anyone trying to break in that we never would have thought of. He was courteous and very professional. After the consultation we felt more secure. Thorough as heck. Thanks for everything, looking forward to dealing with Bill and his company for years to come.
Simon T.,San Francisco, CA
1/31/16

"From start to finish, the whole process was super easy and professional."
All around the experience with California security pro has been great. Dorelle came to our business, showed us our options and helped us figure out what fit our needs. It turns out that when the equipment was installed, we ended up with an even nicer keypad than we had chosen. Pat, our installer, was super fast and knowledgeable. He set us up with the software and login and made sure we had the app downloaded as well. Btw, the app is awesome and is an easy way to turn the alarm on/off if you are away. From start to finish, the whole process was super easy and professional. These guys are great!
larisa p.,San Francisco, CA
1/24/16

"Satisfied, but the agent/dealer you work with is the key."
Contacted California Security Pro about a system for our new home in San Francisco. Had worked with ADT in the past and were satisfied, but the agent/dealer you work with is the key. Our representative is Bill and he was very thorough and offered excellent suggestions when we walked the property. The contract review was simple and smooth, and the installation process easy and so far so good- I hope to never find out how receptive they'll be in an emergency, but I know it won't be a problem.
Georgegsf G.,San Francisco, CA
12/18/15

"Attended to with care and efficiency,"
After 22 years without incident, we were robbed while in the house. So we were freaked out! We called California Security Pro because of their high ratings and Brad Lorentzen came out to discuss various alarm system options with us. He arrived on time and was helpful, informative, patient and didn't seem to be trying to sell us something we didn't need. We purchased a system. Then Kyle Brown came to install it. He called ahead to see if it would be possible to change the time but since I had another obligation I couldn't. So he came as planned, right on time. Kyle was really efficient and also very patient (we'd avoided an alarm system in the past because we were afraid WE'D be setting it off all the time, so we had lots of scenarios we wanted explained). After we'd managed well for several days, we had another question, called Kyle and he stopped by to adjust and clarify things. Both Brad and Kyle have called to follow-up and make sure things are working as planned. It has been a terrific consumer experience. We have felt attended to with care and efficiency and I highly recommend both Brad Lorentzen and Kyle Brown. I have every confidence that if we need any help in the future, they'll be there
Shelly V,.San Francisco, CA
12/17/15

"Surpassed my expectations and for which I'm most grateful."
Wow. I work with salespeople for a living, and come from a sales family, so I already have a really high bar for sales and customer service. That said, Jarrett McAllister and his assistant Shonna and installation and service pro Hector are a team that any company would be lucky to have. I was headed out of town on business and Jarrett and Shonna got our install set up and scheduled in less than a day, and then Hector pulled a late night (install finished after midnight) to get our system up and running so our home had protection within a matter of hours after a break in. I got home the evening after the install and had a number of questions about usage, etc., and Hector stayed on the phone with me on his own personal time until they were all answered. It was a level of above and beyond service that surpassed my expectations and for which I'm most grateful. The thing to understand about ADT is that ADT themselves don't do installations and service - it's a series of dealers around the nation who do that, and those dealers are as varied as any business. Make sure you research the dealer who's doing your install and service! I really can't recommend the California Security Pro team more highly. Consummate professionals who are committed to getting the job done right and high customer satisfaction throughout the sales cycle and into the service period thereafter. ADT Corporate: please take this CSP team and make them the model on which all of your dealers are trained. It will continue to build your brand and your loyal customer base!
L David K.,San Francisco, CA
12/15/15

"Felt comfortable with the choices we made."
A special thanks to Brad L for his help with answering all of our questions and ensuring we felt comfortable with the choices we made. He took well over an hour to explain options, tour the home, give us advice on how we can make our house more secure. He stopped by twice now, first to check on how things were going once the installation was complete and second there were break ins in our neighborhood and he was checking in to ensure all was ok. Thanks Brad!
Char S.,San Francisco, CA
11/26/15

"

1st class customer service.

"
If you do sign up with California Security Pro- ADT Auth Dealer. Ask for LARRY MAERINA.
He is the best! He does not sell you things you do not need. He is very knowledgeable and was patient enough to explain everything in detail to me. After the install, He came back the same day to make sure I understand the system and walk me through the whole thing. You will definitely not go wrong with Larry and additionally he is so funny. Thank you Larry for giving us 1st class customer service and Thank you CA Security Pro for employee such excellent employee that truly wants to be there. PS: Carl our installer was also professional and prompt.
Connie C.,San Francisco, CA
11/5/15

"AAAAA+++++,best costumer service."
I needed to write this and let people know how amazing these guys are, Brandon and Kyle gave me the best costumer service I have ever gotten in my entire life, those guys love their job and make sure to please you 100% , First of all, I got my patio broken into and got my two road bikes stolen, so I decided it was time to get a security system and cameras ASAP, I found them through Yelp based on the amazing reviews they have, I set up my appointment for a Monday at 3:00pm, Brandon Tomas showed up at my door at 3:00pm SHARP! I was surprised how punctual he was, He gave me all the information I could get, all my silly questions were answered and I had to go with them based on the deal I got and how affordable the security system would be a month. Brandon is super nice and knowledgeable, you kind of have this feeling you have met the guy for a long time, that's how comfortable he makes you feel. I scheduled my installation with him for the next 2 days ( based on my schedule) The appointment for installation was at 12:00pm on a Wednesday, Kyle ( the technician ) showed up at my door at noon sharp, I was once again, surprised how punctual he was, you know when you get your "appointment" for a certain time and that never happens and you end up cancelling plans or getting frustrated, well, that won't happen with Brandon or Kyle. Kyle Brown listened to me and advised where to locate the sensors, system, Cameras, etc etc, he was so efficient and extremely nice and polite, He did the work so fast I was surprised, he also guided me through the App and the website. Tomas also stopped by to check on everything, Now I feel secured at my home again, that piece of mind you wish to have when you leave your house or go to bed, you'll get that once you get a security system, it is affordable. I'm just so pleased I found these guys and how efficient they are, I highly recommend them, no doubts about that, AAAAA+++++ Keep up the excellent work guys!
Renzo R.,San Francisco, CA
3/2/15
"Definitely recommend"
I just bought my first home and one of the first to-dos was to install a security system. I received prompt service and my preferred date for the consultation. Brandon arrived on time and was super friendly, confident, and organized. He was extremely thorough and patient as I asked tons of questions. He even came to my installation appointment to make sure everything was going well. My experience with ADT and Brandon was awesome! I'd definitely recommend both!
andrea g.,San Francisco, CA
"A+++ def would recommend"
ADT Reviews: Trustpilot's List

Reviews prove to customers whether or not we put their needs first, our customers speak for us by proudly placing there review on Trustpilot; after all, customers trust other customers and our consumer's reviews say it best! We would like to thank all of our customers who took the time to let eveyone know about their experience with California Securty Pro!
ADT Home Security San Francisco, CA Promotions
Call 1-800-310-9490
Find ADT Home Security Alarm Permits and Crime Reports for San Francisco County
Here are the California Counties we Service