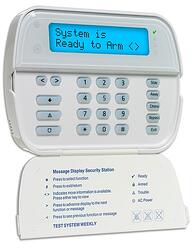 There are four different arming modes for your ADT Monitored Security System. To get the best use of your security system, it is important to understand the advantages of each arming mode. Depending on your family's lifestyle, what size your pets are or how to arm your ADT Security System when you are traveling, your family has it's own unique needs when it comes to the best way to arm your home security system.
The four arming modes are STAY, STAY NO DELAY, AWAY and AWAY NO DELAY. Let's take a look at what arming modes will best serve the home security needs of your family.
What is the Best Mode to Use When Arming Your ADT Security System?
STAY Mode:
You should arm your ADT Security System to STAY mode when you are in your home and want to arm the doors, windows and glass break sensors you have installed. This gives you perimeter protection with free roam of your home because in STAY Mode your motion sensors will not be armed. But if someone breaks through a sensored door or window or breaks through a glass door or window in a room protected by a glass break sensor your alarm will go off.
In STAY Mode your enrty and exit zones which typically include the front and garage entry door have a "delay". This allows you to have your system armed in STAY Mode but if one of the family members arrives home they can enter the front or entry garage door without sounding the alarm. It gives them a "delay" to go to the security keypad enter the access code and disarm the security system. They can then rearm the security system.
STAY mode is often used when people are away from home but have large dogs in the home. This provides perimeter protection of sensored doors, windows and glass breaks but does not arm the motion sensor. Arming the motion with large dogs roaming in the home would obviously cause false alarms, therefore you need to arm your ADT Security System to STAY Mode so the motion sensor is turned off.
Some security systems do have a ability to arm only some of your motions in STAY Mode and leave other motions unarmed. For example, if you have a motion in an outdoor shed or detached garage, you may want to have that motion armed anytime you have the system armed even when you are home. I personally have a motion in a storage room behind my garage with bikes, golf clubs, etc which is armed in both stay and away mode. My motion inside the living area of my home is only armed when no one is home in the AWAY arming mode.
STAY NO DELAY Mode:
This mode is the same as STAY Mode, with one difference. With the "No Delay" the entry and exit zone which typically includes your front and garage entry door no longer have a delay. This is most often used at night's end when all family members are home and in for the night. You should definitely use the STAY NO DELAY Mode when everyone is going to bed. You do not want a burglar to have the 30-60 second entry delay if they break-in through the front door in the middle of the night. You want all your armed openings to sound your ADT alarm immediately when you are sleeping.
STAY NO DELAY is also used when you are home and have a hostile situation. If there is someone you are afraid of coming to your home while you are there and breaking in the front door, then arm your system to STAY NO DELAY. Just remember to disarm your system or hit the one touch exit button to open the front door for any guests or family members arriving home.
On some security keypads this is called Instant Mode arming.
AWAY Mode:
Arm your home security system to AWAY Mode when you are leaving your home. This arms your perimeter protection devices including sensors for doors, windows and glass break sensors, it also arms your motion sensors giving you backup interior protection.
Most motion sensors are pet immune for pets up to 45-60lbs. There are pet immune motions for 85lb pets but they are special order items. Obviously you can not go beyond this level or burglars could walk around without being detected. If you do let your large dogs roam freely in the home when you are away, you may want to put a motion detector in your master bedroom and close the door when you are away to keep your dog from going into the master bedroom. This protects the room where burglars first head once inside your home and where most people keep valuables like cash, jewelry, guns, etc.
AWAY NO DELAY Mode:
This arms everything the AWAY Mode does but makes the entry and exit zones which are typically the front and garage entry doors armed to "No Delay". Most often the AWAY NO DELAY arming mode would be used when traveling or going on vacation. It makes the alarm sound immediately for both the front door and entry garage door along with all other doors and windows that have sensors. It does not give a burglar the 30-60 seconds of entry delay time.
You must be careful when arming your system to "NO DELAY". Remember, your alarm will immediately go off when you open your front or garage entry doors and not give you any delay time to go disarm your security system. You must disarm your security system from your ADT key chain remote before you enter your home or the alarm will immediately go off. If you have ADT Pulse you can also disarm your security system from your smart phone before you enter.
On some security keypads this is called Max Mode arming.
What Does the Bypass Function do on an ADT Security System?
The BYPASS function allows you to arm your security system with a sensored door or window open. When you go to arm your security system and an opening that has a sensor on it is left open the system will not allow you to arm it. You either need to go close the opening for the system to be ready to arm or bypass that opening. For example, you may want to leave your upstairs master bedroom window open and arm everything else. Use your keypad to scroll through the different door/window zones and bypass the zone that you want to leave open.
With an all wireless system you can BYPASS each individual opening. With most hardwired security systems, 3-5 openings are in one zone. When you BYPASS a zone, you leave all the openings in the zone unprotected. You can get hardwire zone expanders to add more zones so each opening can be independent and bypassed individually.
For more information on ADT Monitored Home Security Systems call 1-800-310-9490.
Related Video:
See the full user demo for our most popular wireless panel the impassa 9057.