ADT Monitored Glass Break Detector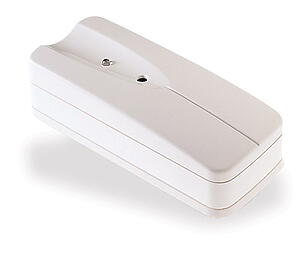 Glass Break Sensors are perimeter protection devices of a home security system. A glassbreak sensor detects when glass is broken while the intruder is still outside (perimeter protection). Glassbreaks can also be armed while your home (STAY Mode) and when large pets are freely roaming your home when the system is armed when you are not home. A great place for a glassbreak sensor would be your master bedroom. I have seen a burglary where the burglars broke out most of the glass in a master bedroom, crawled through the window without opening it, stole everything of value in the master and crawled back out the window without being detected by the window sensor or the motion located in the hallway.
Wireless and Hard Wired ADT Monitored Glass Break Sensors
Glass Breaks sensors come in wireless or hardwire models and typically cost around $150 -200 retail. If affordable for you glassbreak sensors can be a nice enhancement to your home security system.
In home security system installations glassbreak sensors are not used in many cases because they are cost prohibitive for many families. To provide glass-break protection for your windows and glass doors you must have a glassbreak sensor within 20-25 feet of all glass in the home. Also there must be a clear site line between the sensor and the glass. Therefore, glassbreak sensors will not detect broken glass through a wall or the next bedroom even if it's less than 20 feet away. For most, interior protection of motion sensors are a more affordable way to create a second level of protection after door and window sensors.
For more information call us at 1-800-310-9490.
Related Video:
Soccer Super Star Tim Howard Scores with ADT Pulse. Known for his legendary performance during this summer's World Cup where he set a record for the most number of saves during a match, Tim Howard is now an ADT customer. While Tim primarily lives in the United Kingdom where he goalkeeps for the Everton Club, he also has a home in Memphis.

Recently, that home experienced an ADT Pulse makeover with the installation of an updated panel, touch screens, high quality cameras and a thermostat. With these devices, Tim can now protect and connect from anywhere.