When you get your ADT Pulse security system installed the next step is to decide what you want to program it to do. Now that you have cameras, door locks, thermostat, lighting and garage door control.... NOW WHAT?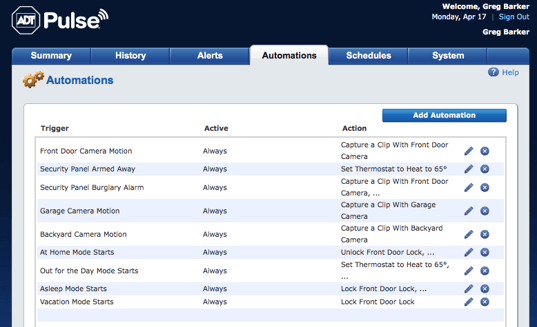 Home automation is only as good as how you program it and it's important that it fits your lifestyle. Since home automation is so new, many of us are trying to figure out how it benefits us and our families. Is it going to bring more peace, joy and happiness into our lives... or more maintenance and wasted time? For those of you who have gotten the ADT Pulse security system with all the bells and whistles, here are five things to program from your personalize web portal to get the most benefits from your system.
Programming Your ADT Pulse Cameras to Record Motion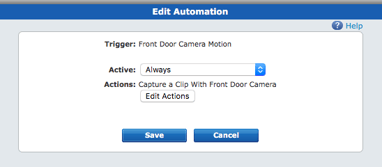 The most popular Pulse device is the ADT Pulse camera. Over 40% of all of the monitored security systems we install include at least one camera. A good place to start with cameras is to have at least one indoor camera, one front door camera, one camera for your driveway looking at your front yard and one backyard camera. Now that you have cameras, what should you program them to do?
When customers first get cameras installed, they tend to check out the video remotely from mobile devices... show off their new toy to family and friends. After that, live video viewing only happens occasionally. It is the recorded videos that homeowners get benefits from in the long run. So first thing to program your cameras to do:
Record 30 second video clips anytime their is motion on front of the camera

Each camera needs to be programmed separately
Also program each camera to second a 30 second video clip anytime there is an emergency event. You need to setup each camera separately to do this. This gives you a recording from each camera if you had an intruder come into your home and they set off your alarm.
Setup Text and Email Notifications of Emergency Alarm Events and Motion in Front of Your Cameras
You got your security system to deter burglaries from happening and to let you know immediately if you are having any home emergencies. Depending upon what monitored security equipment you have installed, you can be notified of burglaries, police emergency from a panic button being activated, home fire, carbon monoxide poisoning, flood or water in basement /laundry room and medical emergencies. Once this is programmed on your Pulse portal you will receive text and email notifications faster than ADT Central Station Operator can call you.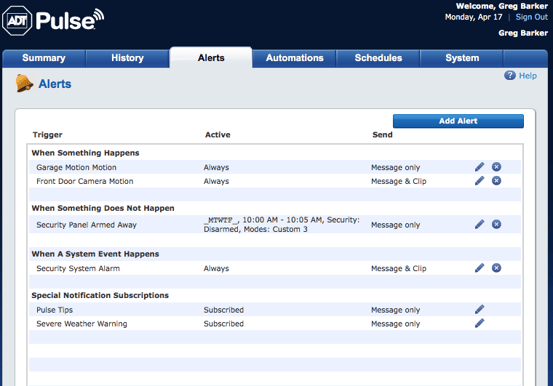 Want to know when someone enters your property when you are not home at work or on vacation? Of course all of us want that. By placing outside cameras at the front door, front, back and side yards of the house, you can program the ADT Pulse System to text and email you anytime the cameras detect motion. I love seeing who comes to my front door while I am not there. I can see when packages are delivered and if anyone is snooping around that should not be there.
Program Your ADT Thermostat for Comfort and Energy Savings
I use to get up every morning and the house was a bit cold in the winter. Of course my wife was still enjoying the warmth of blankets while I turned the heater on and waited for it to get warm. We also left the house and forget to adjust the heater/air conditioner wasting money heating or cooling a home with no one home. No more!
The drop down menu on the Pulse web portal for setting your thermostat schedule is incredibly easy to use. Program it by the day and time. Set your thermostat to change to a temperature when you arm your security system to AWAY mode. Never again waste you hard earned money heating or cooling a home when no one is home to enjoy it. Save energy and money!


Schedule Your Lighting for Security
Lighting can be an important part of your security. Burglars case neighbors looking for homes that are easy targets. They look for homes without a security system, no dogs and most importantly they want to burglarize homes when no one is there. A completely dark home at night says... no one is home.
Having a few lights programmed to come on at randomized times can make it appear that someone is home. This is especially important when you are on vacation. Plan a light scene to make it seem similar to your normal daily schedule. Have a light go on in the family room during the evening and once it goes off... the master bedroom goes on for a bit before your normal bedtime. Also, setup your lighting control so you never come home to a complete dark home.
Setting Up Vacation Mode - Max Security When You're Away
A mode is something you program that when you hit one button multiple things happen. When any of us are trying to get out the door for a vacation or weekend trip, it is easy to forget all the things that need to be done. Setting vacation mode gives you the opportunity to plan your home automation schedule ahead of time and hit one button for your ADT Pulse system to do want you desire.
What should you program it to do?
Few things you may want programmed while you are on vacation:
Text/email notifications sent to you anytime there is motion in front of your cameras. You may desire more cameras to trigger texts than you normally do on a daily basis
Turn you thermostat down/up or off to help conserve energy while you are gone
Automatically lock your doors with ADT Pulse Deadbolts
Make sure you garage door is closed
Setup a light schedule to make sure it appears you are home at night
If you have a pet sitter or house sitter coming over you may want to add a trigger to be notified anytime your security system is armed or disarmed.
If you do not have an ADT Pulse Security System installed in your home make sure you get one installed before your next trip. I love mine and enjoy the benefits of being able to manage my system while I am away. For me, knowing our cats are being taken care of daily sets my mind at easy and lets me enjoy another round.... of golf.
If you want to learn more about scheduling to have ADT Pulse installed in your home call 1-800-310-9490 today.