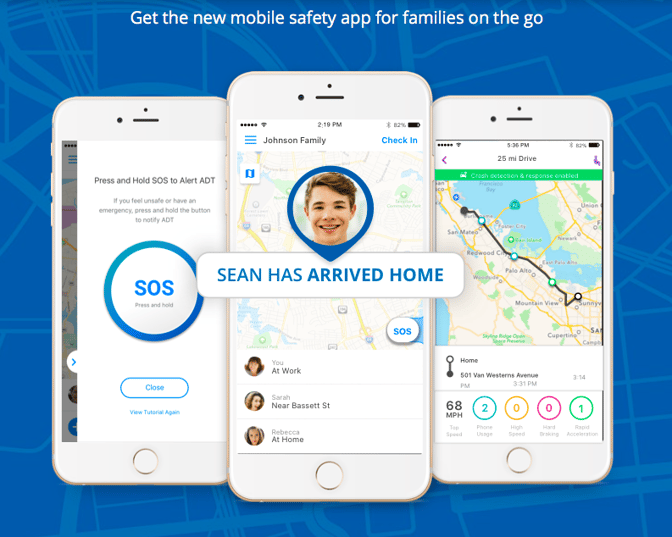 For over 140 years ADT has been leading the way in security and protecting America. In 1920, ADT pioneered the use of centralized emergency call centers and customer owned security systems. In 2016, ADT hits an industry milestone with 2 million ADT Pulse home automation customers. What's next....?
ADT continues to lead the way with ADT GO. ADT Security has been protecting premises including homes and businesses for many years. Now ADT is going to help protect people everywhere and is redefining what security means. ADT GO App is now available (download at the bottom of post) and is changing the level of protection you can provide your family. What is ADT GO?
ADT GO is a Service that Allows Families to Stay Connected
Here are some of the service features:
Family Member Locator and Private Messaging
Receive automatic notification when family arrives or departs designated locations like school, home or work.
Includes safe driving reports
Local crime alerts
S.O.S. button for personal emergencies anywhere
Driving crash detection with alerts
There are two levels available: ADT GO and ADT GO Premium. The service is delivered via an app that is downloaded on family members phones.
ADT GO Includes:
The ADT GO App is available to ADT customers and comes free with your ADT monitored home security service. Here's what is included:
Family locator with always on location, state and accuracy indicator
Private messaging, family check-in, family and location geo-fencing
Activity history
Mobile device battery life alerts
Local crime alerts
Registered sex offender location
Driving speed and activity alerts
ADT GO Premium has all the above plus these additional benefits:
Distracted driving monitoring
Crash detection and response
24/7 roadside assistance
24/7 live agent response
SOS button with 24/7 ADT professional response
ADT GO is Designed for the Busy Family
If you have a family that is busy and on the go but wants to be connected, ADT GO is the perfect solution to keep your family protected they are. This service will keep you in the know and feeling you've done everything you can do to stay informed and keep your family safe.
Here are some of the ways ADT GO helps families stay connected and safe:
Latchkey kids - allows mom and dad to know when kids leave school and arrive home with automatic check-in alerts
Teenage drivers - receive alerts and notifications around driving behaviors such as speed, distracted driving, hard breaking and crash detection
Aging parents - know where parents are and also driving behaviors
Busy family - know where everyone is at, private message to coordinate schedules and pick ups
Active/outdoor lifestyle - ensure your family knows where you're at when hiking, out jogging or other activities
ADT GO Pricing Plans
You can check out the ADT GO Premium app with a free trial. ADT GO Premium service will be available to new residential/health customers, existing ADT customers and non-customers. After the limited time offer, ADT customers can keep the ADT GO service for free or get ADT GO Premium for $9.99. Non ADT customers can keep the service for $14.99.
ADT GO Benefit Details
Connected Family
With Family Locator an easy-to-read map allows for you to see exactly where your family is throughout the day so you can stay connected without having to ask. Automatic alerts provide updates as your family moves from place to place based locations setup with in the app. Review breadcrumb trails of where you family has been throughout the day so you know that they are arriving and departing safely from their most frequented places. You'll also be notified with automatic alerts when family member mobile device batteries run low so that you can ensure your loved ones stay connected.
Crime and Registered Sex Offender Location
Know what is happening in your area and receive an alert if a crime occurs near you, including details about the incident (theft, burglary, etc.) and location. You'll also have the ability to see a map of the locations of registered sex offenders and be alerted when these types of individuals move in or out of your area.
Driver Safety
Receive automatic alerts so that you can take proactive measures if a loved one is driving too fast, hard braking and/or rapid acceleration. You will be alerted when a driver is hitting high speeds of 75 mph or more and get information on the top speed as well. Know when family members are engaged in other activities, like texting, that take their attention off the road compromising the safety of themselves and other drivers. Detect when a car accident occurs and call the driver or passenger involved. If they need immediate emergency assistance or do not respond, ADT will send their location data to emergency services who will stay on the line with them until help arrives.
And with ADT GO Premium you will also get 24/7 roadside assistance. Whether you need to jump start your battery, were locked out of your car, run out of gas, need to change a flat tire or need a tow you have roadside assistance. You get up to 2 incidents per year for $100 per incident and 2 gallons of gas for refueling.
Personal Emergency Protection Everywhere
When you or a family member needs help, ADT is available to help 24/7 keeping you safe throughout the day. Never feel alone in a dark alley or when a creeper is following you to your car. With ADT GO Premium service, you'll have an SOS Button on your mobile device with 24/7 ADT professional response. This give you quick response to a live agent when you need help FAST. Press and hold the button down to alert ADT for rapid assistance.
Download the ADT GO App >>> Customers Love It!!!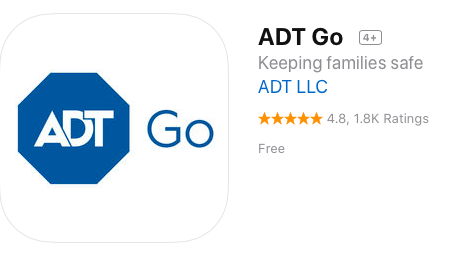 If you would also like to become an ADT customer and get protection for your home or business, call us at 1-800-310-9490. ADT customers with home security monitoring will receive ADT GO app for FREE as part of their service and will get ADT GO Premium at a reduced price.
Customer Reviews
"...easy to use."
"Incredibly full featured and easy to use. With two teenage girls driving all around the Metroplex it's a relief to know that we will have to worry less about their safety. It will also help me make sure my 82 year old mother is safely home from her trips to get groceries and to her doctor."
"I'm a better driver now..."
"Needed the wake up call. This app reports your speeding, harsh breaking , fast acelleration and information on phone usage while driving. I'm a better driver now and improving. This app helps me to be a safer driver. Thanks ADT!!"
"I feel safe outside the home..."
"My family downloaded the app and it helps us stay safe and connected. I feel safe outside the home with crime alerts when taking my 6 year son to a park or new friends house. I feel safe knowing my mom can push an sos button on her phone if she were to fall and get help at home or in the go. As my son gets older and drives I love that I can get driving reports to ensure he is making safe decisions. Thank you ADT for protection my home and now my family on the go!"
"I downloaded this Wednesday and Thursday added my wife and my parents. I must say my wife Is really bad about getting on her phone when behind the wheel. Today I was able to show here where she was on her phone while driving and that she "hard breaked" 6 times while on her phone. I honestly believe she was scared as she had our son and baby on the way with her. I hope this will be what it takes for her to put the phone down and maybe save a life."