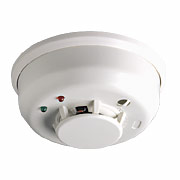 When we bring up the subject of monitored fire protection with ADT, customers often ask what the difference is between the ones they already have and an ADT Smoke Detector. No one wants to spend money on something they already have. However, there are considerable differences between ADT Monitored Smoke Detectors and the ones many people buy from a local home improvement store.
Every second counts when protecting your family from a fire and ADT Smoke Detectors are an important part to protecting your home, family and pets. In an article titled Fire Alarm Will Stop Catastrophic Devastation of Your Family, it explains how three decades ago, you had 17 minutes to get out in a home fire... now with modern homes, you have three to four minutes. WOW... What's Changed?
Let's see what makes a smoke detector from ADT different.
Main Differences:
1. ADT Smoke Detectors are
photoelectric detectors compared to ionized smoke detectors
installed in 90% of American homes. Photoelectric detectors are far superior at detecting smoldering smoke that often happens when a fire is staring. Often photoelectric smoke detectors detect fires before the flames actually ignite and save precious time. They also
have a rise of heat
that helps quickly detect a fire if the flames ignite and begin to create a rise of temperature.
2. ADT Smoke Detectors are monitored by ADT Central Station. The smoke detectors from ADT will send an alarm signal to the ADT Central Station Operator who will immediate dispatch your local fire department. Whether you are home or not, help is on the way. The ADT Operator will also call you and your emergency contacts to notify you of the fire alarm.
For those of us who have indoor pets, monitored smoke alarms are a must have.
3. With most Insurance companies you will receive an additional annual discount on your homeowner's insurance for having an ADT Monitored Smoke/Heat Detector installed. It is typically a 5-10% additional discount.
4. Your ADT Security System will notify you of low batteries in your smoke detectors. Never wonder weather you need to put new batteries in your smoke detectors. ADT smoke detectors "check in" with the alarm panel about every minute to ensure they are working and have strong battery life. The panel will also notify ADT Central Station if the smoke detectors are no longer checking in or are off line. Be confident you are receiving 24/7 fire protection.
Potential ADT Pulse Triggered Automations and Notifications in the Event of a Fire
Tell your home what you need ... before you need it. Triggered Automations let you tell ADT Pulse what to do if something happens, even if you're not in a position to react. Set these automations/notifications on your ADT Pulse Web Portal.
If Smoke/Heat Sensor Detects Fire
Unlock doors – for easy exiting and fire department access
Turn off A/C – to slow circulation of smoke and decrease air feeding the fire
Turn on lights to help you see better at night when evacuating the home
Text and/or email you in the event of a fire emergency
Proper Placement of Monitored Smoke Detectors
You should have at least one monitored smoke/heat detector installed on every level of your home including the basement. On the second story and above, smoke detectors should be placed on the ceiling at the top of the staircase. Single story in the hallways by the bedrooms. You should definitely have a smoke detector in every bedroom of your home and will need to decide if you want to upgrade existing ionized smoke detectors with ADT Photoelectric Smoke Detectors.
Many fires start in the kitchen and the garage. Normally, you will not have smoke detectors in these locations due to false alarms from burning the toast or exhaust from the cars in the garage, etc. Here you will want to install heat only detectors that will signal a fire alarm in the event flames ignite and cause a quickly rise in heat. ADT Heat Detectors give you added protection in the areas where many fires start.
Besides the placement of your smoke detectors it is vitally important to have a fire evacuation plan. The National Fire Protection Association provides escape planning. Click here to learn more!
ADT Smoke Detector - Reviewed by Alarm Reviews
"3 Things An ADT Smoke Detector Does That Yours Doesn't"
In the United States, the percentage of people who die from house fires is more than the number of people who die from other natural calamities. In most of the situations; the fire break happened in the middle of the night so that the people were unaware of the situation. Usually, when a fire breaks, people detect it by sensing the smell of smoke. If the fire breaks during the daytime, it is easy to sense and do something about it. But what if it breaks during the night and nobody is aware of it. The use of ADT smoke detectors is crucial in such situation.
Although there are many different smoke detectors to choose from, choosing one form ADT can benefit you in many ways. Here are 3 things an ADT smoke detector does that yours doesn't.
1. Help from ADT's Customer Monitoring Centers in case of emergency
In the case of normal smoke detectors; it triggers the smoke alarm system and alerts you in the case of any fire break. But this product will alert you and ADT's Customer Monitoring Center at the same time about the emergency that happened in your house. Once the alert reaches the customer center, you will receive a call from the center to verify the alarm, and they will inform the local fire department, and you get immediate help.
2. Ensures constant protection even in your absence
The ADT fire monitoring unit will ensure continued protection for your home even when you are out of town. Even if you are out of town, when the self-installed fire detector triggers an alarm, customer service team will make sure that required emergency response is provided.
3. Email and text notification
ADT gives you many monetary benefits including receiving notification by email or s text messages in case of any emergency. If the ADT smoke sensor or carbon monoxide sensor triggers an alarm; ADT team will send you a text message to your smartphone or as an email notifying the situation. Users will also have the facility to control the alarm systems remotely either from a smartphone or PC via the Internet.
ADT Smoke Detectors From Honeywell
Honeywell Smoke Detectors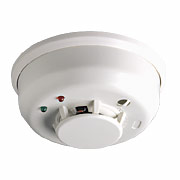 Honeywell's 5806W3 is a 3V battery operated, photoelectric smoke detector with a built-in wireless transmitter. It facilitates fire verification for false alarm reduction requirements by ANSI/SIA CP-01standards and is intended for use with any of Honeywell's 5800 Series wireless receiver/transceivers for residential installations. The 5881ENHC or 5883H receivers are required for commercial installations.
The transmitter can send alarm, tamper, maintenance (when control panels are equipped to process maintenance signals) and battery condition messages to the system's receiver. The maintenance signal fully complies with the sensitivity test requirement specified in NFPA 72, 7-2.2 and is UL approved.
The 5806W3 incorporates a state-of-the-art optical sensing chamber and advanced microprocessor. It also helps eliminate nuisance alarms and virtually eliminates non-billable service calls and fines resulting from false alarms. The microprocessor allows the detector to automatically maintain proper operation at factory calibrated detection levels, even when sensitivity is altered due to the presence of contaminants settling into the unit's smoke chamber. A removable detector cover and chamber top allows the technician to quickly and easily clean the detector chamber without disassembling the detector head.
Since there are no holes to drill or wires to run, installers can preserve the beauty of the protected premise while protecting it. The 5806W3 is an ideal smoke detector for difficult to wire locations, applications where room aesthetics are critical or where hazardous materials exist.
Hardwired ADT Smoke Detector for pre-wired application: 5193 Series V-PLEX® Addressable Smoke Detector
Heat Only Detector:
Honeywell's 5809 Series wireless fixed heat and rate-of-rise temperature sensors offer expanded fire detection and installation flexibility. They are ideal for hard-to-wire locations and applications that require more than smoke detection. This is a fast and easy install with no wires to run.
The 5809 Series combines both rate-of-rise and fixed temperature sensors. Fires typically cause a rapid rise in temperature in the surrounding area. The 5809's rate-of-rise thermostat senses the rise in temperature and signals an alarm if the increase is 15° or more per minute. With a built-in fixed temperature sensor, it will also signal an alarm if the environmental temperature rises above 135°F. The 5809 is UL Listed (UL 521) and CSFM approved for commercial and residential applications.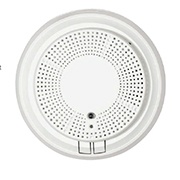 Multi-threat detection.
Honeywell's 5800COMBO is the industry's first professionally monitored, wireless, combination Smoke and Carbon Monoxide (CO) detector designed to help protect people and property. Using four sensing elements, the 5800COMBO provides true multi-threat detection and reacts fast to real danger—while helping to reduce false alarms. A photo-electric chamber senses airborne smoke particulates while an electro-chemical sensor monitors the CO bi-product produced by slow smoldering fires.
Reduced risk.
The Honeywell detector also features infrared (IR) flame sensing that measures ambient light levels and flame signatures, while thermal detection monitors temperature. Sophisticated and trusted algorithms interpret and respond to multiple inputs and provide the false alarm immunity expected in the most critical applications. Automatic drift compensation of Smoke and CO sensors accommodates for dust build-up over time. Additionally, the reliable electro-chemical sensor has a 10-year lifespan.
Safety you can see and hear.
Audible annunciation is provided by a built-in 85 dB piezo sounder with a one-inch voice speaker that supports multi-language alarm feedback. A prominent, 360° viewable LED shows visual alerts. A smoke alarm condition illuminates red, a CO alarm condition illuminates blue, and a tri-color status LED intuitively indicates the operating mode.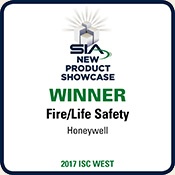 Fire/Life Safety ISCW Award 2017 - Honeywell 5800COMBO
AWARD CATEGORY: Solutions designed primarily for fire prevention, detection and notification. This includes fire controllers, smoke/heat detectors, sirens / annunciators, keypads, pull stations, sprinkler systems and voice evacuation systems. Operates via hard-wire or wireless protocols.