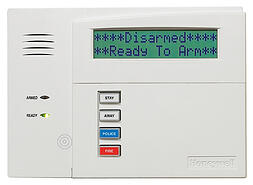 Often we get calls from new homeowners in California wanting to know if they can use the existing alarm security equipment from another company and get monitoring with ADT. Some customers would prefer to go with ADT monitoring but also want to use the equipment the last homeowner left.. You can certainly use your existing security system and get it monitored with ADT. Security systems branded with companies like ADT and Brinks are not manufacture by these companies. ADT and Brinks (now owned by ADT) are security installation and alarm monitoring service companies. Most security equipment installed in the U.S. is manufactured by Honeywell/Ademco, GE and DSC and all of these manufacture security panels can be used with ADT monitoring service.
Some alarm systems installed in businesses are leased equipment and not owned by the business owner. The alarm company owns the equipment and leases it to the business with monthly monitoring service. We see at lot of leased business alarm systems in the Bay Area here in California. Also it is important to note that if you are a customer of alarm monitoring service you need to look at your current contract terms before you decide to change to a different security company for alarm monitoring service.
Many Existing Alarm Systems are Honeywell/Ademco Security Systems
A lot of existing alarm systems are manufactured by Honeywell/Ademco. Honeywell Security Group manufactures products including intrusion systems, integrated security, video surveillance, access control, cabling and custom electronics. Honeywell Security acquired Pittway (which held Ademco Security Group) in 2000. So now all Honeywell and Ademco products are manufactured by Honeywell Security Group.
Honeywell/Ademco products have been installed by many security installation and monitoring companies throughout the U.S.. Honeywell brands the equipment for companies like ADT, Brinks (now owned by ADT) and many other security companies through out America. Security companies can use most existing Honeywell security equipment and you then decide who you want to monitor it. ADT gives you up to $850 in free upgrades to your existing security system when you go with ADT Monitoring. For Californians living in the San Francisco Bay Area, Sacramento or Greater Los Angeles Area call 1-800-310-9490 to get your home security system activated.
Activate an Existing Alarm System and Get Free Security Equipment
If there is an existing system in your home and you want to go with ADT alarm monitoring, ADT will give you free security equipment upgrades. With a hard wired security system you will typically get a new control panel, battery backup, power supply, 1 keypad, 1 motion, a key chain remote and any hardwired contacts that need to be replaced. You will also be able to add wireless security devices to the system, change the system to a cellular GSM security system or upgrade to ADT Pulse.
With an existing wireless security system, you will receive a new wireless control panel that has built in keypad, siren, battery backup, speaker, microphone and cellular GSM for systems that communicate via cellular. The new system will also come with 3 wireless door/window sensors, 1 wireless motion and 1 key chain remote.
Depending on how old the security system is and what type of alarm monitoring service you are interested in, it might be to your advantage to start with a completely new system. However, often it saves a lot of money to use some of the equipment from the security system you already have. Schedule a free home security review with one of our Security Consultants and find out what your best option is to protect your home and family. Call 1-800-310-9490 to schedule your free home security evaluation.
Find answers to more questions on our Frequently Asked Questions page. Or check out our most popular system that can be used in a hardwired or wireless application: ADT Pulse: