With ADT Pulse quickly becoming the most popular monitored home security and automation platform, it is exciting to think about the future of smart home technology. Over 350,000 customers are already enjoying ADT Pulse monitoring and others are quickly joining in to upgrade their security systems. ADT Pulse is certainly in a great position to become the leader in home automation and integrating home security with the connected smart home.
Let's take a look at what some of the popular electronic and security news experts are saying about ADT Pulse. The article by Brad Moon from GeekDad is a very good overview of what ADT Pulse is all about.
ADT Pulse Review: Home Security and Home Automation Combined
From GeekDad - by Brad Moon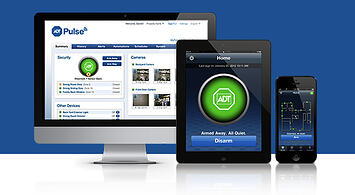 "Like many in the GeekDad community, I have an interest in home automation. Not only is the technology cool, but the potential to increase my home's energy efficiency and safety has always been a top priority. That's not just the peace of mind of knowing our home is secure when we're away, but also knowing that critical safety systems — like smoke detectors and CO detectors — are not just installed, but monitored. I started dabbling with home automation and remote access in a real way with a Philips Hue installation last year and ramped it up to an entirely new level with ADT's Pulse system. Now we have automation for key systems, remote access for the door lock, interior lighting and thermostat, notifications for key events and access to live video feeds. And I have to say, it's pretty sweet." Read More...
ADT Pulse Security Becoming a Leader in Home Automation
CEPRO - the leading information source for customer electronics
"To ADT's standard security service, Pulse adds remote home monitoring and management of surveillance cameras, lights, thermostats, door locks, and a variety of other devices that utilize Z-Wave or IP communications." Read More...
Security Systems News
- The Newspaper of Record for the Security System Integrator and Installer
"ADT Pulse customers will now be able to lock or unlock doors in their home using tablets, smartphones or desktop computers, the company announced Feb. 20. The ADT Corp. is introducing remote door locks to the home automation solution, availing consumers of a "master key" from anywhere, the company said in a statement.
"Enabling our customers to control access to their home — from wherever they are, with the touch of a button — that's what remote door locks represent," Tony Wells, chief marketing officer for ADT, said in the statement. "They also show that we understand connectivity, mobility, and the 24/7 pace of today's digital world."
ADT spent more than a year testing the quality and speed of its remote door locks, which are supported by Kwikset, the statement said. The latest feature to ADT Pulse, remote door locking complements other features such as thermostat control, energy consumption management, and light controls, among other features." Read More...
New ADT Pulse Motion Detection Offers Greater Home Control
'Smart Home' Technology Can Automatically Trigger Lights and Doors to Lock or Unlock
"...ADT is introducing new video motion sensor technology to provide ADT Pulse customers with an extra layer of security protection and the ultimate convenience in home automation. The new feature allows users to schedule actions when motion is detected by their indoor or outdoor wireless cameras, and receive instant email or text message alerts with video clips of these activities. ADT Pulse customers can save these video clips for up to 30 days on their ADT Pulse web portal.
"ADT's product engineers performed extensive quality testing at our Innovation Lab to perfect the new motion detection feature," said Tony Wells, chief marketing officer at ADT. "This superior technology ensures our customers have a reliable experience every time they use our system, and gives them greater power to control their homes remotely from any location, helping to more easily protect and connect to what matters most." Read More...
Investors Need to take a Look at ADT's Pulse
The Motley Fool - News and Investing
"The key to ADT's future is Pulse, its version of home automation. Using its existing sales and distribution channels, ADT is finding success in its Pulse product, even with sharp competition from some big names such as Verizon and Time Warner, which have arguably better distribution channels and a more recognizable imprint in customers' homes. Home automation is still a young industry, and market penetration is well under the 25% that ADT security systems hold." Read More...
For more information on ADT Pulse call 1-800-310-9490.