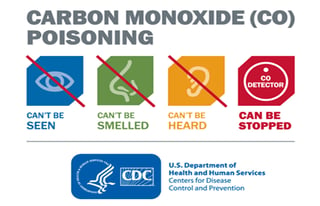 I attended an ADT convention where they had a customer share her story of the life saving experience she had with Carbon Monoxide Poisoning. It is a touching story.
Check out the VIDEO of this story >>> Click Here
She had used the stove early that night and latter went to bed upstairs. Her children were also sleeping in their rooms upstairs. Little did she know, there was a problem with her stove and is was producing carbon monoxide poisoning. She had an ADT Monitored Carbon Monoxide Detector which detected the dangerously high levels of CO and the siren went off. As she was getting her family together, the ADT Central Station Operator was calling the local fire department.
The fire department arrived quickly and helped the family safely get out of the home. The fireman on the site said the CO levels were so high, the family would not have made it if they did not have the CO detector.
I got to witness this customer meet the ADT Central Station Operator that made the call to the fire department and helped saved the family's lives. When they met, it was an emotional moment... the two embraced each other as they recalled the emergency. It is always emotional when lives are saved!
I shared with my wife this story and the emotion of it made us realize the importance of us upgrading our own CO detectors. My wife made sure I installed the best ADT has to offer (see below what I installed) and we both sleep peacefully knowing we are protected.
If you have not already, check out the 2:27 minute ADT LifeSaver video of this customer >>> Click Here
If you would like to get an ADT Monitored Security System installed with Carbon Monoxide Protection call 1-800-310-9490.
Below is Frequently Asked Questions from Centers for Disease Control and Prevention
Where is CO found?
CO is found in fumes produced any time you burn fuel in cars or trucks, small engines, stoves, lanterns, grills, fireplaces, gas ranges, or furnaces. CO can build up indoors and poison people and animals who breathe it.
What are the symptoms of CO poisoning?
The most common symptoms of CO poisoning are headache, dizziness, weakness, upset stomach, vomiting, chest pain, and confusion. CO symptoms are often described as "flu-like." If you breathe in a lot of CO it can make you pass out or kill you. People who are sleeping or drunk can die from CO poisoning before they have symptoms.
Who is at risk from CO poisoning?
Everyone is at risk for CO poisoning. Infants, the elderly, people with chronic heart disease, anemia, or breathing problems are more likely to get sick from CO. Each year, more than 400 Americans die from unintentional CO poisoning not linked to fires, more than 20,000 visit the emergency room, and more than 4,000 are hospitalized.
Read CDC's carbon monoxide poisoning prevention tips >>> Click here
Importance of Carbon Monoxide Detectors
Below from Wikipedia
The United States Consumer Product Safety Commission has stated, "carbon monoxide detectors are as important to home safety as smoke detectors are," and recommends each home have at least one carbon monoxide detector, and preferably one on each level of the building.[86] These devices, which are relatively inexpensive[87] and widely available, are either battery- or AC-powered, with or without battery backup.[88] In buildings, carbon monoxide detectors are usually installed around heaters and other equipment. If a relatively high level of carbon monoxide is detected, the device sounds an alarm, giving people the chance to evacuate and ventilate the building.[87][89] Unlike smoke detectors, carbon monoxide detectors do not need to be placed near ceiling level.[90]
The use of carbon monoxide detectors has been standardized in many areas. In the USA, NFPA 720-2009,[91] the carbon monoxide detector guidelines published by the National Fire Protection Association, mandates the placement of carbon monoxide detectors/alarms on every level of the residence, including the basement, in addition to outside sleeping areas.
CO Prevention Steps: National Fire Protection Association
The NFPA is the leading information and knowledge resource on fire, electrical and related hazards. Below are their safety tips to prevent carbon monoxide poisoning in your home.
Often called the invisible killer, carbon monoxide is an odorless, colorless gas created when fuels (such as gasoline, wood, coal, natural gas, propane, oil, and methane) burn incompletely. In the home, heating and cooking equipment that burn fuel can be sources of carbon monoxide.
CO alarms should be installed in a central location outside each sleeping area and on every level of the home and in other locations where required by applicable laws, codes or standards. For the best protection, interconnect all CO alarms throughout the home. When one sounds, they all sound.
Follow the manufacturer's instructions for placement and mounting height.
Choose a CO alarm that has the label of a recognized testing laboratory.
Call your local fire department's non-emergency number to find out what number to call if the CO alarm sounds.
Test CO alarms at least once a month; replace them according to the manufacturer's instructions.
If the audible trouble signal sounds, check for low batteries. If the battery is low, replace it. If it still sounds, call the fire department.
If the CO alarm sounds, immediately move to a fresh air location outdoors or by an open window or door. Make sure everyone inside the home is accounted for. Call for help from a fresh air location and stay there until emergency personnel.
If you need to warm a vehicle, remove it from the garage immediately after starting it. Do not run a vehicle or other fueled engine or motor indoors, even if garage doors are open. Make sure the exhaust pipe of a running vehicle is not covered with snow.
During and after a snowstorm, make sure vents for the dryer, furnace, stove, and fireplace are clear of snow build-up.
A generator should be used in a well-ventilated location outdoors away from windows, doors and vent openings.
Gas or charcoal grills can produce CO — only use outside.
How Long Do Carbon Monoxide Detectors Last and What Kind Should You Buy?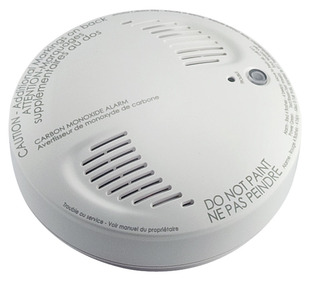 Carbon monoxide alarms have a limited life, typically 5 to 7 years (some even less). Most people don't realize they need to replace a $25 - $75 item after several years. Many manufacturers will state the limited life span somewhere in their manual; however, it's usually not prominent. The presence of a CO alarm may give you a false sense of security. It could even lead to unsafe combustion practices, thinking that if the air becomes poisonous, the alarm will warn you. Check the manufacturer's instructions.
Your CO alarm may give no indication that it's no longer functional. Pushing the test button (usually) only tests the battery, horn and circuitry. The test button does not test whether the gas sensing element is still functional.
On August 1, 2009, UL (Underwriter Laboratories, an independent testing laboratory) required that CO alarms provide an 'End Of Life' signal, (EOL). However, alarms manufactured before August 2009 may not contain this EOL feature. Even newer CO alarms can malfunction due to chemical exposure, damage, misuse and various other reasons. If there is any doubt, replace it.
There are a lot of options for CO Detectors. Kidde, Nest, First Alert, Home Alert, DSC and Honeywell are a few of the companies that provide CO Detectors. Most are battery operated while some are hardwired. One of the questions is... do you want to be notified of dangerously high levels of CO on your mobile device or just have the siren from the detector to sound, warning you of the danger. "Smart home" devices are most expensive but do give you remote connectivity to your home.
I personally have a Honeywell CO Detector that is monitored by my ADT Pulse Security System. With the CO Detector integrated into my ADT security system, three things will happen to warn me of the emergency:
The CO Detector siren and the alarm siren will both sound to locally warn us of dangerously high levels of carbon monoxide poisoning.
My ADT Pulse system will text and/or email my wife and I of the CO poisoning.

We have pets at home and are concerned for their safety
We will never enter our home when high levels of carbon monoxide are present without the Fire Department's help.

The ADT Central Station Operator will call us to warn us and dispatch our local Fire Department to come to our home and help us with the emergency.
Before I heard the story at the beginning of this blog, I was fine with just having a local carbon monoxide. Now I want mine to be monitored by ADT. Nice to know someone will call the firedpartment for me in case of an emergency.
To find out more about getting an ADT Monitored Carbon Monoxide Detector installed to integrate with your ADT monitoring service call us at 1-800-310-9490.