Update: As of April 19th the ADT Pulse skill for Alexa is available. Enable it here: https://www.amazon.com/gp/product/B01NARHJWE?ref=skillrw_dsk_new_gw_1.
.............................................
Like millions of families across America, we invited Alexa into our home last year. We're flat out smitten with her! In January, like many others, we heard the exciting news that the ADT Pulse skill was coming to Alexa and our ADT Pulse system, would have limited voice control through Alexa.
If you haven't met Alexa, she is the personality and virtual assistant for Amazon. She is most commonly found on Amazon's devices Echo and Echo Dot. If that still doesn't ring a bell, you'll recognize her very popular, distant cousin Siri. Siri's the personality and virtual assistant for Apple. Alexa is the personality and virtual assitant for Amazon's Echo devices.
Using simply your voice, ask Alexa to perform tasks and she does. She'll play music using immersive, 360º omni-directional audio (on Echo.) She'll distinguish your voice over the music so she can stop and answers questions about current topics or any ole' fact you need to know right that instant. She can also control lights and thermostats with compatible devices or order more paper towels when you're out.
Alexa also has a QUICKLY expanding suite of new features, called "skills." You enable (or downloaded) them to expand her knowledge base. A family favorite here is Alexa's Magic Door game. It's an interactive adventure where you make choices and navigate a forest, a garden, or an ancient temple. It's also the best bed-time story ever! While the kids tell Alexa their choices and navigate the story, I can get the dishes done before midnight.
There's over 5000 download-able "skills" for Alexa. You're sure to find something you LOVE too.
Here's what the ADT Pulse skill for Alexa does for you
ADT Pulse users have already realized the convenience of automated features. Whether it's laying in bed and verifying your system is armed or locking the front door while sitting on your couch; the ADT Pulse app makes things easier and Alexa takes it up a notch.
My family had gotten just a taste of what the ADT skill does before it was out. Alexa already worked with the Kwikset door locks. While I can open my Pulse app and lock or unlock the doors, once we got Alexa, I'd say, "Alexa, lock (or unlock) the front door." Alexa can hear me throughout the house and over other noise, which allows me to keep cooking dinner or whatever has my hands busy. The ability to have Alexa lock the door through ADT Pulse gives me the added bonus of logging the action into my ADT pulse history and since I have my system set to arm when my ADT Pulse locks are locked, this will trigger the system to arm.
The ADT Pulse skill enables voice activation of the rest of my ADT Pulse devices like thermostats, lighting and the garage door opened. It's so much easier to have Alexa to ask ADT to close the garage door than going back out to the garage after I bring loads of groceries in.
"Sync everything up, and you'll be able to ask Alexa to arm or disarm your system after giving her a four-digit PIN code*. You'll also be able to control Pulse-compatible connected home devices like smart deadbolts and smart lights, a handy way of locking up and turning things off as you're going to bed." - CNET - see full article here.
If you are a current ADT Pulse subscriber and use Alexa, you can enable the ADT skill from the Alexa skills tab on amazon.com and be commanding away immediately.
The best Alexa skill announced at CES2017
"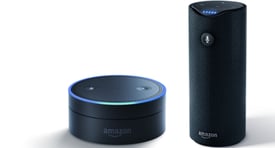 Of all of the new Alexa skills being announced at CES 2017, the one for ADT's Pulse security system is one of the most interesting!"
That's certainly my opinion! However, top rated tech-site Slashgear said it before I had a chance to. See the full article here. They're certainly less biased than I am and yet only slightly less excited.
Try Alexa with ADT Pulse at your home or business. If you do not have an ADT Pulse security system installed in your home, order yours today and have us install if for you. For more information, give us a call at 1-800-310-9490 or sign up for a FREE Home Security Review below.
*Only certain commands like disarming the system require a 4 digit code. For example, "Alexa disarm ADT Pulse using code 4321."