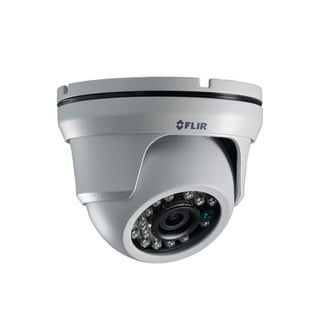 FLIR ME363 -
Quad (4MP) HD Fixed Dome Camera
The FLIR Quad HD Fixed Dome camera uses the latest HD-CVI technology to deliver exceptional picture quality over coax cabling. Ideal for retrofit applications, the camera is compatible with FLIR MPX DVRs offering an upgrade to HD resolution without the hassle of running new cables.
QUAD HD PICTURE QUALITY
4MP HD picture quality over existing coax
4MP HD, 4MP@25/30 fps, 1/3" CMOS, 3.6mm lens, 80ft / 24m IR
MULTI-FORMAT
Works well with popular analog HD formats*
Upgrade to HD without the expense of re-cabling
Compatible with popular 4MP+ analog HD recorders*
Quick video output format adjustment through camera cable
WEATHERPROOF
Installation in any outdoor condition
IP66 weatherproof rated
-22°F (-30°C) cold climate capable
* Camera is restricted to 4MP resolution and is compatible only with 4MP/5MP/4K HD-CVI/HD-TVI/AHD enabled recorders. Channel resolution must be set to 4MP resolution. For information on compatibility with various analog HD formats, visit flir.com/security/MPX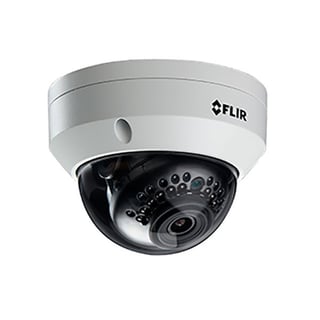 FLIR N253V8 -
4K Ultra HD Fixed Vandal Dome
The FLIR 4K Ultra HD Fixed Vandal Dome IP camera offers exceptional performance with 4K Ultra HD resolution, providing excellent image clarity and an incredible level of detail in recordings. H.265 delivers improved compression efficiency for significant hard drive space savings. The camera also supports edge storage for recording flexibility.
4K HD PICTURE QUALITY
4K Ultra HD (8MP 3840x2160) resolution provides the highest standard in image clarity and detail for evidence collection
Ultra HD 4K (8MP) @ 15fps, 4MP @ 25fps / 3MP/1080p/720p @ up to 25/30fps
Wide angle 2.8mm lens provides 100° Field of View
Long range IR Nightvision up to 100ft/31m
ADVANCED FEATURES
H.265 compression coupled with Region of Interest (ROI) optimizes video performance based on available bandwidth
Advanced H.265 & Super H.264™ compression technology
Edge storage support (MicroSD card) – up to 128GB
4-Zone Region of Interest
RUGGED, WEATHERPROOF DESIGN
Installation in any outdoor condition
IP66 weatherproof-rated
IK10 Vandalproof rating
-22°F/-30°C Cold Climate capable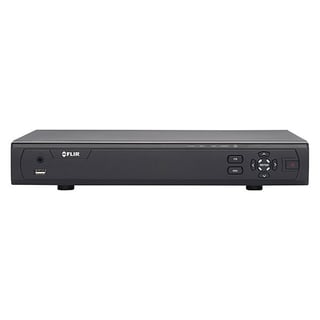 FLIR M3100E - M3100EP Series
MPX Megapixel Over Coax Series DVRs
FLIR's M3100E Series DVRs use the latest HD-CVI technology, giving you the flexibility to upgrade your security systems to 1080P HD resolution using existing coax cabling. With support for both HD resolution MPX cameras, and standard analog cameras, the DVR is ideal for retrofit applications. MPX also facilitates advanced features previously unavailable over a coax cable including duplex transmission for PTZ control, and extended distance cable runs up to 2300ft/700m.
Features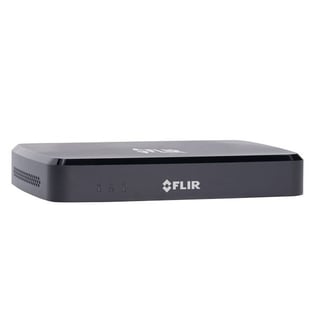 FLIR DNR210 Series
4K High Definition NVR
FLIR's DNR210 Series NVRs further accelerate high definition recording, with cameras up to 8MP (4K). With four/eight integrated Power over Ethernet (PoE) inputs and PoE+ support, installation is made simple. No programming or configuration is necessary as the NVR automatically discovers FLIR IP Cameras on the network.
High Performance Video Processing
Smooth video recording up to 4K resolution
Supports 4K recording with cameras up to 8MP (4K)
Pentaplex Operation – view, record, playback, backup & remote monitoring
Easy Installation
Integrated PoE inputs for quick, convenient connection
4/8 integrated PoE ports with PoE+ support (25W per channel)
Auto-discovery of FLIR IP Cameras with no programming
Backup & Recording
Back-up to keep data secure
Supports 1x SATA HDD up to 8TB
Instant back-up via 2x USB 2.0 ports