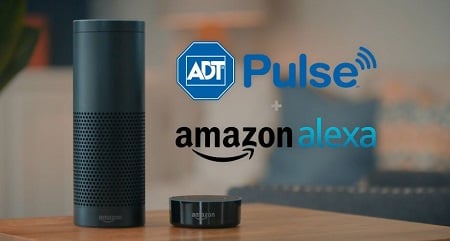 Now that you have an Amazon Alexa or Google Home Assistant you can start giving your ADT Pulse security system voice commands. Get bossy with your ADT System it likes to go to work. ADT Pulse with voice command can control your security system, lights, thermostats, garage door and automated locks.
Below are Just Some of the More Common Alexa Voice Commands for Your ADT Pulse System
Security System - You can Arm, Disarm and Query your security system.
Alexa, arm ADT in Away mode.
Alexa, arm ADT in Stay mode.
Alexa, disarm ADT.
Alexa, is ADT armed?
Lights – Control your smart lights with Alexa
Alexa, turn on the Bedroom Light.
Alexa, turn off the Porch Light.
Alexa, dim the Living Room Lamp.
Alexa, dim the Living Room Light to 25%.
Locks – You can Lock, Unlock and Query your smart locks with Alexa
Alexa, lock the Front Door Lock.
Alexa, unlock the Kitchen Door Lock.
Alexa, is the Front Door locked?
Thermostats – You can control your connected thermostats with Alexa
Alexa, set the Kitchen temperature to 75 degrees.
Alexa, decrease the Bedroom temperature.
Alexa, increase the Living Room temperature.
Alexa, what is the temperature in the house?
Alexa, what is my thermostat set to?
Note: it's important that you use the name you assigned to your ADT Pulse devices in the Pulse portal and the voice code you set up in the Alexa app as part of the command. For commands that require a voice code, you'll say: "Alexa, disarm my system." Then it'll prompt you for the voice code as a response.
ADT Pulse Skill and Amazon Alexa Commands FAQs
Learn how to enable the ADT Pulse Skill and how to start using voice commands with Alexa... CLICK HERE >>>
Alexa Guard Works with ADT Monitoring Service
Recently announced at Amazon's Devices Event among things like Amazon One and AmazonBasics Microwave, Alexa Guard is designed to help protect your home while you're away. Alexa Guard listens for things like breaking glass and smoke or carbon monoxide alarms. But only when Guard is active. To activate Guard, users simply say, "Alexa, I'm leaving," as they're heading out.

Guard then sends users Smart Alerts with audio clips when these suspicious sounds are detected. Users then have a choice to forward these Smart Alerts to ADT, who then can help decide if additional steps should be taken to protect your home. Read more... from ADT Home Safety Center >>>
SmartThings ADT Skill for Amazon Alexa
Google Home Assistant Now Gives You Voice Control of Your ADT Pulse System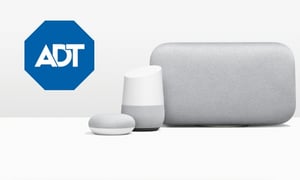 Connect the Google Assistant with the ADT Pulse app and you'll have even more control over your connected home devices and security system – using just your voice. Ask your Google Assistant to arm your system, adjust your thermostat and control your lights. Best of all, setup is easy.
Learn more... about Google Assistant for ADT Pulse >>>
Some Google Assistant Voice Commands for ADT Pulse
At this time, you can arm your system, lock your doors and control your ADT lights and thermostats. You can Ask Google Assistant to arm your system, ask if you left the hall light on, lock your doors when you come home, ask what the current temperature is in your home, or even to dim the bedroom lights. ADT and Google are working hard to continue to add actions into Google home so you can control even more of your ADT Pulse features with your Google Home Device.
Here are some example commands you can use to control your ADT connected home.
"OK Google" or "Hello Google"
Turn on my lights
Dim my lights
Set my heat to 70 degrees
Set my AC to 72 degrees
Turn the heat up two degrees
What is the temperature of the thermostat?
Arm my system
Lock my door
ADT Pulse Google Assistant FAQs
Answers for integration, setup and more... FAQs about ADT Pulse Google Assistant >>>
ADT Pulse Security System Setup Needed for Voice Commands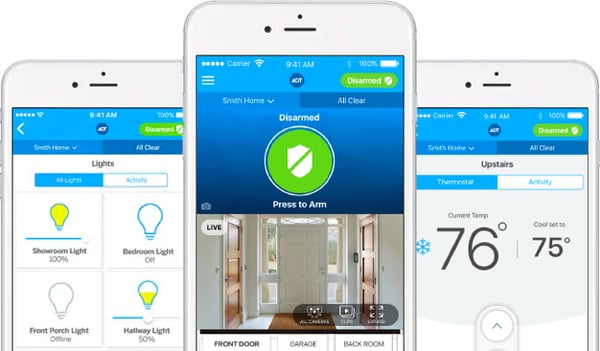 You will need to have ADT Pulse monitoring service to be able to use voice commands to control your security system and home automation devices. An ADT Pulse security system also gives you the ability to add security cameras with live remote viewing and recorded video clips of events. Get a quote for a system to meet all of your needs and protect your home and family.