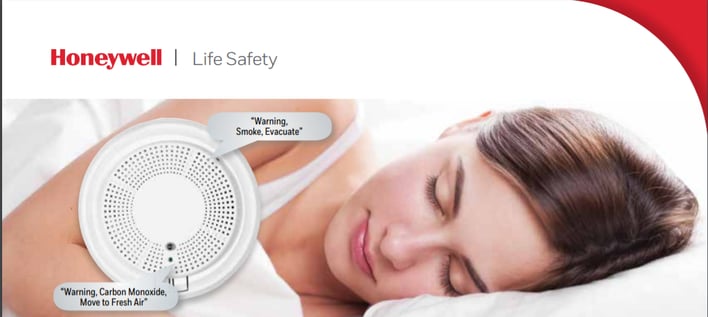 Adding a monitored smoke and CO detector to your FREE ADT Alarm system provides Safety you can see and hear!
Introducing the Honeywell all in one smoke, heat and carbon monoxide detector. The home security industry's first device to protect from all 3 in one unit. It not only saves lives, it saves you money by offering you multiple features in one device. It's an important part of your ADT free home security system.
"This detector provides a high level of false alarm immunity while quickly reacting to smoldering fire – that kind of accuracy is critical when it comes to saving lives," said Mark Okeefe, product marketing manager, security and fire, Honeywell Home and Building Technologies. "This gives the dealer an easier path to offering dual capabilities in a single device, and more importantly, helps meet the needs of the consumer."
The smoke /carbon monoxide detector that verbally alerts you of danger.
The detectors uses both it's own voice and visual display to alert you that there is danger present. Before you can get to little Sally and tell her to wake up, this smoke and CO detector is already telling her what is going on and what she should do. A calm confident voice will inform of what is being detected and exactly what action you should take. A multi-color LED light ring will add visual back up to the message.
Sleep more peacefully with monitored smoke and CO detection as a part of your FREE ADT security system. Schedule a FREE home security review today.
Monitored protection lets you get out safe and sound. We'll get help on the way
The built-in transmitter allows ADT's central staition monitoring network home to monitor alarm events in the home and monitor for maintenance conditions. It alerts occupants to the danger and also transmits a smoke or CO alarm signal to the alarm panel when smoke is detected or when specified levels of CO are reached in the home. That means you can focus on getting everyone out of the home alive and we'll contact the fire department and get them dispatced to your home.
Other than cutting costs by combining the features of two devices into one, this new arrival also offers you these safety benefits:
INCREASED PROTECTION

-

There are four sensing elements that improve Smoke and CO detection and reduce false alarms.
ALWAYS ON THE LOOKOUT -

The 360° visual alarm with status LED enables status alerts and Smoke or CO detection. Red for smoke and fire, blue for CO detection etc.

LOUD AND CLEAR

-

The 5800COMBO has a built-in 85 dB piezo sounder with powerful alarm tones and a one inch, multi-language voice speaker.
LONG-TERM PERFORMANCE -

The 10-year electrochemical sensor life along with automatic drift compensation and smoothing algorithms features empower persistent performance.
It's also fast and easy to install so your safer faster. It also utilized infrared (IR) flame sensing that measures ambient light levels and flame signatures, while thermal detection monitors temperature. This help prevent false alarms from things like burnt toast.
Add the new monitored smoke/CO detector to your FREE ADT Security System today
Sleep soundly tonight knowing that ADT's s on standby for any emergency in your home. Adding a monitored smoke and carbon monoxide detector assures your loved ones are protected from smoldering electrical fires that can hide in the wall for hours emitting deadly carbon monoxide gas. Or fires that burst into flame and threaten to quickly take over your home. Add peace of mind to the list of needed features from your alarm system. The rest of the system assures exterior threats as well.
Whether you are investing in a new ADT system or activating an existing system that is in your home, include a monitored smoke/co detector as a part of a full protection plan for your family. Call and get a quote on a new ADT system today at 1-800-310-9490 or fill out the form below and we'll call you.
Read below for technidal specification of the new Honeywell 5800COMBO unit.
Power Description: Input Voltage Range -3 V DC
Physical Characteristics:
Weight (Approximate) -

13.92 oz"
Honeywell International, Inc
Manufacturer Part Number / Product Number: