Welcome to GREAT value central.
As a consumer, you expect and demand that... right? And immediately even!
No Tijuana style street-haggling, it's the best deal, better than the competition or you're on to the next provider... you know, one of the other 300 ADT dealers or some little guy down the street. This ADT special better be special, right?
Am I speaking your language here?

Of course I am... I'm a consumer too.
Here's my example of how much power you have as an informed consumer that's ready to sign on the dotted line:
I got a fluke payout one year that made my monthly income $20,000. Well, at least that's what my January pay-stubs said. BINGO! I am all of about 20 years old, I have great credit, an from all outward appearance, i have a stable job making 1 new truck a month money.
Straight to the Dodge dealer I go. I look Sally Miss Salesperson straight in the eye and say, " I would like to purchase a new Ram 1500, in black and drive it home today. I don't desire to play dumb games or "let me check with my boss" 50 times to get this done, blah, blah, blah. If that's an option, you should make a nice commission today."
It works that way right? If I actually made no price tag showdown necessary OR the next guy will give me what I want.
Back to my Dodge story, no black in stock so they gave me a INTER-GALACTICALLY good deal and $1000 to paint the truck later! Hmmm... I was pretty much still a kid, new truck, $1000 cash, let's just say the truck is still red.
The moral of my story is that I get you, You are ready to sign the dotted line and don't jut want the best deal for your money.
What ADT Special Offers and ADT Pulse Special Offers exist for equipment?
Your first option is to price match. If one of our offers below is not as good as another advertised special or quote you received, we'll just match it and call it a day. Whether Shawn the installer is your cousin's kid, or Susan and Derek next door raved about their representative," you've realized California Security Pro is the way to go. We won't let price put a halt on your dreams. Give us a call, we'll make it happen.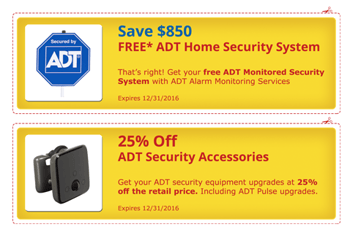 Behind door #2: FREE* Basic system that includes your hardwired or wireless panel, 3 wireless sensors or 15 contacts for a hardwired systems, 1 motion, 1 key chain remote, your stickers and a yard sign. This system has a $99 installation. If you decide to expand the system, as most of our clients do, receive additional free sensors or 25% additional items, just give us a call at 1-800-310-9490.
Similarly, behind door #3 is the FREE* ADT Pulse Basic system. Our top selling system that allows you to remotely monitor and control your system. It includes your wireless or hardwired panel, 3 wireless sensors or 15 contacts for a hardwired systems, 1 motion, 1 key chain remote and your stickers and a yard sign. The Basic Pulse system also offers free additional sensors or 25% off any addition devices. Installation starts at $199. Cellular connection to the central station is automatically a part of all Pulse systems.
AND
When you upgrade from the Basic (Level 1) Pulse system to a system with video surveillance and/or home automation (Level 3,) we'll throw in a FREE Indoor Day/Night Camera with the installation package. All options come with a FREE On-site Security Review where a security expert will take into account your specific needs and budget and provide you with options.
MARCH 2016 SPECIAL :
25% off ADT Pulse Automated Locks when added to any new ADT Pulse with Home Automation Installation. Just for the month or March get 25% off AND no additional installation charge (So if you go check it out that it's $169, $30 dollars less at a big box store, take into account the cost of having even the local handy man put it in, BAM! More expensive, this is a DEAL!!)Check out the stats hereand the video of this COOL-O-RAMA lock that will re-key it'elf to any existing Kwikset key you have in 30 seconds. That's with you doing it... but our guy will surely do it for you if you want, we're nice like that.
***GIVE US A CALL ABOUT CURRENT SPECIALS AFTER 2016 AT 1-800-310-9490***
ADT Costs and ADT Pulse Costs & Monthly Monitoring Costs...
The actual cost of a security system is two fold. There is your initial cost and your monthly monitoring. Your initial cost will be any items you might decide on above and beyond the free basic packages and your installation. To see a list of a la cart items, click here, still don't forget, when you talk to us, ask for any current specials.
Your monthly monitoring rate will depend on what you select for monitoring. Basic monitoring starts at $36.99 and all residential monitoring includes a warranty on parts and labor for as long as your system is monitored. So FREE service calls for the first 90 days, as long as it's related to the install, and then $25 flat fee for service calls after 90 days, again, as long as it's related to what you already have installed. See my fancy little chart that breaks down monitoring levels here and click here for business monitoring.
If you have any special requests just give us a call and we'll give you an honest quote right over the phone or send someone out for more complex scenarios. Don't forget to ask about any current specials we might be running. Like us on Facebook for a special deal AND you'll get updates on crime in you area and information on all manner of security issues that matter to you. If you'd like to set up a FREE home security review just click below and we'll contact you or call us directly at 1-800-310-9490.