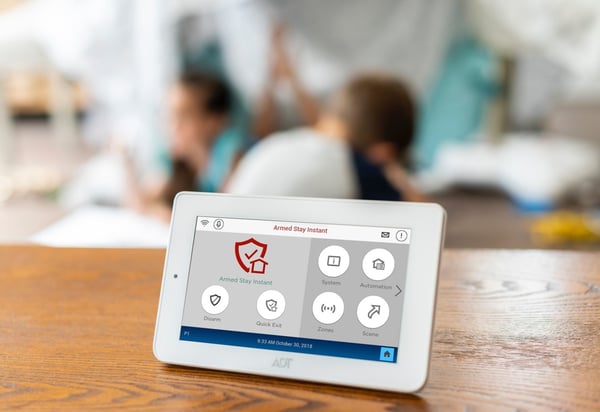 Last night I was watching the Golden State Warriors game and Klay Thompson was on fire. He and Curry are know as the Splash Brothers and in yesterday's game against the Knicks, Thompson drained 43 points. He had some incredible rainbow threes from the corner for some large splashes. Yesterday in Las Vegas, ADT Security unveiled ADT Command and Control Smart Home Security System panel and created a splash of their own. The ADT Command Panel and ADT Control App are now the new standard by which all smart security systems will be measured. Let's check out what people are saying.
ADT Command and Control Security System Press Release
ADT Unveils New Command and Control Security System at CES 2019, Continuing Commitment to Provide "Real Protection" to Consumers
ADT Video Doorbell, ADT Voice Control Integrations with Amazon Alexa and Google Home, ADT Go and ADT's Interactive Crime Map Also Featured
LAS VEGAS, Jan. 07, 2019 (GLOBE NEWSWIRE) -- ADT Inc. (NYSE: ADT), a leading provider of monitored security and interactive home and business automation solutions in the United States and Canada, today announced the unveiling of its newly redesigned smart home security system – the ADT Command Panel & Control Platform (ADT Command) – as well as a suite of smart security and home automation products at the Consumer Electronic Show (CES). This year's theme, "Real Protection," will highlight the products ADT offers to ensure customer safety from any location.
ADT Command is a dynamic and innovative wireless panel with numerous smart home capabilities, including seamless set up and control with the ADT Control app, that allows customers to protect and automate their homes from anywhere at any time.
"As home automation continues to evolve and become more accessible, we know our growing community of 3 million smart home customers want and expect a security solution that is fully integrated with the latest technology innovations," said Don Young, ADT Chief Information Officer & Executive Vice President, Field Operations. "With ADT Command & Control, consumers get best-in-class monitoring service from the largest security network, combined with the most cutting-edge technology. The Control platform supports over 250 devices, ranging from carbon monoxide detectors to smart light bulbs, providing custom-fit solutions that provide customers with real protection."
ADT Command customers receive ADT's monitoring and emergency response, backed by 4,000 monitoring professionals across 10 monitoring centers, providing 24/7 protection, 365 days a year. Key features include:
Smart Security: Know who is arriving home and when, with the 7-inch wireless, touchscreen Command panel that snaps a photo when the system is disarmed using its built-in camera. By creating dynamic scenes and rules, your smart home devices work in harmony to keep your family safe. For example, in case of a fire, the system can be connected to the thermostat, lights and doors, making it easier and safer for everyone to get outside.

Enhanced Safety: Keep your home connected 24/7 with the panel's battery backup with dual path Broadband and LTE cellular communications. ADT Command features two-way encryption RF sensor technology to help reduce the potential for hacking. For increased control of your home, unique user codes and permission settings can grant access to users only on the days and times you specify.

Technologically Advanced: The app's geofencing technology generates helpful automations and alerts to trigger events, with reminders such as arming the security system when you leave the house. With voice control technology, you can easily control your system simply with your voice.

Control at your Fingertips, Anytime and Anywhere: Use the Control app to carry out preset automations when you leave or arrive home, allowing you to remotely arm or disarm your system. No matter where you are, you can rest easy knowing your doors are locked, your lights are on or off and your home is secured. You can even watch live video and images from your mobile phone, tablet or smartwatch, so you can stay connected to your home no matter where your travels take you.
Located at Veronese 2504 at the Sands Expo Convention Center, ADT will be showcasing several additional products and services that bring users peace of mind backed by real protection no matter where you are.
Continue reading for more ADT Command highlights...
From Digital Trends - At CES 2019, ADT Pivots Further Towards Smart Home Security Solutions
Now it looks like the company is making a more advanced move starting with an announcement during CES 2019 that ADT has completely redesigned its popular home security system to pivot further towards smart home technology, including new integrations with digital assistants, yet another video doorbell (video doorbell-palooza!), a mobile safety app, and new interactive crime maps. The company has been experimenting with smart home tech since it first released the ADT Pulse in 2010 but this year's changes mark a pronounced and widespread adoption of smart home concepts and technology.
The big announcement is the reveal of the ADT Command Panel & Control Platform (ADT Command for short), a dynamic and innovative wireless panel with numerous smart home capabilities. It's controlled by the ADT Control app, enabling customers to protect and automate their homes from anywhere.
Read: ADT wants its home security customers to use its new platform to control their smart home devices. This move has been telegraphed for quite a while, starting with ADT's new partnerships with a lot of technology companies and smart device manufacturers, including Ring and Nest.
Let's take a closer look at ADT Command and Control Security Panel >>>
From CNET - ADT Unveils Revamped Smart Security System at CES 2019
ADT Pulse is being replaced with ADT Command, a revamped and smarter version of ADT's home security platform.
ADT is redesigning its smart security offerings. The company announced the newly redesigned and renamed ADT Command Panel and Control Platform (ADT Command, for short), as well as a few smart security and home automation products.
ADT Command Panel is a 7-inch, wireless touchscreen panel with smart home capabilities that serves as the central point of the system. Customers can monitor and automate their smart home products through the ADT Control app from anywhere. The app and ADT platform support more than 250 devices across dozens of brands. The ADT Command and Control Platform are replacing ADT Pulse, but the team at ADT say most devices compatible with ADT Pulse will also work with the new system. Continue reading about ADT Command and Control product features and benefits...
From Engadget - ADT's Command Tablet is the New Center of its Home Security System
This little tablet can hook into other smart home devices and build security-focused routines.
The rise of smart home technology has opened up plenty of ways to build a home security system. ADT, a company that's been doing home monitoring for decades, is unveiling a new version of its security products that can tie in to a variety of other connected devices around your house. The center of the system is the new ADT Command panel, a 7-inch tablet that serves as the hub for your home security.
As you'd expect for a full-fledged home security system, the Command panel includes battery backup for when you lose power and built-in LTE for communicating with ADT even if your home network is down. Since the Command panel can communicate with other smart home devices, you can use it to set up various "scenes" and rules which govern how your home responds in the event of an emergency. Continue reading more of Engadget's article on ADT Command...