ADT Command Platform is the New Smart Home
When it comes to smart home security, ADT Command has set the new bar for a single integrated platform that controls all your home security devices, life safety, video products and home automation. This is a complete and comprehensive solution to all your smart home needs. It is also professionally installed and ready for your mobile devices with ADT Control App. Imagine, all your smart home needs on one App. NICE!
Below is an update on what security and life safety devices are now available and what is coming down the road. This product information came from Honeywell Home - Resideo. This list does not include the security video products or home automation devices now available.
ADT Command Full Line of Products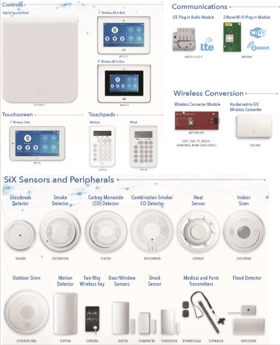 Single platform: Learn One, Know All

Modular design

–

factory or field installable devices

Common Security, Life Safety, and Lifestyle peripherals and accessories across the platform (1- way RF and HW to RF converter modules available)

Secure, encrypted 2-way sensors with over the air firmware upgrade capability

Dual path communications: LTE Cellular (AT&T and Verizon options) + IP / Ethernet

Remote diagnostics, local and remote programming, over the air system update and upgrade capable

UL Residential Burg and Fire, UL Commercial Burg

Multi-partition support

Security + Smart Home Ready: Full ecosystem of Video, Voice and Mobile solutions
ADT Command - Key Features and Benefits
Exclusive ADT design language and proprietary panel

Common User Interfaces for ease of End User use

Embedded End User "how to" videos in multiple languages

Built-in Amazon Alexa

End user replaceable cell radios

Provide comfort and reassurance to homeowners with two-way voice verification

Simplified Maintenance of ADT Command Devices
Remote configuration changes and future enhancements

End user replaceable batteries

Battery status of all devices to know which to replace

System health information, battery life, signal strength
ADT Command Touchpads and Touchscreen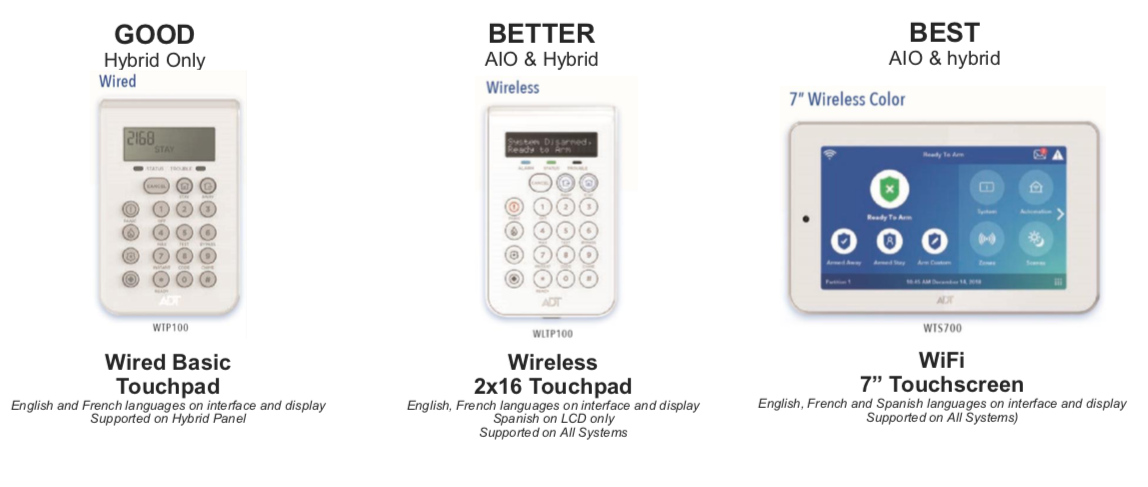 ADT 7" Wireless Touchscreen with Optional Mounting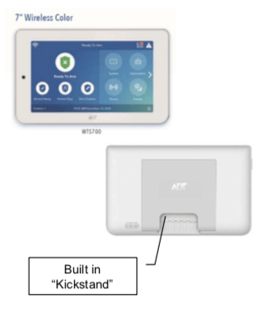 Basic Configuration
Integrated "Kickstand"

Power cord with molded plug (micro USB) into touchscreen charging port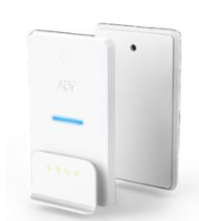 Optional Wall Mount
Wall Plate for Power
LED indicator when touchscreen is removed
Power Supply with terminals
Installer supplies standard 2-conductor in-wall cable

Optional Docking Charging Station
Desk stand charging station
Uses power cord supplied with "Basic configuration"
LED indicator when touchscreen is charging
ADT SiX Sensors with Two-way Encrypted Wireless Peripherals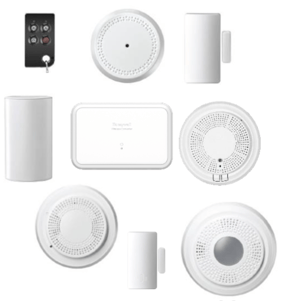 Currently Available Six Sensors
Door/Window Contact

–

SIXCTA

Motion Detector - SIXPIRA
Glassbreak Detector - SIXGBA

Keyfob - SIXFOBA

Shock Sensor - SIXSHOCKA
Indoor Siren - SIXSIRENA
Combo Smoke, CO, Heat Detector - SIXCOMBOA
Smoke Detector - SIXSMOKEA
Wired to Wireless Convertor - SIXC2WA
Coming on May 14 - Now Approved by ADT

Panic Button (2-button) - SIXPANICA

Medical Emergency (1-button) -

SIXMEDICALA
Outdoor Siren - SIXSIREN-ODA

Flood Detector - SIXFLOODA

Temperature Sensor - SIXTEMPA
What's next for ADT Command? Command Release 2
These updates and releases are expected to happen in June/July
5" AIO

Panel

New ADT User Interface

Updated Chime Feature

Enhanced Installation Experience - Shorter Installation Time
Additional Enhancements
Improved 2-way Voice Operation

7" Touchscreen adds Alexa and 2

-Way Voice Support

Updated Panel Battery Test

Additional 1-way Wireless Devices Supported on the ADTCONVERT Module
The good stuff... just keeps getting better. I was fortunate to recently visit the ADT Technology Lab in Florida and the engineers are very excited about the performance of these ADT Command devices. Thousands of these ADT Command and Control systems have been installed and it is going very smoothly for a nationwide launch of a new product line. It is actually amazing how few problems ADT has had with this new platform. This has been one of the most successful launches of a new security platform ADT has ever experienced. And you can be very excited about how reliable.... and robust your ADT smart home security options are for your home and family. The future is now!
The above product information was provide by Honeywell Home - Resideo. They provide all the security and life safety devices for ADT Command. ADT security video options and home automation products are provided by other manufacturers .
For more information or to get a quote for ADT Command Security Platform...
Call today 1-800-310-9490