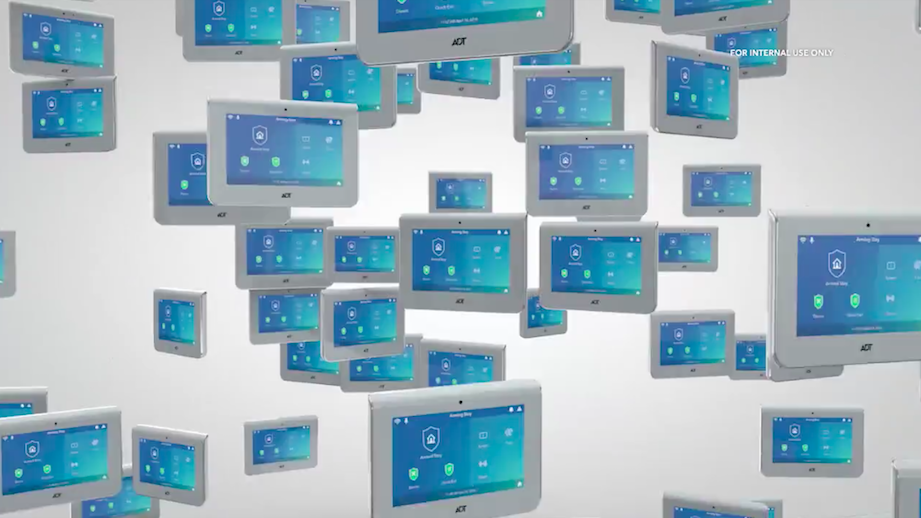 When you are in the home technology business, you Dream about the possibilities of what a smart homes could do... Dream about a single platform that would make it incredibly easy for all homeowners to control their smart devices... Dream about one App that would manage it all... not ten different Apps... and Dream about someone else setting the whole thing up for you.
It's super exciting to finally see a dream come true with the unveiling of ADT Command and Control. I just got off a conference call introducing the product and presenting it's feature and benefits. All I can say is WOW! This new panel and smart home App combination is absolutely amazing. You will be thrilled with this cutting edge technology and the life style changes you'll enjoy.
ADT Command and Control will launch in February or March and should be available to be installed in most areas of the country with 60-90 days. ADT Certified Technicians are attending product installation training over the next several weeks across the country. I will be attending a training class in Sacramento tomorrow and can't wait to have the product in my hand. So far I have just seen pictures and videos.
Let's check out some of the highlights >>>
ADT Command Platform Gives You Incredible Benefits of Smart Home Technology

My Four Personal Favorite Highlights of ADT Command
Sleek Modern Design of The ADT Command Touchscreen, It's Beautiful!
Touchscreen is gorgeous and the interface is very easy to navigate
Has integrated "How To" training videos with helpful tips to make it simple to use you new system
Built In Voice Control from Integrated Alexa
Customers can use Amazon Alexa through through the Echo Dot device hardware built into the panel to control their automation devices.
Give voice commands to control your smart home devices and security system through the ADT Alexa Skill.
Geo Fencing - Notifications and Triggered Events
Geo-Services technology creates helpful automations and alerts to seamlessly trigger events... like arming reminders when you leave your home for the day.
Once you setup the Geo Services events you desire, your ADT Command system will automatically manage your smart home as you arrive and leave your home... without you needing to do anything.
Apple Watch
What can I say... I love my Apple Watch and I am very happy I will now be able to have it work with my ADT security system and smart home devices.
Built-in Wireless Control Technology Eliminates Need For a Separate Hub
All-Inclusive Solution
Does not require multiple devices to be installed. ADT Command is built with onboard Z-Wave/WiFi module and LTE radio so upgrades can be added to the panel.
Built-in Echo Dot hardware which is an Amazon Echo family internet-enabled speaker and microphone that connects to Amazon Alexa.
Has two-voice alarm verification built into the panel to provide the best ADT monitoring service possible.
LTE and Broadband Communications
The next generation in communications with new technology for speed and redundancy. LTE and a back-up battery allow the panel to continue to operate for up to 24 hours when local power is out and phone lines are down.
ADT Command Product Enhancements
New SiX Technology
Provides enhanced security for the communication between peripherals and the panel two-way encryption. Basically >>> stops the hackers.
Wireless device communication distance between the security sensors and the ADT Command Panel is 2.5 times greater than before. Allows for 1,000 feet line of site communication. This will especially be helpful for large homes.
This two-way encryption can help prevent signals being blocked and may also result in fewer panel transmissions, potentially meaning fewer battery changes.
Photo Disarm
Built-in Camera on 7" Touchscreen Panel snaps and records a photo each time your system is disarmed.
Thermostat
You can manage temperature settings with automated schedules and create easy rules to have an added layer of automation based on system activity.
Automatically set to desired temperature when you arm your alarm system to ARMED AWAY or change temperature back when you arrive home and DISARM you ADT Command System.
Turn off HVAC fan if smoke or carbon monoxide are detected by your ADT life safety devices. This will limit the circulation of oxygen in the case of a fire, preventing the fire from being stoked by additional air and stop the spread of the poisonous gas fumes of carbon monoxide.
Enable a local lock-out so others can not adjust the thermostat settings.
Key-Fob
Keychain remote now has LED indicators to let you know system signal from key fob has been received.
Life Safety Devices
One Go.. All Go. Annunciation of life safety alarms. If one smoke detectors detects smoke, then all the ADT Command smoke detectors installed in your home will sound their sirens.
Installation and Service Call Benefits
Installations take less time saving you hours of waiting anticipation... we know you want to start using your new ADT Command Smart Home Security System ASAP.
Reduce service calls due to the panels ability for remote upgrades and updates that are managed via cellular connections.
ADT Control is the New Interface Services App from ADT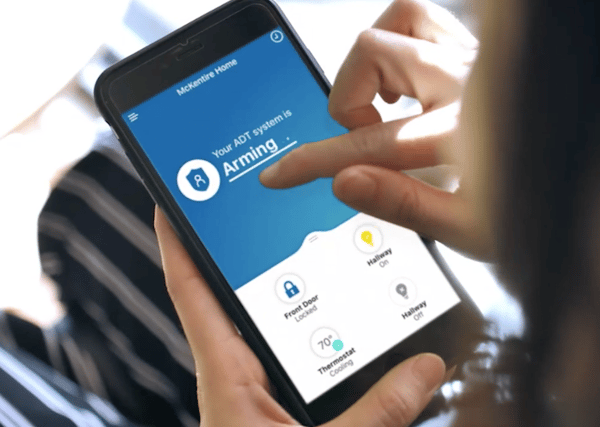 ADT Control App Features and Benefits
Provides instant notification and alerts of emergency alarm events
View live video from security system cameras
Remotely ARM/DISARM your security alarm system
Manage garage door access
Perform one-touch commands such as controlling

lights, locks, thermostats and your security system all at the same time.... with one simple touch of a button

Apps for Android and iOS devices, including smart phones and tablets
Features for Apple Watch
Set location based automation for smartphones (for example, set an actionable arming reminder notification for the system when a smartphone is outside an established perimeter)
Customers can use a personal identification number or biometrics (such as fingerprint) on enabled devices to assist in keeping the App itself more secure.
View all connected devices
At-a-glance view on one screen
My hope is that you are getting as excited and happy about ADT Command as I am. This new smart home technology platform is much overdue in our industry and most importantly, ADT Command is simple to use! AND... ADT Command and Control will be installed and setup by and your local ADT Certified Technician. All you have to do is enjoy!
For more information on our amazing product or to order now call 1-800-310-9490