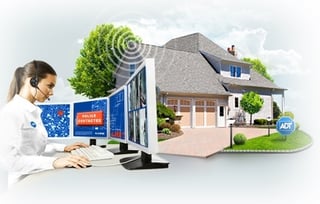 With all the new technologies there are definitely quite a few combinations of monitoring services available to you for home security, remote camera viewing, recorded video cloud storage and home automation management. The cost of monthly monitoring in the security industry varies between $20 - $75+ a month depending on the level of monitoring you have, how many things you want to have monitored and the service plan that comes with the monthly monitoring cost.
An important thing to consider with monthly monitoring service is the contract length. In the security industry, the most popular monitoring service contract term is 36 months. There are companies that have 60 month contract terms which commits you for an extended period of time. ADT's contract term in California is just 24 months which gives you a lot of flexibility.
We will look at the ADT monthly cost options and a few DIY (do-it-yourself) options with low monthly monitoring costs.
Home Security Monitoring Using Standard Landline Phone
Less than 5% of our customer get security monitoring using a standard phone line for communication to the central station. Most people no longer have a standard phone line or are considering eliminating it within the next 5 years. Standard dial-up is 4 times slower to send emergency signals to the central station than cellular communication and you can disable the alarm signal by cutting the phone lines on the side of most homes. Here are some of the ADT monthly fee options for basic monitoring:
$27.99 - Buyer Beware: No Warranty with Standard Phone Line Communication

$33.99 - Standard Phone Line Communication for Home Security

$36.99 - Standard Phone Line Communication for Home Security with Wireless Remote
Basic Cellular Communication Monitored Home Security
About 10% of our customers get basic cellular home security monitoring. This monitoring service uses the built in GSM module in the security panel to communicate to the central station. The central station operator calls the homeowners and local authorities in emergency situations.
$44.99 - Cellular Communication for Home Security and Life Safety
Most Popular - ADT Pulse Level I with Remote Interactive Services
Around half of our customers choose to get ADT Pulse Level 1 because it adds remote capabilities for your mobile devices. Most importantly, you can remotely check the status of your security system, arm or disarm it from the ADT Pulse App and get text/email notifications of alarm events.
$49.99 - Cellular Communication with Remote Interactive Services
Here are the 7 main benefits ADT Pulse will provide for you and your family:
Remotely check the status of your security system

Arm or disarm your security system remotely

Get text and email notification

of alarm events and emergencies

See event history and user activity

Download iPhone, iPad and Android Apps

Voice Command

Manage your security system from your personalized web portal
These seven benefits make ADT Pulse the favorite of our customers and especially when it just adds only $5 to the monthly monitoring service. ADT Pulse with Remote Interactive Security Services certainly provides the best value for home security today.
ADT Pulse Level III Remote Interactive Services with Video and Home Automation
This monitoring service is our fastest growing segment with currently between 35-40% of our customers choosing this option. It gives you the benefits of all of the above monitoring service packages plus you can now remotely monitor your cameras, door locks, thermostats, lighting modules and the garage door controller.
$59.99 - Cellular with Remote Interactive Services Including Video and Home Automation Monitoring
You also get the added ability to set schedules and program automations of trigger events from your ADT personalized web portal. It integrates with third party home technologies like the Nest thermostat and the Ring doorbell. This security monitoring platform is fabulous and gives you expandability of future home technologies.
ADT Monthly Cost for Audio Verified Response Monitoring
Some cities require and others strongly suggest you get audio verification monitoring of an alarm event for the police to be dispatched to your home. Since over 95% of all alarms are false due to user error, some cities will not send the police to respond to an alarm unless it has been verified.
Audio verification is a technology that connects the security system's "speaker phone" when an alarm signal is sent to the central station. The central station operator can now verbally communicate through the system's "intercom" to verify an alarm. This added service is called Voice Connect and adds just a few dollars a month to any of the monitoring service packages above.
Here are the benefits of audio verification:
Priority police response with audio verified alarm

Voice challenge burglar

Reduces false alarms

Hands free communication with ADT Operator in home emergencies
Very Cheap Monthly Monitoring Options
If you find monthly security monitoring for less than $20 a month or mid $30s for monitoring with remote services from mobile devices, you most likely will be getting a system shipped to you in a box. If you like spending your time doing home improvement projects and then servicing your system when it needs maintenance then this may be an option for you.
You get what you pay for…. Some things to consider. Many of these systems do not come with all of the options of a professionally installed system. For example:
Most of them have a table top security panel with a wire running to an electrical outlet instead of a professionally installed keypad seamlessly mounted on your wall.

Do not offer products like outdoor cameras because most homeowners do not have the necessary tools to run wires under the house or in the attic.

Do not offer systems that use the pre-wire already installed in your home

Can not integrate with the existing security equipment you already own.

For custom homes:

They do not offer a solution during the construction phase to wire your home for security, life safety or cameras.

These systems shipped in a box do not have an ability to integrate with automation systems you may be using to manage your home technology and the audio/video systems in your home.

You have to service your system for the lifetime of owning it including finding parts for repair.
For a few who enjoy DIY projects, saving a little money to do it themselves is certainly an option. For the 90% of us who do not have the time, having a system professionally installed is the far worth the extra investment.
Call to get a quote or schedule a free home security review at 1-800-310-9490.