Home Alarm Monitoring with ADT Security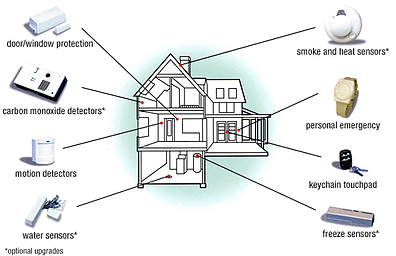 Getting your home security system monitored is essential to providing security for your home and family. Having just a non-monitored, local home alarm does provide some protection by having a siren go off to alert you of an intruder and scare the burglar off. However, no one is notified of the alarm event (including yourself if you are not home) and no emergency help is on the way. Getting a monitored alarm system provides a far superior level of protection for your family.
Home Alarm Monitoring Service will provide emergency monitoring of the following:
Monitored Burglary Protection

Doors, windows, glass break sensors and motion sensor monitoring

Monitored Fire Protection

Monitored Carbon Monoxide Protection

Home Monitoring for Flood/Water and Freeze Sensors

Monitored Medical Alarm
* Must have the appropriate equipment to have all the above monitoring services.
ADT Alarm Monitoring Service Centers
ADT offers the most reliable and comprehensive network of interconnected Customer Monitoring Centers in the United States. ADT monitors over 6 million customers, 90% of Fortune 500 companies and around 100 US airports.
Multi tiered disaster preparedness procedures and an Internal Disaster Management Program means ADT is ready for almost any emergency. ADT monitoring back-up systems give you added protection for additional peace of mind.
ADT Home Alarm Monitoring Rates
Our monthly monitoring rates start as low as $36.99 a month for standard digital alarm monitoring. The monthly monitoring rates go up to $60.99 a month for smart phone connectivity, home automation and control of your security via the Internet. The most popular packages are around $45 a month.
Go to our Alarm Monitoring Pricing Guide to see which ADT Monitoring Service is right for you.
ADT Alarm Monitoring Services include:
You will also receive a discount on your annual homeowner's insurance by having an ADT Monitored Home Alarm System. Most insurance companies give between a 5-10% discount for your monitored burglary system and an addtional 5-10% discount for adding monitored fire protection to your home alarm.
For more information on your ADT Monitoring Service options call 1-800-310-9490.