ADT Wireless Security System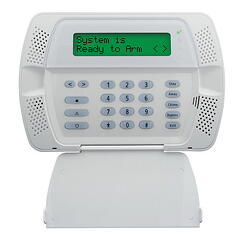 If your home is not pre-wired for home security system, an ADT Wireless Security System is the perfect solution to protect your home and family. You may also order an $850 ADT Wireless Security System for FREE when you get ADT Monitoring Service with only a $99 installation.
"Wireless" means the system communicates to wireless security devices like wireless door/window sensors or wireless motion sensors. A wireless security system does not have wires running from the control panel to the security devices throughout your home.
ADT Wireless Security Systems do have a wire for the power supply running from the control panel to an electrical outlet. It also has a wire connecting to a phone line for standard monitoring service. Most often these wires are hidden inside the wall but each installation varies depending upon where you want the control panel installed, the construction of your home and where power and phone service are located.
Hard wired security systems today do have the ability to control wireless security devices. So if you have a pre-wired security system you can still add wireless devices to your hard wired security system. This is important when you want to add protection to areas in the home where there are currently no wires. Hard wired security system are now called hybrid systems because they can communicate to hard wired security devices and wireless security sensors.
Some ADT Wireless Security Systems do not Require Phone Service
You, like many others, may not have home phone service or may be thinking of eventually getting rid of your home phone service. With so many of us having mobile cell phones it seems a waste to pay for home phone service we never use. Traditional security systems require you to have home phone service so your security system can communicate to the central station.
If you do not have home phone service you will need to have an ADT Wireless Security System installed that has a built in Cellular GSM Communicator or is connected to an external GSM Cellular Alarm Communicator. You can also have an external GSM Cellular Alarm Communicator connected to a hard wired security system so it can communicate to ADT Central Station Network without the need for home phone service.
We are now getting close to having 50% of new ADT monitored security system installations communicating cellularly.
There are other security advantages of having an ADT Wireless Security System that communicates cellularly. Cellular alarm systems send alarm signals to ADT Central Station four times faster than traditional dial up security systems. A burglar can not disable the communication of a cellular alarm system by cutting the phone line like they can with traditional security systems.
Who Manufactures the ADT Wireless Security System?
There really is not an 'ADT Wireless Security System". ADT does not manufacture any security systems. ADT is an installation, service and security monitoring company. The "ADT Wireless Security Systems" you see with the ADT logo are only branded by ADT but most all of them are manufactured by DSC, Honeywell or GE.
The most popular wireless security systems that are branded by ADT are:
All of these wireless systems are very comparable and all do a fantastic job providing security for your home and family.
Your most important decision is who is going to install it. All of the above wireless security systems are very stable if they are installed correctly. Having it installed right the first time is important to enjoying years of protection without needless service calls.
For more information on ADT Wireless Security Systems call 1-800-310-9490.
Related Video:
ADT Pulse Interactive Home Security.